Property Workshop is proudly reader-supported. When you buy through links on our site, we may earn a small Amazon affiliate commission but this does not affect the price you pay. Learn more here.
---
Painting a radiator requires precision and diligence to achieve a quality finish that will last for years. Furthermore, choosing the best radiator paint can significantly simplify the task and improve the finish's longevity.
Today's radiator paints provide consistent coverage and fewer drips than their poorly-regarded ancestors, generating fewer toxic fumes.
Pro Tip: Always open the windows when painting. You should also wear a mask and take regular breaks.
If you're keen to get started, we recommend Plasti-Kote's 26102 spray-can range. Combining simplicity with affordability, this Valspar subsidiary offers an easy-spray trigger that requires minimal pressure to apply. Uniquely, it also has a twist-to-lock nozzle, helping to reduce plastic packaging while also minimising the risk of spillage.
---
Best Radiator Paint Reviews — The UK's Top 3 in 2023
Below are the best radiator paints currently on the UK market across various finishes and application methods.
Our Top Pick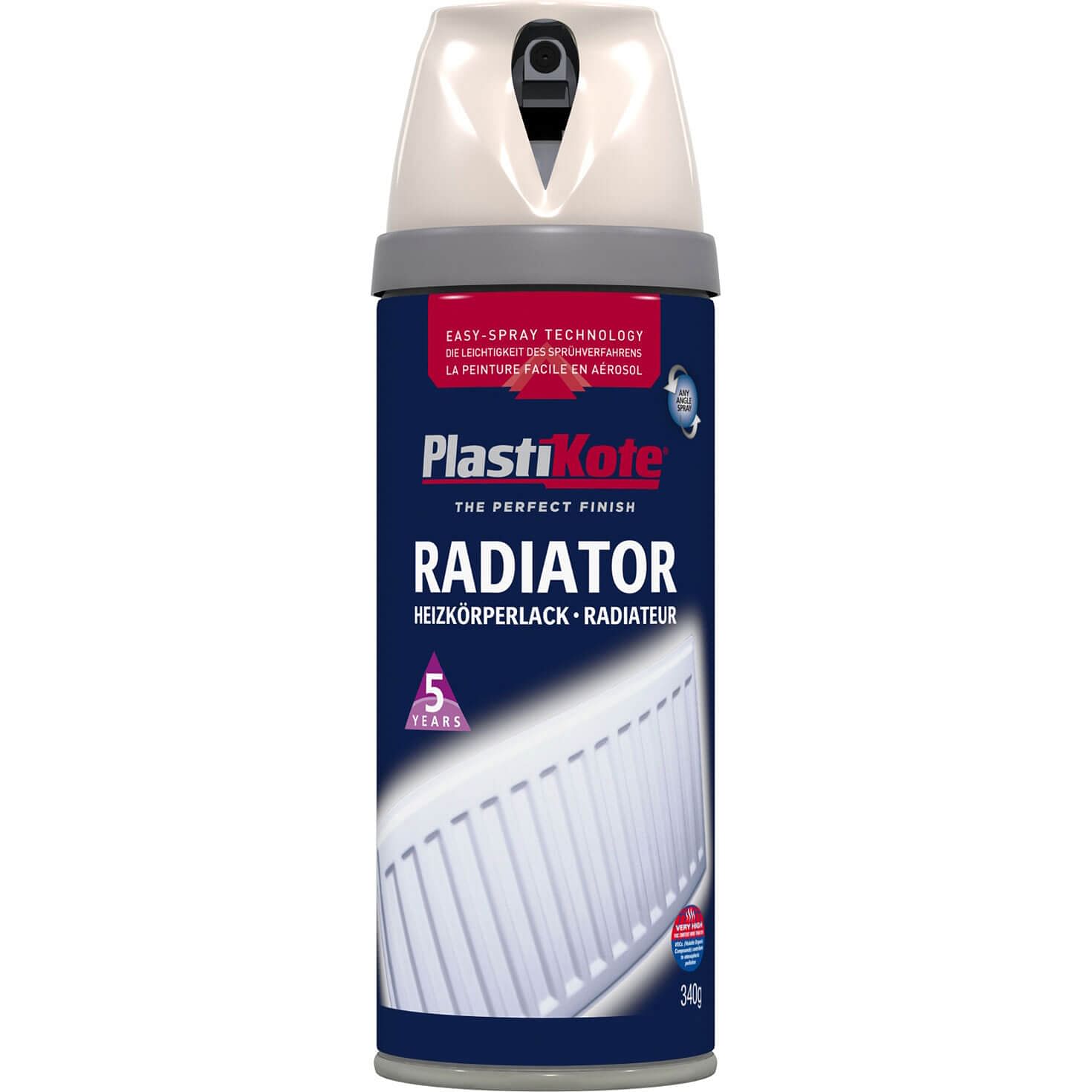 1. Plasti-Kote 26102
Quick and easy to use
Non-yellowing formula
Heat resistant up to 100ºC
Available in gloss and satin finishes
Plasti-Kote's enamel spray comes in a spray can with a twist-and-lock mechanism replacing the traditional (and fiddly) plastic cap. This unique mechanism makes it easy to deactivate the spray can and avoid accidental spillages.
The company also claims the finger pad requires 33% less pressure than other spray cans. This light touch control should benefit tendonitis sufferers or anyone with many radiators to paint!
Despite being sold as non-yellowing, recent users have suggested the finish is more magnolia than the white satin detailed on the can (a gloss finish product is also available).
This radiator paint supports continuous temperatures of up to 100°C, which is fine for almost all applications, but less than our following product supports.
| | |
| --- | --- |
| Pros | Cons |
| Innovative twist cap | Question marks over whiteness |
| The nozzle requires minimal pressure | |
---
Runner Up
2. Jenolite Directorust Radiator Enamel Paint Aerosol
White enamel gloss finish
Resistant to discolouration and corrosion
Heat Resistant up to 130ºC
Durable and long-lasting finish
Applies directly to bare metal without using a primer
Another company going down the spray-can route is Jenolite, whose stylish packaging resembles gentlemen's grooming products more than white gloss radiator paint. Traditionalists can acquire the same product in a 500ml tin if they prefer.
Anyone working to a tight timeframe will appreciate this product's ability to go straight onto bare metal without requiring primer, and it's renowned for being able to cover rust marks.
Like all spray cans, it lacks thickness when applied. Jenolite recommends three coats which is a significant drawback compared to the similar-sized Plasti-kote product.
The paint sprayer has a standard nozzle and surpasses Plasti-kote's temperature resistance by supporting temperatures up to 130°C.
Note: we've only reviewed the white gloss product, but a satin finish is also available.
| | |
| --- | --- |
| Pros | Cons |
| Well-regarded by users | Requires three coats |
| No need for primer | Comparatively expensive |
| It supports temperatures up to 130°C | |
---
Best Budget Radiator Paint
3. Hammerite REG500 500ml Radiator Paint
Gloss finish
7m² per litre coverage
Heat resistant.
Repaintable after 16 hours
Provides a durable, long lasting finish
The only tin to make our shortlist comes from the well-known Hammerite brand. Despite costing more than its rivals, it provides 25% more paint in a 500ml can.
You have the usual choice of gloss or satin (we've reviewed the former), but you'll need to invest in a more expensive 'Direct-to-Rust' product if you want to apply Hammerite radiator paint without a primer layer.
Hammerite's offering has plenty to commend it. For example, it delivers a brilliant white finish, which dries in four to six hours. Equally suitable for radiators or hot water pipes, this paint requires several coats to deliver a perfect finish, though its resistance to yellowing is widely recognised. 
A single tin can deliver good coverage across several radiators, making this a cost-effective choice. As for temperature resistance, Hammerite can support intermittent heat of 150°C but only continuous heat of 80°C.
| | |
| --- | --- |
| Pros | Cons |
| Thick paint is easy to apply | Not suitable for direct application onto rusty surfaces |
| It delivers a clean white finish | Only supports continuous heat of 80°C |
---
Best Radiator Paint — 2023 Comparison Table
| | | | | | |
| --- | --- | --- | --- | --- | --- |
| Model | Container | Volume | Max temp | Finish reviewed | Rating |
| Plasti-kote 26102 | Spray-can | 400ml | 100°C | Satin | 8 |
| Jenolite Direc-to-rust | Spray-can | 400ml | 130°C | Gloss | 7 |
| Hammerite REG500 | Tin | 500ml | 80°C | Gloss | 7 |
---
Radiator Paint Buying Guide
One of the first decisions you must make when choosing the best radiator paint involves choosing between paint tins or spray cans. The former is the traditionalist's choice — we all know how to wield a paint brush. You can also apply paint with greater control and precision when using a paint brush. This control is beneficial when painting double radiators, where the insides of both panels need painting at least part way down. 
Some users dislike the challenges involved in spray painting. These include judging the proper distance to spray from and the risk of airborne droplets landing on the flooring or surrounding walls. An even coating can be hard to achieve when spraying around pipes, bleed valves and the inside of a double radiator. However, paint spraying has its advantages. I.e. it's much quicker, there are no visible brush strokes, and spray paints tend to dry quicker than ones applied with a brush.
Your choice of paint application method may be affected by radiator design elements like decorative scrollwork or awkwardly-positioned pipework. This guide to the history of radiators explains why there's so much diversity in design and finish.
Pro Tip: Practice spraying cardboard from various lengths to judge optimal distance. This testing ensures you don't initially over-apply paint to your radiator since drips and streaks are hard to deal with — especially if you don't have a paint brush handy.
Rusty Surfaces
Your choice of radiator paint may be affected by the condition of your radiators. Of our three shortlisted products, only the Jenolite can be applied directly to rusty surfaces without a primer coat, though Hammerite does sell products with this capability. While we always recommend sanding and priming, this may not be practical if you have time constraints.
This video from Ultimate Handyman walks you through the essential steps in restoring a radiator in poor condition.
High Heat
Choosing a radiator paint capable of sustaining consistently high heat levels, especially during winter, is essential. Each of our shortlisted products has a different maximum temperature threshold, ranging from 80°C to 130°C. The former should be sufficient, but the latter provides additional peace of mind.
Satin vs Gloss
The relative merits of satin and gloss paints have been argued for decades. Some people prefer the softer finish of satin, which is more forgiving of imperfections and less reflective at night when LED lamps or spotlights are on. Others favour the sheen and freshness that gloss delivers, especially if you're refurbishing the whole property.
Satin has gradually gained popularity over recent years, and many experts recommend its excellent resistance to yellowing. A satin-finished door can stay white long after the glossed architraves and skirting boards surrounding it have begun to turn yellow. This yellowing is particularly noticeable in south or west-facing rooms, where woodwork is in direct sunshine.
All the products in our shortlist are available with either satin or gloss finishes.
---
Best Radiator Paint — Final Thoughts
Any of our shortlisted products could have taken the title of the UK's best radiator paint. Hammerite's offering delivers consistently white finishes with solid resistance to yellowing. Jenolite's product can withstand temperatures of 130°C, which is impressive.
However, while each product has its merits, Plasti-Kote's innovative spray-can design ultimately won the day. Backed by the Valspar brand, it's an affordable and quick-application product.
The only question mark comes from recent reports that colour finishes are more magnolia than pure white. Before painting your radiator, we recommend testing the paint on a neutral surface to ensure you're happy with the colour.