Property Workshop is proudly reader-supported. When you buy through links on our site, we may earn a small Amazon affiliate commission but this does not affect the price you pay. Learn more here.
---
When it comes to the best emulsion paint, it's often worth paying a little extra for a higher-quality product.
High-quality paints have the texture and finish of single cream, whereas cheaper alternatives can resemble skimmed milk.
Our three shortlisted products all claim near-identical coverage of between 12 and 13 square metres per litre. This number makes it easy to calculate how many tins or tubs you'll need to complete a DIY job or whole-room refurbishment.
After rigorous testing of all three emulsion paints on our shortlist, we believe Dulux's Matt Emulsion Paint is the best option for most homeowners. Most notably, it provides long-lasting colour, great coverage and a consistent creamy texture. All this comes in a wide range of colours and at a very affordable price.
Table of Contents
---
Best Emulsion Paint Reviews – The UK's Top 3 in 2023
These are our picks as the best emulsion paints on the market, starting with a product drawn from various colours, finishes and sizes.
Best Overall
Our Top Pick
1. Dulux Matt Emulsion Paint
Easy to apply.
Unique creamy texture.
Capacity: 13m²/L per coat. This 5L tin covers 65m² with one coat (approx).
Long-lasting colour.
Drying Time: 2-4 hours.
For sheer diversity, it's hard to look beyond Dulux's range of emulsion paints. Although we're reviewing the five-litre Pure Brilliant White Matt emulsion, it's possible to get seven other finishes, from satin and silk to gloss and eggshell. You can buy 30ml tester pots and various tin sizes containing anything from 0.75 litres to five litres.
Dulux highlights the Chromalock technology incorporated into their paint, which they claim creates an invisible protective barrier.
A five-litre tin covers 65 square metres, and our chosen colour delivers a consistently flat finish which customers report dries quickly with no drips. However, a water-based undercoat will never achieve as much coverage as an oil-based one, so you may find certain surfaces require a second application.
Dulux also warns that the presence of 'methyl-2H-isothiazol' may cause allergic reactions in some users.
Summary
Available in various finishes, colours and sizes, including 30ml tester pots.
Features Chromalock technology.
Good coverage during our tests.
Dries quick and no drips during testing.
It contains methyl-2H-isothiazol, which can cause allergic reactions.
Pros
Extensive range of colours and finishes
Competitively priced
Cons
Some ingredients may trigger an allergic reaction
---
Best Coverage
Runner Up
2. Johnstone's Wall & Ceiling Silk Emulsion Paint
Fantastic coverage.
Easy to apply.
Available in a wide range of colours.
light reflecting properties, making it the ideal choice if you want to make a room look bigger.
Part of an extensive range of matt and silk-finish paints across 35 pastel colours, we tested Johnstones' Silk Pure Brilliant White emulsion.
Reassuringly packaged in a sturdy metal tin, it initially looks poor value compared to the other two emulsions in this list. Yet, the overwhelmingly positive reviews for this product suggest it's worth paying a little extra for the level of coverage it offers.
Thick and smooth, Johnstone's paint is a low-odour product covering 13 metres per litre (the same as Dulux). It dries quickly and consistently, meaning you can schedule second costs (if necessary) in confidence. There are few drips and streaks, so even a relatively amateurish decorator should achieve a smooth finish with little effort.
Summary
Available in a vast range of colours.
Limited choice of finishes.
Expensive as you can't buy it in large containers.
It offered great coverage and a smooth finish during our tests.
Dries quickly with few drips and streaks during testing.
Pros
Good quality finish
Huge range of colours
---
Best Value Emulsion
Third Place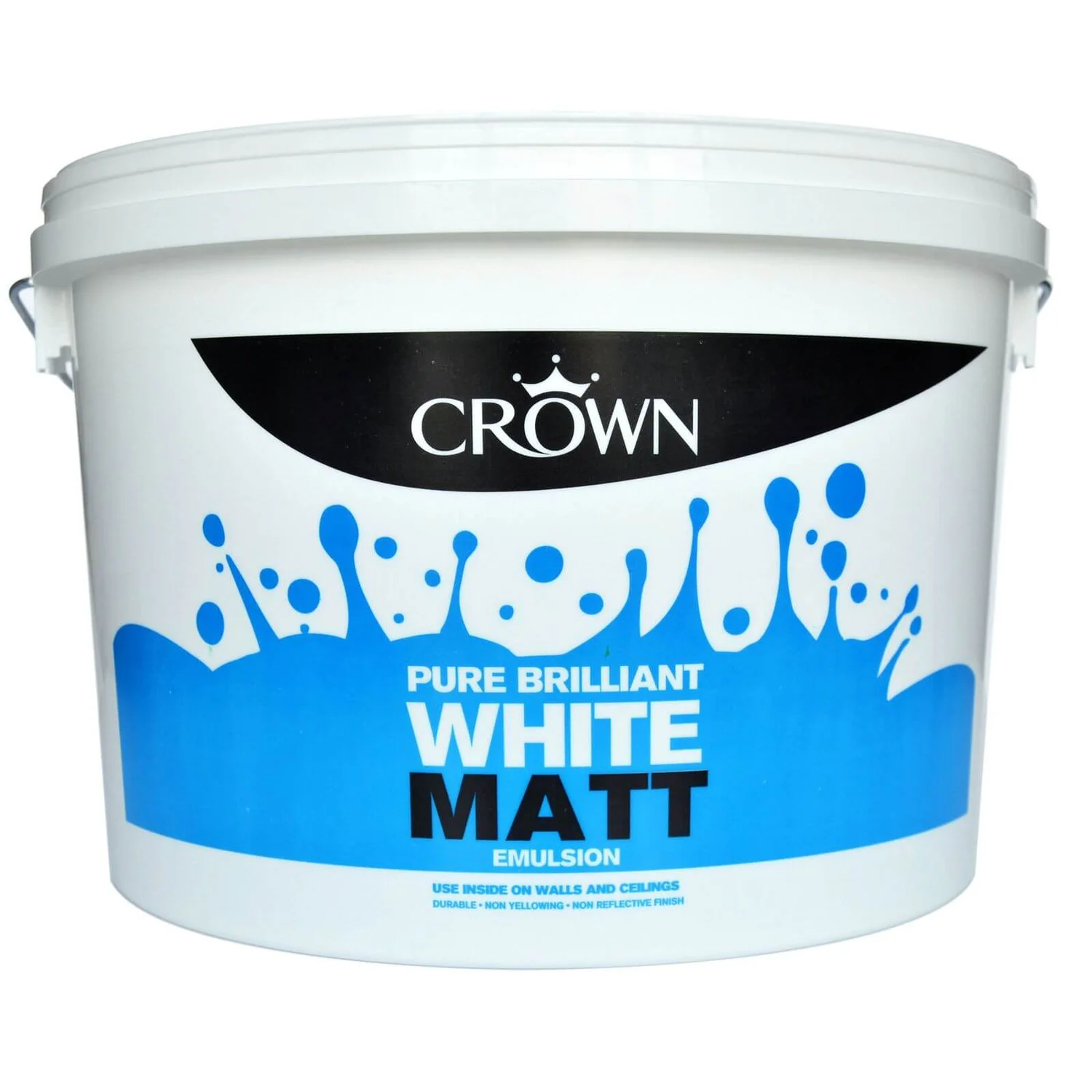 3. Crown Matt Emulsion Paint
Matt, Non-reflective finish
Durable and Non-yellowing
Touch Dry in 2 hours. Recoat in 4 hours.
While Dulux and Johnstones offer plenty of choices, arch-rival Crown's contribution to our shortlist of the best emulsion paints is about value.
Sacrificing metal tins for plastic tubs means you can buy 7.5 litres of their Pure Brilliant White emulsion for less than a 2.5-litre tin of competitor's emulsion. That said, the eight-kilogram weight means this big tub requires a fair degree of upper-body strength lifting it in/out of a car boot or van. In addition, there are reports of the plastic tubs cracking and the lids failing, suggesting they can't be stacked or roughly treated.
Some recent reviews of this product have been unfavourable, and you may need three coats to cover marks or soak into new plaster. However, it's okay to apply to lighter or previously painted surfaces.
Crown promotes this emulsion as non-yellowing with a non-reflective finish. You'll have to explore the broader range of Crown paints if you want different colours.
Summary
Great value because you can buy in bulk.
Some users question the quality of the containers, but we found them to be fine.
Below average coverage during our testing.
Limited choice of finishes and colours.
Non-yellowing with a non-reflective finish.
Pros
Very well-priced
One tub should do most jobs
Cons
Concerns over coverage and packaging
---
Best Emulsion Paint – 2023 Comparison Table
---
Emulsion Paint Buying Guide
Emulsion paint has a composition that makes it unsuitable for external use, while its array of matt and silk finishes wouldn't work well on skirting boards or doors. For this reason, emulsion paint is very much a walls-and-ceilings product, and it's generally advisable to lighten or darken existing wall shades incrementally. For example, applying white emulsion paint to a black wall requires numerous coats, whereas a magnolia wall only requires a single coat of emulsion.
Emulsion paint comes in various colours, usually pale or pastel. Our shortlisted Johnstone's paint comes in 35 hues, while Dulux offers 30 shades other than the Pure Brilliant White tested here. So, to ensure our review is fair, we've chosen the same shade of paint for all three shortlisted products.
Pro Tip: If you're unsure whether a particular shade will complement or contrast against its surroundings, use a 30ml tester pot in an inconspicuous location (such as behind a sofa) before investing enough paint to cover an entire room.
Applying Emulsion
Even the best emulsion paint will look stippled or uneven if it's not applied correctly. So we recently published a guide to the best rollers for emulsion paint. Similarly, our guide to the UK's best paintbrushes will help you make light work of edges, corners and strips around windows or door frames where a roller is too large to reach.
For more advice on applying emulsion, check out this 15-minute YouTube video which offers practical solutions to many common decorating problems. We've also published a list of 27 top tips for painting a room without making a mess, which will appeal to anyone not blessed with a decorator's instinct.
Chemicals
Those of a sensitive disposition should be aware emulsion paint contains chemicals that may trigger an allergic reaction. Dulux's contribution to our shortlist includes the snappily-titled '5-Chlor-2-methyl-2H-isothiazol-3-one' and '2-Methyl-2H-isothiazol-3-one'.
These compounds crop up everywhere, from fertiliser to cosmetics, and are better known as CIT and MIT, respectively. Some people are sensitive to these chemicals, so give yourself a while to acclimatise after opening the tin or tub, rather than rushing into a job you may have to suspend midway through.
---
Best Emulsion Paint – Final Thoughts
While Crown's offering seems excellent value on paper, there are concerns about the thickness and coverage of recent batches – potentially suggesting a change in its composition. So unless cost is paramount, we recommend looking at one of the other two products on our shortlist.
Value is the only thing counting against Johnstone's entry, which has the widest choice of colours and offers generous coverage. However, costing almost twice as much per litre as Dulux's offering, it's simply too expensive.
The Dulux range has 31 colours, offering identical coverage per litre. This consistent coverage, range of colours and price tag make Dulux's Matt Emulsion our top pick for the best emulsion paint UK.