Property Workshop is proudly reader-supported. When you buy through links on our site, we may earn a small Amazon affiliate commission but this does not affect the price you pay. Learn more here.
---
Finding a dependable gloss paint can simplify the annual (or biennial) task of sprucing up woodwork. It can also transform metallic surfaces, adding new interest and character.
While there's a bewildering array of white gloss paints available, we reckon the best product you can buy is from Dulux's Quick Dry range.
Living up to its name by being ready to repaint in just six hours, this 33-shade range comes in everything from 30ml tester pot tins to five-litre tubs capable of tackling an entire house's woodwork.
---
Best White Gloss Paint Reviews — The UK's Top 3 in 2023
These are our picks as the best white gloss paint you can currently buy in the UK, starting with an option that covers all bases…
---
1. Dulux Quick Dry Gloss Paint
Quick drying (6 hours to fully dry)
Water-based
Low odour
Coverage: 16 square metres per litre
Dulux's entry into this list is merely one part of a vast range of products. You can choose from seven tin sizes, from 30ml tester pots to five-litre tubs.
There are 32 other colours beyond the Pure Brilliant White we're testing here, including Absolute White and Ultra White. There are also eight different finishes — the gloss we're testing here is part of a range that includes eggshell, soft sheen and silk.
However, colour choice isn't the only factor that sees Dulux claim a comfortable win in this test. The attributes of their quick-dry gloss certainly match the description — it's dry within six hours, meaning you could apply two coats in a day and move on to other DIY jobs.
There's no requirement for an undercoat, while the coverage of 16 metres per litre means the tin we're testing could cover 40 square metres in one go.
Dulux says their range is suitable for internal and external wood and metal. Indeed, the only real downside we can find is it's not the cheapest product on test — though it still undercuts the 250ml Rustins once you start buying in bulk.
| Pros | Cons |
| --- | --- |
| 33 different colours are available | Could cause allergic reactions in some users |
| 8 different finishes | Comparatively expensive in small quantities |
| It dries in a few hours | |
| Seven different tin sizes offered | |
---
2. Johnstone's Non Drip Gloss
Solvent-based formulation
Coverage: 15 square metres per litre
It takes 16 to 24 hours to fully dry
Satin finish
It only comes in one colour (Brilliant White)
Available in three sizes - 0.75L, 1.25L and 2.5L
Compared to the wealth of choice provided by Dulux, Johnstone's range of non-drip gloss paint looks somewhat underwhelming. There are only four colours, though pure brilliant white is available (unlike the Rustins range, branded as 'white').
There are no tester pots available; the smallest tub offered is 750ml, while the largest (2.5 litres) is half the size of Dulux's biggest offering.
However, that shouldn't preclude you from considering the latest product from a company with over 130 years of experience in this area. There's a consensus that the non-drip part of this product's title is well-deserved, with a solvent-based formulation designed to minimise splashes and runs during application.
Coverage is respectable at 14 square metres per litre, though the drying time of up to 24 hours will alarm anyone working to a tight timescale — or anyone who's simply impatient. It's also worth noting that Johnstone's markets this paint as containing 2-butanone oxime, which may cause allergic reactions.
This paint's most significant attribute is its affordability. I.e. 0.75 litres of paint costs half as much as Dulux and a third as much as Rustins. If you're not buying in bulk, that's a compelling advantage.
This paint is equally effective on wood and metal, indoors and outdoors, though some recent reviews suggest it's thin enough to leach under masking tape.
| Pros | Cons |
| --- | --- |
| Competitively priced | It takes up to 24 hours to dry |
| Minimises drips | It may get under masking tape |
| Respectable coverage | |
---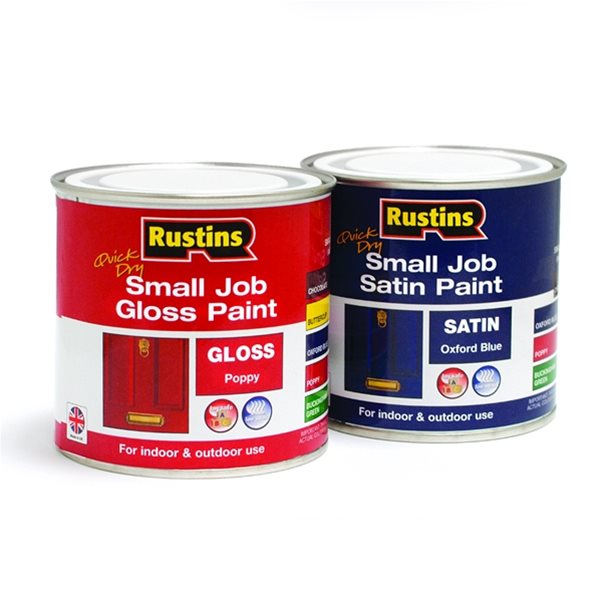 3. Rustins White Gloss Paint
Water-based
Quick drying - touch dry in approx 30 minutes
Gloss and Satin finishes
For small interior and exterior jobs (only comes in 250ml tin)
Available in a wide range of colours
Suitable for use on wood and metal
250ml covers approx 3.25 square metres
It's important to clarify that Rustins' entry on this list isn't necessarily a direct competitor to Dulux and Johnstone's. Rustins markets this product as "small job" paint, sold exclusively in 250ml tins, which means it's not a whole-house product. Indeed, it would cost many times more than the other two if you were attempting to cover much more than the 3.25 square metres you can expect from a tin of this size.
There's a decent choice of colours (nine, including magnolia and the white we're testing here), but no finishes are available other than gloss. This paint isn't marketed as brilliant white, though users seem quite satisfied with its hue.
There's less satisfaction with the quality of the finish — several people report this water-based paint requires multiple coats before it provides a good finish on certain surfaces.
The big USP of Rustins' white gloss paint is the lack of potentially harmful chemicals. Indeed, it conforms to British safety standard BS EN 71, which means this paint is suitable for decorating children's toys and nursery furniture.
As well as working on metal, this paint can also be applied to wood or worktops, making it a uniquely versatile and flexible option.
| Pros | Cons |
| --- | --- |
| Great for children's toys and rooms | Costly for larger areas |
| Decent range of colours | Questions over paint thickness |
| Ideal size for smaller touch-up jobs | |
---
Best White Gloss Paint in the UK — 2023 Comparison Table
| Model | Colours | Size | Finishes | Price | Rating |
| --- | --- | --- | --- | --- | --- |
| Dulux Quick Dry | 33 | 30ml to 5 litres | 8 | ££ | 9 |
| Johnstone's 306533 | 4 | 750ml to 2.5 litres | 1 | £ | 7 |
| Rustins GPWHW250 QD | 7 | 250ml | 1 | £££ | 6 |
---
White Gloss Paint Buying Guide
Before buying any white gloss paint, consider the key points below.
---
Drip Off The Old Block
One of the essential attributes to look for when choosing the best white gloss paint is whether it dries quickly. That's a key reason why Dulux's entry into our shortlist emerged on top, but there's more to look for than merely drying time.
The likelihood of dripping also needs to be considered. This factor is especially true if you're painting upside-down surfaces like the bottom of bannister newels or thin vertical spindles where a few paint drips would distort the shape.
Of our shortlisted products, only Johnstone's is marketed as a non-drip gloss paint. However, don't assume thicker paints are always better. Greater viscosity might make them less prone to drips, but applying more paint with each stroke reduces the square metre coverage.
Dulux covers 16 square metres per litre, whereas Johnstone's non-drip gloss only covers 14. Most people would accept a slight loss in coverage for a more dependable finish, but it's worth considering before splashing out on your chosen range.
---
I Got You Under My Skin
Paint is an advanced formulation of different chemicals, and each of our products comes with a safety warning about potential allergens. Of these, the presence of 2-butanone oxime in Johnstone's paint is particularly notable.
By contrast, Rustins' gloss white paint meets BS EN 71 — the British standard relating to toy safety. As a result, this paint is ideal for figurines and changing tables. It's the only product we've tested that is suitable for this, which is worth considering if you're creating a model landscape for your Dungeons & Dragons-mad son, for instance.
The bright colours available in this range, including emerald green, pink and poppy red, are also well-suited to nurseries and game tables. If you're interested in learning the intricate techniques required for model and miniature painting, this comprehensive YouTube guide covers all the bases.
---
The Bigger They Come
Although we've linked to tins of varying sizes, it's important to note that gloss paint often comes in diverse quantities. While Rustins remove the tyranny of choice by only selling their paint in 250ml tins, Dulux customers can choose from 30ml tester pots, five-litre tubs, and everything in between.
If you're painting a couple of windowsills, it's relatively easy to calculate the quantities needed. However, larger surfaces require more calculations. The Wall2Wall website has a helpful guide to calculating how many litres of paint you're likely to need.
Your choice of brush may also be a factor since bigger brushes tend to pick up more paint than is strictly necessary. Our guide to the best paint brushes in the UK tells you everything you need to know about choosing the right weapon for a particular job.
---
Final Thoughts — Best White Gloss Paint
In some respects, our shortlist's products aim at different markets, and direct comparisons may be disingenuous.
Rustins' range of brightly coloured paints is complemented by white (though not pure brilliant) gloss paint, which is great for kids' toys but impractical for decorating a whole house. Equally, you wouldn't buy a five-litre tin of Dulux to touch up a nursery windowsill, yet this uniquely large tub makes it the product of choice for the whole-house renovator.
After rigorous testing against its white gloss paint peers, Dulux Quick Dry Gloss scores an easy win.
The 14 square metres per litre coverage is inferior to Johnstone's offering, and the price is slightly higher. However, the comprehensive range of shades and finishes is far greater, plus it dries in a quarter of the time of Johnstone's paint. That's a huge attribute, especially since a second coat is often required to achieve a suitably shiny finish on dull or discoloured surfaces.
Nonetheless, we doubt you'd regret purchasing Johnstone's paint. It may come in a smaller range of colours, sizes and finishes than its arch-rival, but this is the best product we've tested for affordability and drip-resistant finishing. It's not a winner, but it's a worthy runner-up.
If you're working on a significant internal refurb, check out our guide to the best emulsion paints.