Property Workshop is proudly reader-supported. When you buy through links on our site, we may earn a small Amazon affiliate commission but this does not affect the price you pay. Learn more here.
---
I remember my woodwork teacher telling me about various saws and which one to use in a particular situation, but I just used whatever I could get my hands on. Typically, this boiled down to my trusty hacksaw.
However, as I got older, I became much more interested in woodworking tools and their specific use cases. This interest grew when I felt the joy of creating the perfect mortise and tenon joint.
Using my years of experience and love for the tenon saw, I've reviewed three popular models and picked my winner for the 'Best Tenon Saw in the UK'.
---
Best Tenon Saw Reviews — The UK's Top 3 in 2023
Starting with our overall top pick, below are the UK's best three tenon saws in 2023:
Our Top Pick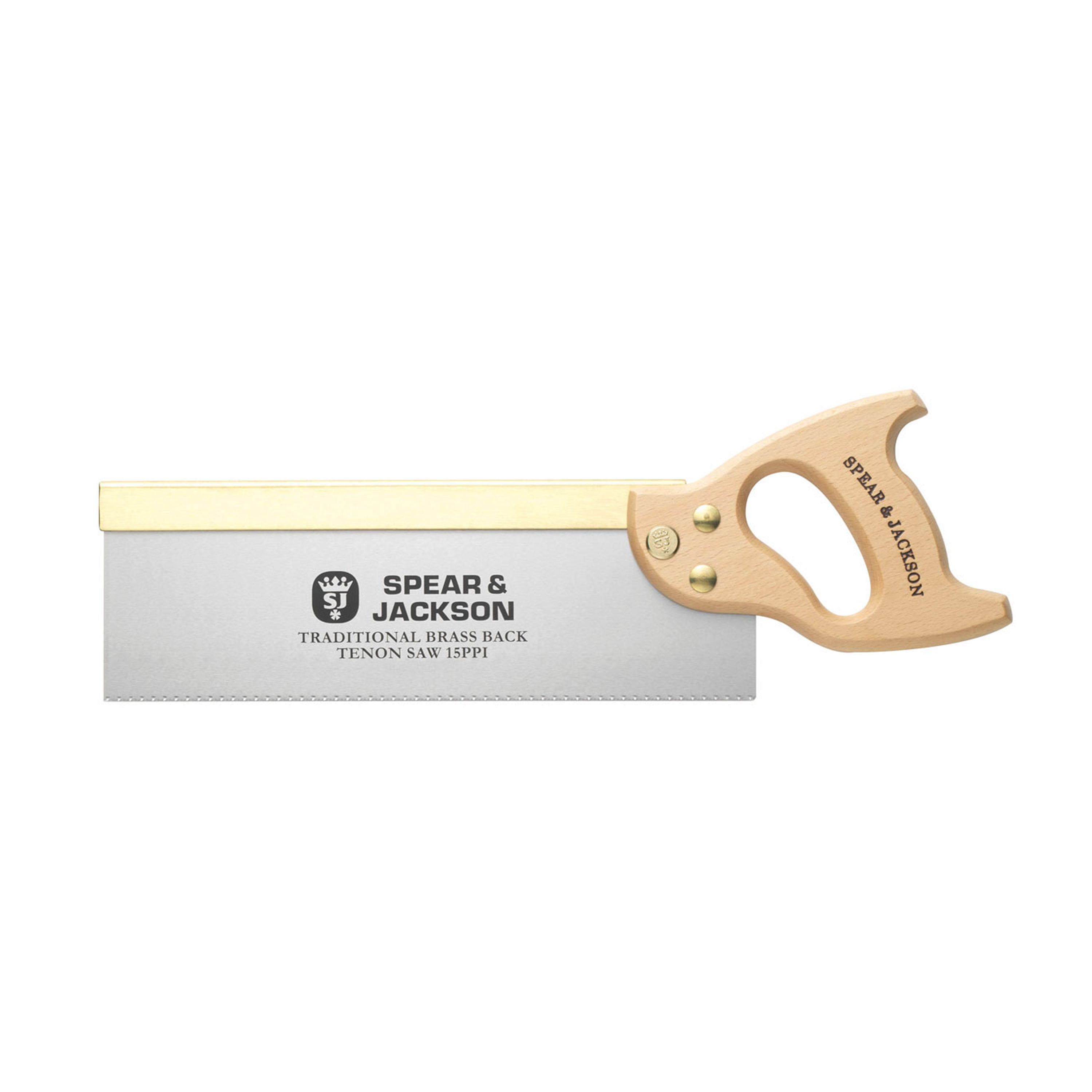 1. Spear & Jackson 9550B Traditional Brass
305mm hardened and tempered carbon steel blade
15 PPI resharpenable teeth
Solid brass back
Wooden handle with 3 bifurcated rivets
The best in class goes to the Spear & Jackson 9550B, a good, solidly built tenon saw that will last a lifetime. I particularly like the brass back, which provides extra rigidity to the blade.
Spear & Jackson describe the 9550B as a traditional tool, but it has a tooth setting that is unusual in a tenon saw – set in a pattern of three, with one to the left, one straight and one to the right. This arrangement makes the 9550B suitable for cross-cutting and rip-cutting.
The double-riveted high carbon steel blade produces a cutting depth of 75mm, and with 14 precision ground teeth per inch (TPI), the Spear & Jackson tenon saw cuts neater than the others in its class.
At 655g, the 9550B is the heaviest of the three, but it feels nicely balanced. The handle feels good in the hand, and because it's wooden, it can easily be sanded down or shaped to suit individual needs.
This saw is a tool for life, justifying the extra cost.
On the downside, several users have complained about the lacquered coating applied to the blade to prevent rusting. However, you can easily remove this with white spirit if it slows down the cut too much.
| | |
| --- | --- |
| Pros | Cons |
| Universal tooth setting for cutting across and along the grain | Most expensive of the three |
| Solidly built to last a lifetime | Rather heavy for prolonged use |
| The 14 TPI provides a finer cut | |
---
Runner Up
2. Draper 49280 Supercut
Japanese high carbon steel which is hardened, tempered, straightened, and stress relieved
Fine ground blade surface coated in ultra-tough lacquer
11 TPI / 12 PPI tooth design
Shock absorbing ergonomic soft grip handle
The 11 TPI blade enables the Draper 49280 tenon saw to cut faster than the Spear & Jackson model yet maintain precision.
The teeth are set to cut on the push and pull stroke and are triple ground, meaning the teeth are ground in three ways – on both edges and the tip – instead of the double ground teeth found on traditional saws. Also, these sharper teeth act like tiny chisels to make cutting smoother and more efficient.
The handle has a soft, ergonomic design making it easy to use, and at 300mm, the blade is long enough for most joinery projects requiring precision cuts.
The cutting depth is 80mm, the blade thickness is 0.7mm, and weighing in at 420g, it feels good in your hand.
Cost-wise, the Draper 49280 sits in the middle of our three tenon saws, combining economy with quality.
| | |
| --- | --- |
| Pros | Cons |
| Quickly cuts through wood up to 80mm thick | It doesn't cut as neatly as the Spear & Jackson |
| The soft-grip handle makes it easy to use | |
| Triple ground teeth provide smoother cutting. | |
---
Best Budget Tenon Saw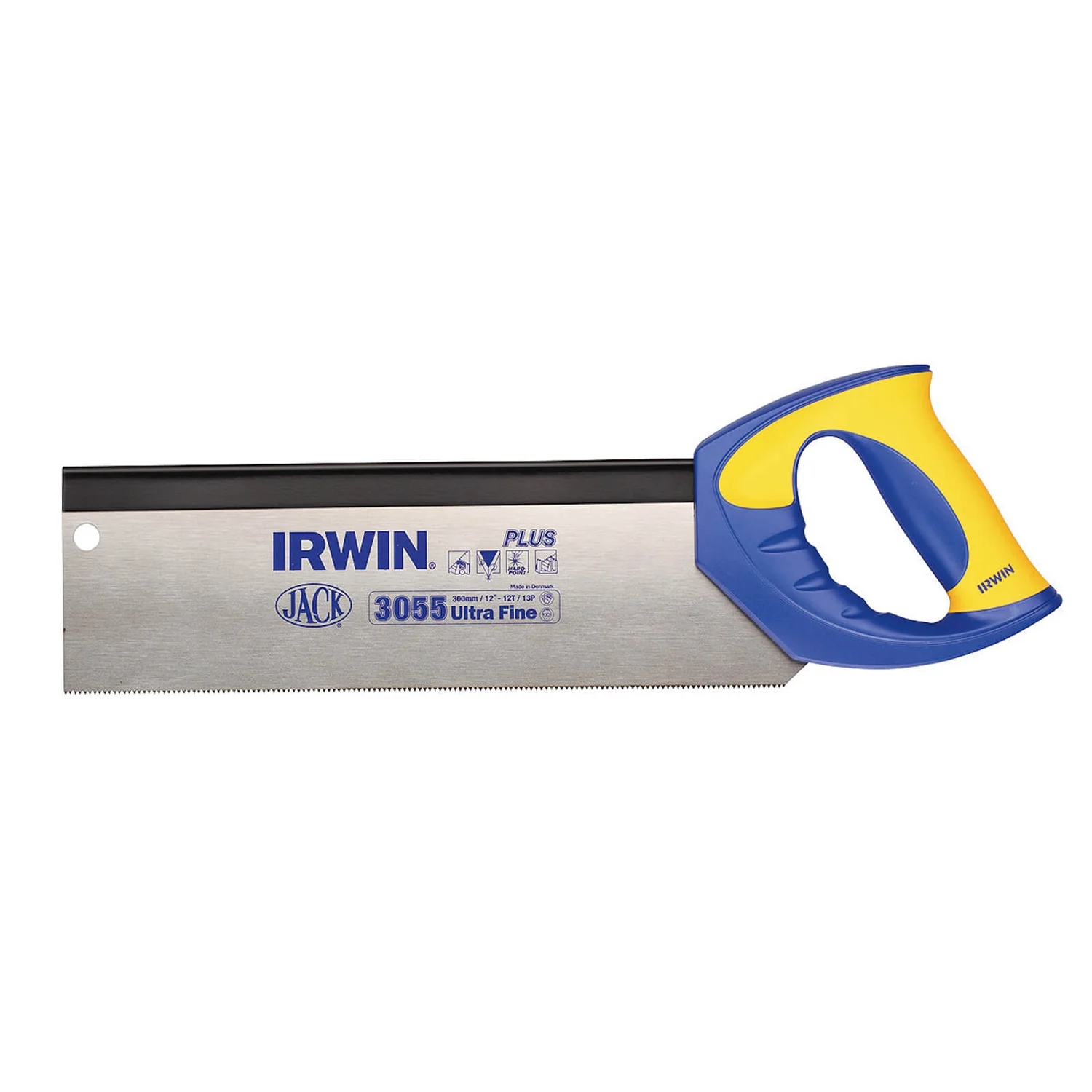 3. Irwin Jack Hardpoint
45° and 90° angle guide
Patented tooth grind
Extra fine tooth setting
This Irwin model won't disappoint you if you want a dependable saw to form tenon and dovetail joints. At less than half the cost of the Spear & Jackson, you certainly get value for money.
This Irwin saw features triple-ground teeth to optimise cutting performance on push and pull strokes, just like the Draper model. With more TPI than the Draper model (12 vs 11), this Irwin saw doesn't cut as fast but provides a neater finish.
The 300mm blade with 80mm cutting depth places this Irwin model on par with the Draper 49280, but it's much lighter at 330g.
The soft-grip handle makes it easy to use, but some buyers noted that the seam along the back of the handle caused discomfort, so that's something to consider.
| | |
| --- | --- |
| Pros | Cons |
| Low cost | The handle is uncomfortable to use over extended periods |
| Lightweight | |
| It cuts neat, precise joints. | |
---
Best Tenon Saw in the UK — 2023 Comparison Table
| | | | | |
| --- | --- | --- | --- | --- |
| Model | Blade length | Cutting depth | TPI | Handle |
| Spear & Jackson 9550B | 300mm | 75mm | 14 | Wooden |
| Draper 49280 | 300mm | 80mm | 11 | Soft grip |
| Irwin 10503534 | 300mm | 80mm | 12 | Soft grip but poor design |
---
Tenon Saw Buying Guide
The tenon saw was initially developed to form mortise and tenon joints in wood.
The mortise (female part) is cut using a fine chisel and a lightweight hammer, but the tenon (male part) requires a saw that cuts accurately and neatly.
And so, the tenon saw was born — a short, stubby little saw with a strip of wood or metal along the back to stiffen the blade, allowing you to cut straight and accurately with no over-cutting.
---
When to Use a Tenon Saw
If you wanted to cut a thick branch off a tree, you wouldn't use a tenon saw, but for precise joinery work, there is none better.
The tenon saw is often used with a mitre block to cut precise angles in cabinetry and furniture making.
For anything larger, the back piece restricts the depth of cut, and the length of the blade limits the amount you can pull/push the saw in one stroke when using a mitre block.
---
How Does a Tenon Saw Cut?
As a rule, tenon saws are set to cross-cut as you push because you initially work across the grain when forming the tenon – however, some tenon saws cut on both the push and pull strokes.
The blades range from 250mm to 350mm, and the number of teeth per inch (TPI) is between 11 and 14 on the tenon saws we reviewed.
Pro Tip: On some saws, you may see the letters PPI; this refers to points per inch. Remember that PPI is one more than the number of TPI.
The fewer the TPI, the faster you can cut, but tenon saws are designed for accuracy, not speed.
Traditionally, the teeth are set straight to ensure a precise, neat cut. However, this can lead to 'binding' in some saws. For this reason, higher-quality tenon saws come coated with a lubricant. 
Typically, cutting on the pull stroke is the more delicate cut, but because tenon saws have rigid backs, cutting on the push stroke is equally as good.
---
What to Look for in a Tenon Saw
We have highlighted four key points to help you pick the best tenon saw in the UK:
Length of the blade — essential when using a mitre block
Cutting depth — from the spine to the cutting edge
Teeth per inch (TPI) — this dictates how quickly you can cut
Handle — it's important that the saw feels right in your hand
When it comes to handles, you'll find that the best tenon saws have pistol grips. These grips hold the blade in a solid and steady position, allowing you to control the cut.
You can read more about the different types of saws and how they perform in our recent article about the 21 Types of Saws You Should Know.
---
Best Tenon Saw in the UK — Final Thoughts
The Spear & Jackson 9550B has the feel of a professional saw, and it's certainly a tool built to last if you're okay with sharpening the teeth now and then.
However, if you want to unpack a saw and use it straight away without any preparation, you might prefer the Draper or Irwin tenon saws. They also cut thicker sections if you need to.
As a parting gift, please watch the video below to see exactly how you should use a tenon saw and chisel to form the perfect mortise and tenon joint. Enjoy!