Property Workshop is proudly reader-supported. When you buy through links on our site, we may earn a small Amazon affiliate commission but this does not affect the price you pay. Learn more here.
---
When it comes to high-speed cutting, there's nothing to match the power and durability of a circular saw.
Capable of slicing through anything from timber and plastic to ceramic and metal, circular saws are uncomplicated one-job machines that come in various weights, power settings and states of portability.
---
Best Circular Saw Blades Reviews — The UK's Top 7 in 2023
These are our picks as the best circular saw blades in the UK, from specialised one-piece blades to twin-pack and three-piece sets with varying numbers of teeth on each blade:
Our Top Pick
1. Toolzone Circular Saw Blades
10x TCT Blades.
40/60 Teeth.
30mm bore.
Bushes: 30mm x 25mm, 30mm x 20mm and 30mm X 16mm.
Dimensions 26mm x 26mm x 1mm.
Toolzone's affordable twin-pack of TCT circular saw blades would make short work of rigid materials. With 40 and 60-teeth configurations offering medium and fine cuts, these 250mm blades are the largest diameter on our shortlist, while their 30mm bore is ideal for slicing through thicker materials.
Capable of spinning at 6,000 RPM, they also benefit from tungsten carbide tips. Customer reviews focus on their relative affordability, though others have suggested the blades could be sharper out of the packet.
| | |
| --- | --- |
| Pros | Cons |
| Good value | Blades may not be super sharp straight out of the packet. In some rare cases, they may need sharpening |
| 30mm bore depth | |
---
Most Durable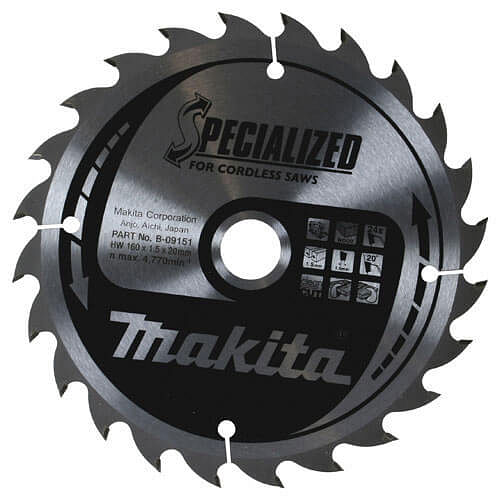 2. Makita Circular Saw Blades
Precision-honed tungsten teeth.
Symmetrical head geometry with centring-tip.
Steel plates are ultra-thin and perfectly tensioned.
Fast cutting blades extend circular saw run time.
Explicitly designed for cordless saws, Makita's entry to our list features a single ultra-thin steel plate with 24 teeth and a 20mm cutting depth.
Designed for slicing coarsely through timber, this distinctive red and silver steel blade measures 165mm by just 1mm and works only with Makita power tools. Its high-grade carbide tips extend the blade's longevity, while a 1.5mm kerf ensures minimal wastage.
Customer reviews praise the B-09167 blades as being good value and high quality, with many saying they have repurchased this item several times.
| | |
| --- | --- |
| Pros | Cons |
| Durable | One of the more expensive entries on our list for a single blade |
| Dependable results | |
---
Best All-Rounder
3. Evolution Circular Saw Blades
Multi-Material cutting technology.
Blades cut steel, aluminium, wood (including embedded nails), plastic and more.
Almost no sparks, heat or burrs while cutting.
Resembling a compact disc more than a circular saw blade, Evolution's offering cuts through almost any material with its tungsten carbide tips (TCT).
These blades are ideal for slicing through metal tubing and materials as diverse as nickel, cobalt, and even titanium-based metals. It can also handle wood with embedded nails and lighter materials like plastic.
The R185TCT has a reverse tooth blade configuration, with 18 double-sided teeth wrapping around the blade. It's 185mm blade diameter and 20mm bore diameter is standard, though a 1.7mm blade thickness is slightly wider than other entries on our list.
| | |
| --- | --- |
| Pros | Cons |
| Capable of cutting through almost any material | Some reviews raise question marks over durability |
---
4. Saxton Circular Saw Blades
185mm diameter, 80 teeth, 20mm bore and 2.4mm kerf.
16mm reduction ring included.
Tungsten Carbide Tipped (TCP) teeth.
Our second TCT entry comes courtesy of Sussex-based Saxton Tools. As the first non-proprietary product in our review, the TCT18580T20B will fit various circular saw manufacturers, including Bosch, Makita, Erbauer and Evolution.
The TCT18580T20B offers 80 TCT teeth delivering a 20mm bore across a 185mm diameter blade capable of spinning at 8,000 RPM.
Reviews praise its clean-cutting abilities, especially on laminate-and-chipboard furnishings, while it's even capable of slicing through thinner Corian surfaces for worktop trimming.
| | |
| --- | --- |
| Pros | Cons |
| Fine cuts with 80 teeth | Relatively expensive |
| It can support 8,000 RPM saws | |
---
Best Value
5. Silverline 801292 Circular Saw Blades
For hardwood, softwood, chipboard and other composite materials.
Alternate top bevel tungsten carbide tipped teeth.
Pack of three, with 20, 24 and 40 teeth options.
15° positive rake.
30mm bore with 20 & 16mm reduction rings included.
Hardened and strengthened blades ensure longevity.
For the price of one of the circular saw blades reviewed above, Yeovil-based Silverline offers three blades with various numbers of teeth. This pack has 20, 24 and 40 teeth configurations, intended for hardwoods and composite materials like chipboard.
These blades have tungsten carbide tips, offering an impressive 30mm bore depth with 20mm and 16mm reduction O-rings included in the pack. The blades each measure 184mm by 1.4mm, resulting in a kerf of 2.2mm. Mainly intended for timber use, these blades can spin at 6,400 RPM.
| | |
| --- | --- |
| Pros | Cons |
| Variable bores | Primarily suitable for timber rather than more challenging materials |
| Good value for money | |
---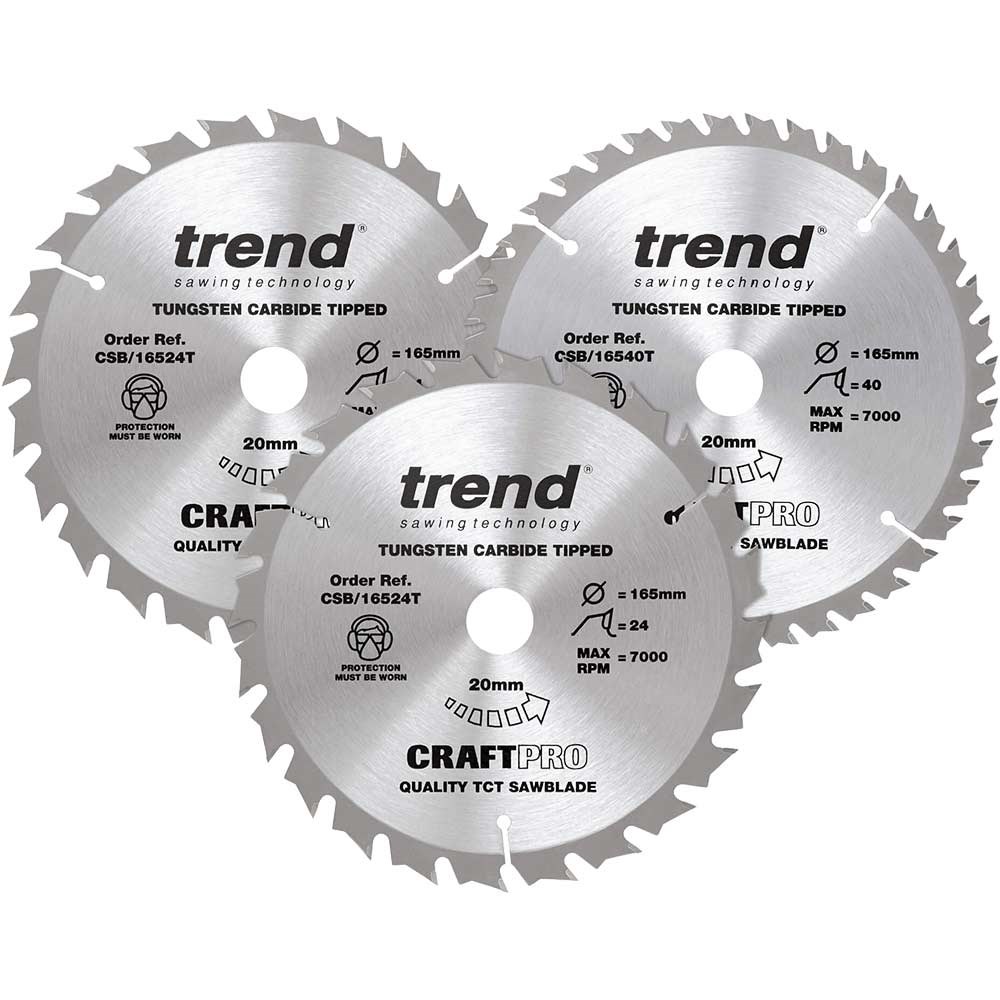 6. Trend Circular Saw Blades
Thin kerf.
Suitable for soft wood, hard wood, plasterboard, stone fibre board, particle board, veneer, plywood, MDF and hardboard.
Reamed bore to ensure a precise fit.
Silver braze.
Although circular saw blades are purchased based on performance rather than aesthetics, there's something reassuringly rugged about the design of this 165mm blade. It has 24 W-shaped TCT teeth wrapping around its edge, with a bore depth of 20mm, a 1.5mm kerf and a maximum RPM of 7,000.
Designed to be used on cordless saws by Makita, DeWalt and Bosch, it can slice through hardwoods and laminates, sheet metals and construction materials. Also, the CSB/16524T is markedly cheaper than other products on our shortlist.
| | |
| --- | --- |
| Pros | Cons |
| Good value | Fewer teeth mean less precision |
| Works across many circular saws | |
---
7. OX Circular Saw Blades
Alternate Top Bevel (ATB) tooth configuration with Anti-kickback for smooth cutting.
Thin kerf design for use on cordless machines.
Reamed bore to ensure a precision fit to spindle.
Tungsten tips.
Includes reducing rings.
136mm Diameter with 2mm bore and 20 teeth.
Our third and final double-tooth circular saw blade is compact compared to its rivals at 136mm. However, it still manages a 20mm bore from 20 pairs of positive teeth. Note that the teeth are carbide but not TCT.
These thin kerf blades are built for cordless machines with minimal kickback and cutting timber rather than more challenging materials like ceramics or steel. However, many customers highly rate OX's blades, even compared to more expensive proprietary blades from saw manufacturers.
| | |
| --- | --- |
| Pros | Cons |
| Good for cutting timber | Not suitable for hard materials |
| The cheapest blade on our list | |
---
Best Circular Saw Blades in the UK — 2023 Comparison Table
| | | | | | | |
| --- | --- | --- | --- | --- | --- | --- |
| Model | Quantity | Diameter (mm) | Bore | Teeth | TCT? | Rating |
| Toolzone PA026 | 2 | 250 | 30 | 40/60 | Yes | 9 |
| Makita B-09167 | 1 | 165 | 20 | 24 | No | 6 |
| Evolution R185TCT-20CS | 1 | 185 | 20 | 18 x 2 | Yes | 8 |
| Saxton Blades 18580T20B | 1 | 185 | 20 | 80 | Yes | 8 |
| Silverline 801292 | 3 | 184 | 30 | 20/24/40 | Yes | 8.5 |
| Trend CSB/16524T | 1 | 165 | 20 | 24 x 2 | Yes | 8 |
| OX Wood Cutting | 1 | 136 | 20 | 20 x 2 | No | 6 |
---
Circular Saw Safety
It would be remiss not to mention how uniquely dangerous circular saws can be. While plenty of DIY equipment can potentially hurt you if used incorrectly or absentmindedly, a circular saw's sheer speed and power could cause life-changing injuries.
A circular saw is a tool you must operate with your full attention. Study the manufacturer's instructions before turning it on, and always be aware of the risk of kickback — the saw being thrown out of position by a knot in timber, for instance.
This YouTube guide by woodworking expert Steve Ramsey provides a handy overview of the dos and don'ts when using a circular saw.
---
Circular Saw Blades Buying Guide
Having established the mantra of safety first, safety second, it's worth considering the diversity of circular saws in the UK market.
As our recent guide to the five best circular saws in the UK explained, you can choose from corded or cordless devices of various weights and power outputs. Higher RPMs equal better cuts, while different teeth configurations can achieve varying precision levels on certain materials.
Your choice of circular saw blade is arguably more important than picking the right circular saw. The blades have the unenviable task of slicing through materials at high speed, remaining accurate despite the huge levels of heat produced during repeated cutting.
Some circular saw blades have less than 20 teeth, while others have more than 100. This number tends to vary depending on the material you're cutting:
Timber — standard steel blades should be sufficient, with between 20 and 80 teeth.
Plywood — a fine plywood blade will have more than 100 teeth.
Ferrous metals — abrasive or carbide-tipped steel blades have between 30 and 80 teeth.
Non-ferrous metals — titanium carbide-tipped blades slice through aluminium and brass.
Masonry – toothless blades for clean finishes or serrated edges for brick and concrete.
As a general rule, fewer teeth mean more aggressive cutting, while higher quantities allow for finer cuts. Plywood blades are the ultimate example of fine cutting, with up to 160 teeth per blade ensuring splinter-free finishes that won't rip this composite material during cutting.
Most teeth lean forwards (a positive hook), though some are double-ended, facing forwards and backwards (both positive and negative).
Buyers should pay particular attention to whether circular saw blades feature titanium carbide tips. Abbreviated to TCT, these blades can last up to 50 times longer than conventional steel blades when slicing through harder materials.
Blade Size
There is two main circular saw blade measurements to be aware of — the blade's diameter (which affects which machines it'll fit onto) and the bore size (how deep it can cut). The former varies widely, while 20mm is the standard bore depth. Most of the saw blades we review below are 20mm, though two are 30mm.
The kerf is less important — it describes the thickness of the channel a saw blade will produce as it cuts through materials. For planing and chopping, the kerf only measures how much material is wasted.
---
Final Thoughts — Best Circular Saw Blades in the UK
In some respects, comparing these blades is disingenuous. Some are manufacturer-specific, while others work across multiple brands and products. We also found that prices vary significantly when you consider some of the items in our comparison table are single discs, whereas others are multi-packs.
However, it's clear that TCT blades slice through more challenging materials and deliver better results overall. For that reason, we'd steer buyers towards the Toolzone TCT blades but ensure they fit your saw before pulling out your credit card.