Property Workshop is proudly reader-supported. When you buy through links on our site, we may earn a small Amazon affiliate commission but this does not affect the price you pay. Learn more here.
---
There are plenty of Jigsaws to choose from in the UK, but only a few are worth your hard-earned money.
To help you pick the best jigsaw for your DIY needs, we've spent hours separating the good from the bad to arrive at the best jigsaw in the UK.
So to avoid making a costly mistake, both in time and money, keep reading to find out which Jigsaw is best for you.
---
Best Jigsaw Reviews — The Top 5 in 2023
The products below made our shortlist for the best jigsaw in the UK. We've included a variety of corded and cordless devices across different price points, but all five products are suitable for sculpting, trimming, and shaping various other materials.
Our Top Pick
1. Bosch PST 700 E
Minimal vibration
Lightweight and compact design
Cuts up to 70mm from 45°- 90° angles
SDS enables quick keyless blade changes
Tipping the scales at just 1.7 kg, Bosch's PST 700 E is a relatively lightweight product. That doesn't detract from its power, though, with stroke rates varying between 500 and 3,100 spm — the second-fastest we tested. It slices through 70mm of wood and 10mm of aluminium, though its steel cutting depth is limited to 4mm.
A double-sided lock switch makes this easy to use regardless of your dominant hand. Another nice touch is the cutting line blower, which you can deactivate when it's not needed. However, our favourite feature is the throttle sensitivity – adjust the pressure on the trigger, and the machine instantly responds.
While some buyers may prefer a cordless device, this is an excellent product if you require the always-available reassurance of a plug. It even has a hanging hook for storing the power cable.
The fact that it costs half as much as its cordless sibling elevates it straight to the top of our list.
| | |
| --- | --- |
| Pros | Cons |
| Outstanding value | Limited cutting depths |
| Lightweight chassis | Not the most comfortable jigsaw to hold for long periods |
| Can reach 3,100 spm | |
---
2. Dewalt DCS334N-XJ
Intelligent variable speed trigger and lock-off switch
4-position pendulum action
The toolless adjustable shoe with anti-scratch cover bevels to 45 degrees in both directions
Quick keyless blade change system that accepts T- shank blades
Overmolded soft grip handle
LED work light
Includes dust blower
Considering the size of DeWalt's contribution to our shortlist, it's a surprise that it weighs only 2.1 kilograms. This jigsaw is an imposing-looking tool, with chunky levers and canary yellow plastic cladding hiding a brushless motor.
The requirement for a clip-on battery might deter some purchasers, though this device's 18-volt motor produces a beefy 3,200 spm to (narrowly) put it on top of the power board. 
Its 135mm timber cutting capacity and 25mm metal cutting depth dwarf some of our other shortlisted products, which means this is a strong contender for people with serious DIY ambitions. It's also an orbital jigsaw, so it cuts forwards and up & down.
Practicality is taken care of with a tool-free adjustable shoe that bevels beyond 45 degrees in both directions. Twin LEDs illuminate the cutting line, and a dust blower keeps any markings visible.
DeWalt's entry might have won this test if not for an extremely high purchase price and the need to budget for an additional battery. People who've been using it for a while highly regard this jigsaw, which is always reassuring.
| | |
| --- | --- |
| Pros | Cons |
| Highest spm figure on test | Extremely expensive |
| Superb cutting depth | Requires a separate battery |
| Orbital cutting functionality | |
---
Best Budget Jigsaw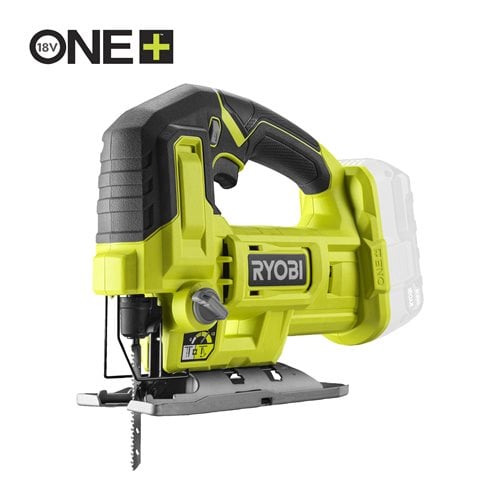 3. Ryobi R18JS-0 ONE+
Variable speed trigger
4-stage pendulum cutting action
LED work light and blower improve cut line visibility
Tool-less blade clamp for quick blade changes
Ryobi is another manufacturer marketing a range of cordless products with interchangeable batteries, so the R18JS-O ONE + is sold as a body-only jigsaw.
Key features include cutting up to 101mm of wood, and it's the only product on our shortlist to be supplied with a circular saw blade — measuring 150mm. It's worth noting this is the only blade provided, so you'll need to raid the accessories list to obtain conventional jigsaw blades.
Following a line is easy thanks to a built-in LED work light, and it's possible to adjust the base to +/- 45 degrees. The keyless blade clamp saves scrabbling around for accessories, and there are cutting speeds between 1,100 and 3,000 spm. However, its garish body colour and pale grey buttons/levers mean it's not always immediately obvious how and where to make certain adjustments.
| | |
| --- | --- |
| Pros | Cons |
| Cordless | No vacuum attachment |
| It comes with a circular saw blade | No standard blades provided |
| Capable of cutting over 10cm of timber | Garish colour scheme |
---
4. Bosch PST 18 LI
Vibration-reduced cutting
Includes Bosch CutControl for straight cuts
Pendulum action produces faster sawing
Up to 80mm cutting depth
Syneon Technology regulates energy use
We love using the PST 18 LI, and we think you will, too, especially if you own other Bosch power tools in their Power4All range.
Sold without a battery or charger, Bosch's cordless PST 18 LI can use these accessories from other items in the company's Power4All range. A sensitive trigger offers variable speeds for cutting different materials, making mincemeat of quick cuts while offering precision for more intricate shaping.
This Bosch model offers dust extraction via a vacuum cleaner connection, and the chassis can hold six saw blades, even though Bosch only supplies one.
Weighing just 1.6kg, the PST 18 LI has a textured handle designed to make ongoing use more comfortable, though left-handed users might find the position of the lock-off switch inconvenient. With a stroke speed of 2,400rpm, the PST 18 LI isn't the fastest on our list, either.
More positively, there's a light and dust-blowing function to keep the cutting line clear, while Bosch's proprietary Slotted Drive Shaft technology makes swapping blades relatively easy.
The major drawback of this jigsaw is its price, costing twice as much as its cordless sibling!
| | |
| --- | --- |
| Pros | Cons |
| Compatible with other Bosch 18V products | Very expensive |
| Variable speeds | Not great for left-handed users |
| Lightweight | Not the most powerful motor |
---
5. Makita 4350FCT
Quick release tool-less blade change
Sturdy adjustable base
Variable speed control
Built-in work light
Weighing nearly four kilograms, Makita's British-made 4350FCT is undoubtedly the heavyweight contender in our quest to find the best jigsaw in the UK.
The 4350FCT's adjustable speed ranges from a maximum of 2,800 spm to a minimum of 800 spm. This extra power allows it to cut through 135mm of timber and 10mm of steel, which none of the other products in this review can match. Then again, it has a price none of the others come close to, and it's not even cordless.
Makita supplies several accessories with the 4350FCT, from a dust nozzle and carry case to an anti-splintering device and a set of assorted blades. These blades can be changed without chucks or Allen wrenches, while the aluminium die-cast base is reassuringly chunky and solid.
There's a light for tracking lines, and Makita has done its best to cut down on vibration and noise with double insulation.
| | |
| --- | --- |
| Pros | Cons |
| Peerless cutting depth | Expensive |
| Solid construction | Too heavy for some |
| Includes lots of accessories | No vacuum system |
---
Best Jigsaw in the UK — 2023 Comparison Table
| | | | | | | | | |
| --- | --- | --- | --- | --- | --- | --- | --- | --- |
| Model | Rating | Price | Cordless | Light | Vacuum | Orbital? | Weight | Cut Length |
| Bosch PST 700 E | 9 | £ | No | Yes | Yes | No | 1.7kg | 70mm |
| Dewalt DCS334N-XJ | 9 | £££ | Yes | Yes | Yes | Yes | 2.1kg | 135mm |
| Ryobi R18JS-0 ONE+ | 8 | £ | Yes | Yes | No | No | 2.1kg | 101mm |
| Bosch PST 18 LI | 8 | £££ | Yes | Yes | Yes | No | 1.6kg | 80mm |
| Makita 4350FCT | 7 | ££ | No | Yes | No | Yes | 3.84kg | 135mm |
---
Jigsaw Buying Guide
As we've seen from the above product reviews, there's a wide disparity in the design and functionality of different jigsaws. Even two products from the same manufacturer can take different approaches to slice through wood or metal.
These are the critical characteristics to look for, starting with an obvious distinction – power.
---
Motor Power
You might see different figures describing motor power depending on whether the jigsaw is corded or cordless.
Corded jigsaws run between 400 and 900 watts, whereas cordless devices focus on the number of strokes per minute (spm) the motor can generate.
Since spm is a measurement shared by corded devices, it's the one we've focused on in the above reviews. Look for around 3,000 spm — in our testing, only the cordless Bosch fell significantly below this figure.
---
Orbital Cutting Action
Any jigsaw blade moves up and down, but some incorporate an orbital cutting action where the blade moves forward simultaneously.
Jigsaws with an orbital action require far less pressure from the user to slice through materials. However, high-quality engineering ensures the blade is held securely while simultaneously cutting in two directions.
Of our five shortlisted products, only the DeWalt and Makita are orbital. They're also considerably more expensive than the other three because of this superior cutting power. Whether or not they justify that premium depends on the frequency of usage and the density of materials you're cutting.
---
Variable Speed Control
Unlike orbital cutting, every product on our list offers a variety of speed settings. Speed is managed through pressure applied via the trigger or a dedicated switch.
Makita offers intuitive speed settings from 1 to 5, while the Bosch jigsaws employ variable-speed triggers to increase or decrease performance.
---
Maximum Cutting Depth
Cutting depth is one area where results vary considerably, depending on various factors from the power source to blade length.
The heavyweight Makita and high-performance DeWalt offer timber-cutting depths of 135mm, whereas the cordless Bosch only cuts metal up to 5mm in depth.
Generally, wood cutting depths are many times greater than metal, but high-end models almost double the 70mm timber cutting depth of more affordable jigsaws.
---
Curving Cuts
There are many different styles of jigsaw action beyond simple straight lines. For instance, angled cuts can be achieved with adjustable bases, typically supporting 45-degree incisions, though our shortlisted DeWalt goes up to 47 degrees.
One of our Bosch contenders allows users to move the saw plates to the device's rear for added flexibility and precision.
---
Jigsaw Blades
Different types of jigsaw blades are required for cutting through wood and metal, achieving different cut depths along the way.
The Bosch PST 18 LI has an integrated storage compartment capable of housing up to half a dozen blades. Bosch also has a proprietary blade-changing mechanism, while DeWalt, Makita and Ryobi offer tool-free switching.
The industry default involves T-shank blades, which have replaced the older U-shank blades. You can identify T-shank blades by their twin protrusions at the far end of the cutting edge.
---
Corded vs Cordless Jigsaw
One of the most significant decisions you have to make when choosing a jigsaw involves whether or not to go cordless. There are advantages to each option:
Corded Jigsaw
You can use it indefinitely without running out of power in the middle of a project.
Generally cheaper to buy
Fewer parts to carry around — no detachable batteries or separate charging leads
A lack of batteries often makes them lighter to pick up and transport.
Cordless Jigsaw
No risk of becoming entwined in the cable as you carve your way around a large object
No risk of having to restart precision cutting because the cable won't stretch far enough
It can be used in the garden since there's no need for a plug socket, reducing dust exposure.
It can be used in a property without power, providing the batteries are fully charged in advance.
Corded jigsaws are generally cheaper since they don't need expensive batteries or chargers. You can pay as little as £40 for an excellent corded jigsaw, with cordless ones roughly twice the price, though a corded product with high-end specifications could still set you back over £100.
Also, check whether your cordless jigsaw includes a battery — these are often sold separately, increasing the overall cost*.
*Pro Tip: If you own other power tools from the same manufacturer and product range, you may already have compatible batteries.
---
Other Jigsaw Features to Consider
These may not be essential features in a jigsaw, but they help simplify DIY jobs, so their presence is generally advisable.
LED Light and Laser Guide
An LED light (or two, as found on the DeWalt) helps to illuminate what can otherwise be a gloomy cutting area, with the jigsaw's body often blocking out surrounding light.
A laser guide provides a way of following neat lines, though obviously, it's ineffectual in terms of angled or curved cuts.
Dust Blower
By its very nature, a jigsaw creates considerable dust, which often accumulates immediately ahead of the blade to obscure pencil lines or wood grain as you attempt to follow a particular pattern.
Blowers displace the dust elsewhere, though jigsaws often lack collection facilities like dust boxes and vacuum attachments commonly found on sanders.
Blade Guard
Some surfaces are prone to splintering, particularly if they have a coating like melamine or veneer.
A blade guard effectively sits on either side of the blade as it moves around, pinning down surrounding material to prevent it from ripping or fragmenting.
Typically made of clear plastic or steel, the blade guard isn't often referred to in marketing materials. Still, you can see whether the blade is surrounded in product photographs.
Rubber Coated Grip
Like many power tools, jigsaws create a great deal of friction and heat, making them hard to hold, especially as your hands become damp from sweat.
A rubberised handgrip counteracts the slipperiness often associated with plastic, while any form of tread or ribbing also improves its practicality.
---
Best Jigsaw in the UK — Final Thoughts
Based on our analysis above, you should be well-placed to choose the best jigsaw for your specific requirements.
Every product has advantages — the Bosch units have variable power triggers, you can use the Ryobi as a circular saw, and the Makita has the greatest cutting depth.
DeWalt might have won this test if not for its purchase cost. Ultimately, it was beaten by the cordless Bosch PST 700 E jigsaw that represents incredible value. Providing you're not planning on slicing through oak beams, it's a worthy test winner.