Property Workshop is proudly reader-supported. When you buy through links on our site, we may earn a small Amazon affiliate commission but this does not affect the price you pay. Learn more here.
---
Typically costing between £95 and £145, a scroll saw can deliver better results than a jigsaw without the bicep-busting strain of a coping saw or fretsaw.
Below, we review the best scroll saws in the UK and explain what to look for when comparing them.
---
Best Scroll Saw Reviews – The UK's Top 3 in 2022
These three products are on our shortlist for the title of the best scroll saw in the UK. Every product should be suitable for delicate trimming and detailing, and their costs range from less than £100 to just under £150.
Remember, you can't buy optional extras or upgrade a scroll saw, so ensure any purchase meets your needs at the outset:
1. Charnwood SS16F – Best Overall Scroll Saw
Resembling something you'd see in opticians as much as a tool shed, Charnwood's SS16F is a battery-powered device with a comprehensive specification. It offers a foot pedal for its variable speed DC motor, ensuring that users can stop and start cutting without moving their hands from the material. There's also a transparent guard to keep the operator away from the blade and an air blower that keeps dust off pencil lines.
The SS16F's specifications don't stop there, either. An LED work light stands to the side of the transparent guard, illuminating the blade. Depending on the operator's preference, the blade can be either plain-end or pin-end.
While using it as a workbench, you can pin the cast iron base into place with three separate mounting points. The table rotates to 45 degrees, with two slots to mount a sliding mitre fence for straight cuts instead of freehand. This feature ensures the SS16F is suitable for whole cuts rather than intricate carvings.
The Charnwood is the most expensive scroll saw on our list. Yet, given its wealth of talents and comprehensive specifications, it's worth paying a little extra for this excellent scroll saw.
| | |
| --- | --- |
| Pros | Cons |
| Comprehensively equipped | More expensive than other products |
| Good at straight cuts | Side-mounted light casts shadows |
| It has a foot pedal | Battery-powered |
---
2. Dremel Moto-Saw MS20 – Best Budget Scroll Saw
Detachable coping function
Auto tensioning quick-change mechanism
Variable speed control
The fast clamp base attaches to various surfaces
Two-year warranty
On paper, the Dremel is a strange addition to our list. This portable and compact device is considerably cheaper than the other scroll saws on review. It's also intended for use as a fret saw as much as a scroll saw.
The blade arm resembles a record player rather than a heavy-duty piece of carving equipment, and the entire device weighs just 4.1kg. There's no light or dust extraction system, either.
Perhaps the most significant black mark against the MS20 is that its cutting depth is only 18mm. That's fine for wall decorations and cutting soft sheet metal, but it's less than half the depth offered by our other contenders.
Yet if you can forgive its lightweight construction and limited cutting depth, the Dremel has several compelling advantages: First and foremost, it offers a foot pedal, enabling you to minutely adjust the position of objects you're cutting with both hands. Indeed, you can use this saw in your hand rather than being bolted in place – hugely increasing its flexibility.
Other advantages include cost and simplicity. The fixed blade position ensures impeccable cuts, though at the expense of not setting the blade sideways. Finally, that lightweight construction means the MS20 comes with a carry case. This model is the only scroll saw on our list which is easily transportable for on-site cutting and trimming.
| | |
| --- | --- |
| Pros | Cons |
| Lightweight and portable | Only cuts to 18mm |
| Affordable | No dust extraction system |
| It has a foot pedal | More suited to light crafts than heavy work |
---
3. VonHaus Scroll Saw 405mm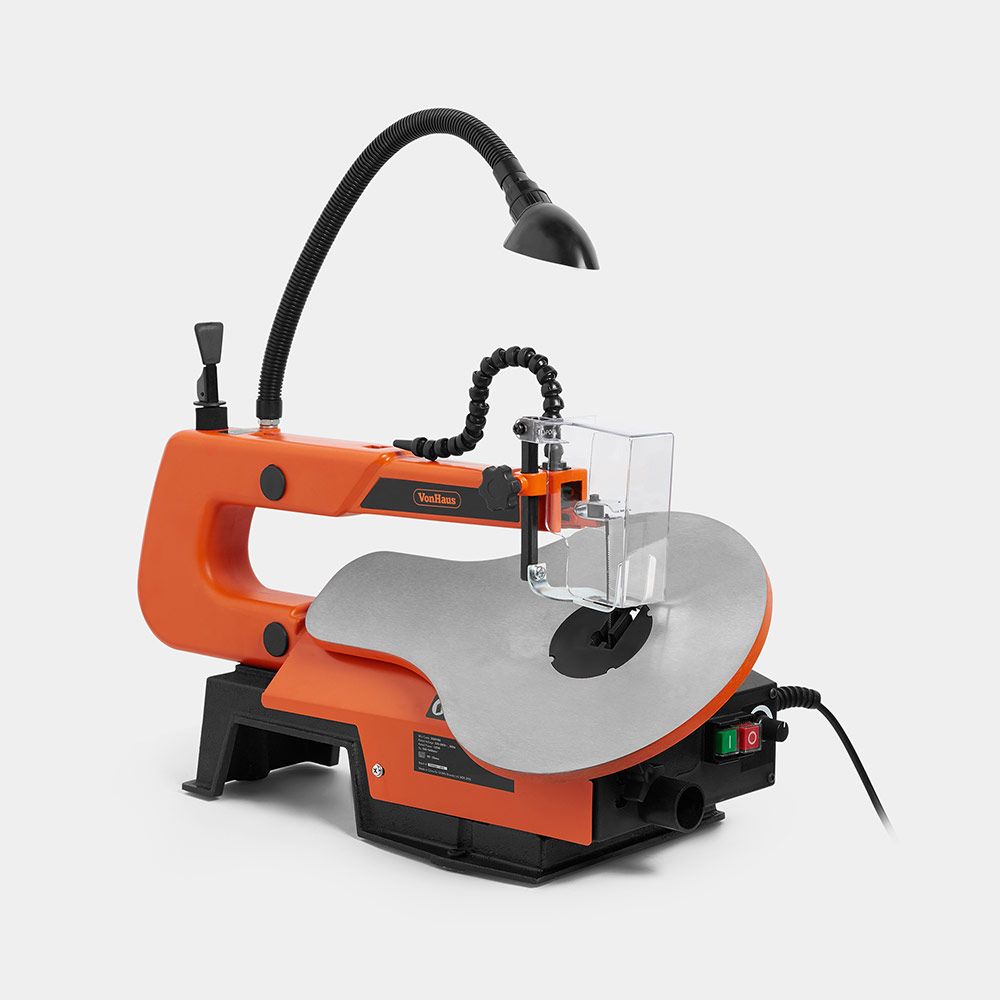 Maximum cutting width of 405mm and depth of 50mm.
Variable cutting speeds from 550-1600 and 1650-4800 RPM.
Includes a built-in flexible 12V LED work light.
Compatible with pinned and pinless blades.
Includes 2 x 5" pinned blade (15 TPI), 1 x 5" pinless blade (18 TPI) and unpinned blade adaptor.
The quick-change system adjusts the worktable angle from 0-45°.
Includes an inbuilt dust blower system and connects to any external dust extraction source, such as a wet & dry vacuum.
VonHaus's contribution to our shortlist is a reassuringly solid piece of equipment, finished in a vivid shade of sunburst orange. The large 12V LED light arcing above this saw distinguishes it from the others on our list.
Other notable features include the clear plastic guard around the blade arm, which takes pinned and pinless blades. Also, this saw's inbuilt dust extraction system connects to a wet or dry vacuum.
The VonHaus offers variable speeds, with an RPM range from 1650 to 4800 and a cutting rate between 550 and 1600. Its cast aluminium worktable is adjustable to 45 degrees for bevel cuts and supports a maximum cutting width of 405mm.
Unlike the Dremel, it can also slice through materials up to 50mm thick, making it a genuinely multipurpose scroll saw. The cast iron base can be pinned to a bench or table, helping eliminate movement.
The main drawback to the VonHaus is the lack of a foot pedal. Although the power button is next to the worktable, activating it involves removing one hand from whatever you're cutting. This drawback can affect the neatness of finishes, especially when pausing to adjust a material before resuming work.
| | |
| --- | --- |
| Pros | Cons |
| Reassuringly solid | No foot pedal |
| Versatile dust extraction system | Lacks portability |
| Works with pinned and pinless blades | Off-switch tricky to reach mid-cut |
---
Comparison Table – Best Scroll Saw in the UK
| | | | | | | |
| --- | --- | --- | --- | --- | --- | --- |
| Model | Pedal | Vacuum | Tilts | Light | Cut Depth | Rating |
| Charnwood SS16F | Yes | Yes | Yes | Yes | 50mm | 9 |
| Dremel MS20 | Yes | No | No | No | 18mm | 6 |
| VonHaus 405mm | No | Yes | Yes | Yes | 50mm | 8 |
---
Scroll Saw Buying Guide
Below are the key features to look for when comparing the best scroll saws in the UK:
Blades
You can tension the blade using a manual dial, allowing you to replace and insert new blades. Never over-tighten a blade, as it needs a degree of elasticity to do its best work. Position the blade away from the machine's arm, facing the operator.
Ensure the shape you're cutting is marked on the material. Don't try to make a more extended cut in a single fluid motion unless you can always keep your hands clear.
Safety Features
Like any power tool, it's critically important to approach a scroll saw with respect. The blade won't move, but the machine could – some users report issues with devices creeping across worktops.
Because you must push the material into the saw, always position your fingers at least two inches from the blade. Also, ensure the material doesn't contain nails or other objects that might damage the blade or spoil the cut.
This guide to scroll saw safety covers essential tips like wearing safety glasses and tightening the belt guard.
Tables
Basic scroll saws have fixed rectangular or circular tables, supporting a cutting depth of up to 50mm. More sophisticated models allow the table to tilt at 45 degrees for bevel cuts and fine detailing.
The table angle adjustment may be ratcheted or infinitely adjustable, and it doesn't require removing or reinstalling the blade. However, this relatively advanced scroll saw cutting requires practice to achieve effective three-dimensional results.
Dust Extraction and LED Lighting
Scroll saws are specialist tools used for precise cutting, so it's vital to ensure the material you're cutting is fully visible. Many scroll saws include air blowers or dust extraction systems that disperse freshly cut particles, allowing you to follow lines marked on the material's surface. Some saws also offer LED lighting for the same reason.
Safety guards help keep fingers and thumbs safe, usually comprising a Perspex housing on all sides of the blade.
Foot Pedal
Some scroll saws have a foot pedal switch, similar to those found on sewing machines. This switch allows you to kill the power while using two hands to hold the material in place, simplifying intricate cuts. Many of the best scroll saws in the UK offer this, and two of our shortlisted machines have foot pedals. Remember that foot pedals create additional clutter when the device isn't in use.
A basic scroll saw will already weigh 12kg and measure around 700x350x350mm. So this isn't something you can store in a toolbox, especially if it's battery-powered rather than mains powered.
---
Best Scroll Saw in the UK – Final Thoughts
Ultimately, choosing the best scroll saw depends on your requirements.
If cost is the driving factor, you may have to live without niceties like dust extraction vacuums and lights. If a foot pedal is crucial, you may have to sacrifice other features or pay a little extra. All the saws in our comparison guide allow you to perform accurate and stylish cuts on wooden or soft metal materials.
The Dremel is uniquely portable, and you can use it as a fret or bench saw. It's also cheap, coming in at less than £100, though it lacks the features found on more expensive models and can only cut to a depth of 18mm. However, the supplied carry case and 4kg weight make this a handy tool for people who work on-site.
If your budget will stretch, the Charnwood offers all the features you could want, including a foot pedal. Not only does foot operation increase safety by allowing you to keep both hands on the material you're cutting, but it also improves precision. You can kill the power at any time without the saw blade juddering as one hand attempts to hold the material in place. Our only note of caution concerns the use of battery power rather than mains power, making it unique in this selection of products. However, the Charnwood SS16F is the best product we've tested with a vacuum and lighting functionality alongside a tilting table.