Property Workshop is proudly reader-supported. When you buy through links on our site, we may earn a small Amazon affiliate commission but this does not affect the price you pay. Learn more here.
---
Whether chopping down a tree or trimming a hedge, having a cordless chainsaw is extremely useful, combining practicality and freedom of movement without worrying about power leads.
However, with so many products available, how do you choose the best cordless chainsaw in the UK?
After many hours of research and testing, we've done the hard work for you by shortlisting our favourite cordless chainsaws in this comprehensive UK buying guide.
---
Best Cordless Chainsaw Reviews – The UK's Top 3 in 2023
Below are our top picks for the best cordless chainsaws in the UK, starting with a product on the cutting edge of heavy-duty slicing and dicing.
Our Top Pick
1. Greenworks G40CS30K2
25cm bar and chain
Auto oiler with clear view window
Rear handle lock-off switch
Tool-less chain tensioning with quick adjust knob
Weighs only 3.6kgs
24V rechargeable 2Ah Lithium-ion battery and charger
Backed by a 3-year product and 2-year battery warranty
Opting for a lime green chassis finish (in contrast to the orange hues of our other shortlisted devices), Greenworks have produced a chainsaw that houses its motor vertically instead of horizontally. This clever design makes the G40CS30K2 more comfortable for two-handed operation, with weight evenly distributed between the rubberised bow handguard and the bottom trigger grip.
A 40V battery provides a chain speed of 4.3 m/s, while the 30cm blade can run for up to half an hour. The batteries have LED charge-remaining lights and are hot-swappable with other Greenworks products for extra versatility. A full charge of a 4Ah battery takes two hours.
Weighing just 2.75kg, this is an easy-to-use product with no tools required for chain tensioning or replacement. There's an oil level indicator, while automatic lubrication should extend the chain's lifespan.
| | |
| --- | --- |
| Pros | Cons |
| Can run for 30 minutes at a time | Restricted visibility due to the vertical motor housing |
| Lightweight and balanced | Not the longest or most powerful saw in our tests |
| Powerful motor and quick battery recharging | |
---
Runner Up
2. WORX WG384E
Includes dual 20V batteries (40V total)
Interchange batteries with other 20V WORX tools.
Brushless motor
Tool-free chain replacement system and tensioning system
Automatic oil lubrication with level indicator
Body-only model. Battery and charger sold separately
While the BLACK+DECKER opts for 18V power, WORX has equipped their entry into our shortlist with up to 40V power. Packing a 35cm blade, this is the most imposing product on our shortlist, though it's also by far the heaviest.
Many of the specifications are shared across our shortlist, such as the tool-free chain replacement and tensioning system.
The WG384E has automatic oil lubrication with a level indicator, while WORX has reduced kickback as far as possible. As with the Greenworks and BLACK+DECKER, you can swap batteries from other products in the WORX range to keep the WG384E going beyond its runtime.
A chain brake stops the blade in a fraction of a second, which is reassuring when considering the chain speed can reach up to 8m/s. This chainsaw might be a heavy piece of equipment, but it's also extremely powerful – by far the most industrial product on our list. So if you're planning to chop down trees rather than sawing logs, this is your model.
| Pros | Cons |
| --- | --- |
| Unparalleled chain length and speed | By far the most expensive product we tested |
| Extremely powerful | It may be too heavy for some people to use |
| Chain brake boosts safety | |
---
Best Budget Chainsaw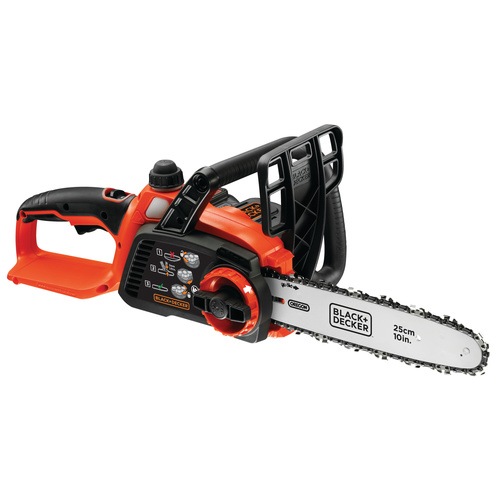 3. BLACK+DECKER GKC1825L20-GB
Lightweight at 3.1kg
Leak-free oil system
Lithium-ion battery with fade-free power
Approx 220 x 35mm cuts per battery charge
250mm max cutting width
Tool-free chain tensioning
The side-mounted battery pack is the first thing you notice about BLACK+DECKER's contribution to our shortlist. This design, combined with the left-handed support handle, makes it less balanced than the Greenworks. In particular, left-handed users may find the GKC1825L20-GB cumbersome to use.
That aside, there's lots to like about the awkwardly-named GKC1825L20. It mirrors the Greenworks' tool-free tensioning and chain fitting while improving it by offering an anti-kickback chain and two-switch activation.
The over-moulded rubber grip is tactile and doesn't obscure the operator's view of the chain like the Greenworks model.
The 25cm blade isn't the longest on test here, though the 3.1kg weight of the GKC makes it marginally the lightest product we tested – ideal for people with limited upper-body strength. It is down on chain speed compared to its rivals, delivering 3.5 m/s, while its oil system is semi-automatic and requires a button to activate.
| Pros | Cons |
| --- | --- |
| Lock-off safety switch | Not ideally suited to left-handed users |
| A smaller blade makes it wieldy | Down on power compared to other products |
| Excellent mid-job visibility | |
---
Best Cordless Chainsaw in the UK – 2023 Comparison Table
| Model | Weight | Blade length | Lubrication | Batteries | Rating |
| --- | --- | --- | --- | --- | --- |
| Greenworks G40CS30K2 | 3.2kg | 30cm | Automatic | 40V | 9 |
| WORX WG384E | 7.36kg | 35cm | Automatic | 40V | 7 |
| BLACK+DECKER GKC1825L20-GB | 3.1kg | 25cm | Semi-automatic | 18V | 6 |
---
Cordless Chainsaw Buying Guide
In our guide to choosing the best cordless chainsaw, we consider everything from chain lubrication to left-handed use. However, arguably the most crucial factor is the method of power. All our shortlisted products are electric, which we believe is more practical than petrol. Petrol-powered chainsaws tend to be more powerful, but few of us will chop down oak trees. The lack of engine priming and cord-pulling is hugely beneficial for most people.
Our shortlisted chainsaws have modular batteries, which you can share with other products in the manufacturers' ranges. This design means you can access more batteries than those supplied with each product – ideal if you're undertaking a job requiring considerable cutting. Batteries can take up to five hours to fully recharge, though a quick half-hour top-up will restore much of their power.
Safety Features
Chainsaws are just one of many products capable of cutting, sawing and slicing. Depending on the nature of the work involved, you might be better off using a less powerful (and less dangerous) member of the saw family. Our guide to 21 types of saws may be of assistance if a chainsaw seems overkill.
Chainsaws are uniquely dangerous, and correct usage is critical. This YouTube guide to using and maintaining a cordless chainsaw should keep you safe. 
Our shortlisted products all have handguards, while the BLACK+DECKER has a two-switch activation mechanism, and the WORX switches off by pushing the hand-guard forward.
Weight and Size
Any chainsaw is a heavy object, and strapping on battery packs increases their bulk. The BLACK+DECKER has one side-mounted battery, while the WORX balances out with one on either side of its main motor shaft. However, Greenworks takes the best approach by positioning its motor vertically – making this the most practical chainsaw for left-handed users.
If weight is an issue, it's worth noting that the WORX weighs more than the other two products combined. It may be the most powerful, with the longest chain, but it'll tire your arms quicker. We'd recommend picking it up and holding it in different positions before committing to a purchase.
Oil Systems
All three shortlisted products have integral chain oiling systems, though they differ considerably. The WORX and Greenworks have automatic chain lubrication, helping to reduce heat and prolong the life of the chain.
The BLACK+DECKER has a semi-automatic mechanism, while its 53ml oil tank capacity is less than half its competitors. This smaller tank helps keep weight down but means you'll be topping it up more frequently.
Admittedly, users of electric chainsaws tend to call on their devices relatively infrequently compared to corded or petrol-powered ones, so this shouldn't be a significant drawback to the BLACK+DECKER model.
---
Final Thoughts – Best Cordless Chainsaw in the UK
It's relatively easy to award the BLACK+DECKER our bronze medal in this competition as it doesn't lead the field in any area. It's down on length, power and run-time compared to both competitors, and that lopsided design means it's not the easiest to use, nor is it the cheapest item we tested. However, it's slightly lighter than the Greenworks, and less than half the weight of the beefy WORX, making this an excellent product for beginners and anyone lacking well-defined biceps.
The WORX is your best option if you regularly undertake heavy-duty cutting but don't want a mains-powered or petrol chainsaw.
Its 35cm blade and 8m/s chain speed make this the ideal option for slicing through hardwood, and the 40V batteries have impressive longevity. However, it's heavier than our other two candidates combined and much more expensive.
That leaves the Greenworks Chainsaw as a worthy test winner. It does everything well, outperforming its rivals in several critical areas. As a result, this is a compelling product for most buyers, especially anyone with other Greenworks products reliant on its 40V battery pack. The fact it's also the most affordable chainsaw on test is merely the cherry on top of the cake.