Property Workshop is proudly reader-supported. When you buy through links on our site, we may earn a small Amazon affiliate commission but this does not affect the price you pay. Learn more here.
---
Choosing the best folding workbench in the UK is complicated. With so many factors to consider, including worksurface size, max load, adjustable features, construction, and cost, it can be hard to pick the best model for your needs.
To help you choose the best folding workbench, we've spent hours separating the good from the bad to arrive at the seven best folding workbenches in the UK.
---
Best Folding Workbench Reviews — The UK's Top 7 in 2023
Here are our top seven folding workbenches available to buy in the UK:
Our Top Pick
1. WORX WX051 Pegasus
Multi-function Workbench and Sawhorse.
An integrated clamping system holds materials firmly in place.
This model includes two bar clamps and four clamp dogs.
Lightweight and foldable for easy transportation and storage.
If you're looking for a catch-all workmate, the WORX WX051 is our top choice.
78.74cm x 63.5cm of workspace makes it perfect for various household jobs. At 81.28cm high, it's also a great work surface for things like bicycle repairs and potting plants. You can also join two of these tables to support larger DIY jobs.
Its reinforced-steel body can withstand up to 454 kg in sawhorse mode or 136 kg in workhorse mode. As durability and sturdiness go, the link-lock system means it won't fold or buckle under heavy pressure.
The flexible integrated clamping system allows you to work on your projects at whichever angle you choose. However, the jury's out over the strength of the clamps, so that's something to bear in mind.
| | |
| --- | --- |
| Pros | Cons |
| Generous workspace | Clamps are not the strongest |
| Handy for a wide range of jobs, not just DIY | Expensive |
| Reinforced steel body | |
| Robust link-lock system holding up to 136kg in workhorse mode | |
| Storage shelf | |
---
Best Budget Workbench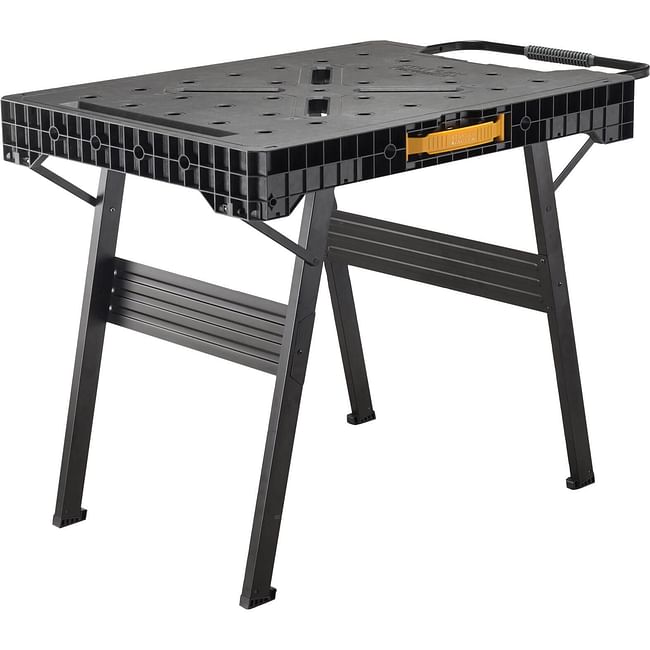 2. Stanley FatMax FMST1 75672
Metal legs support up to 450Kg.
85x60cm surface provides ample work area for extra versatility.
Compatible with clamps of all sizes.
Suitable for vertical and horizontal clamping.
Workbench folds in seconds for easy transportation and storage.
Stanley's FatMax folding workbench has plenty of nice features, including chunky metal legs which can support up to 455kg. However, it lacks the versatility of the other two workbenches on our list, which is a significant drawback.
The FatMax's work surface area is greater than the WORX WX051, measuring 85cm x 60cm, and it weighs 3.4kg less than its heavyweight competitor, making it an excellent choice for anyone who's regularly on the move.
This folding workbench has an array of compatible accessories like vertical and horizontal clamps for extra versatility.
Furthermore, its chassis has a series of X-shaped grooves and dog bench holes to support clamping at almost any angle.
| | |
| --- | --- |
| Pros | Cons |
| Hugely versatile clamping options | Limited functionality |
| Generous work surface area | Question marks over durability |
| Lightweight and easy to transport | |
| Low price tag | |
---
Best Portable Workbench
3. Keter 17182239 Master Pro
Two 30cm clamps sit horizontal or vertical for extra versatility.
Thirty seconds set up thanks to a unique quick-opening system.
Bench supports up to 453kg.
Fully foldable.
Resembling a Transformers robot as much as a workbench, Keter's entry into our list of the best folding workbenches is an impressive-looking piece of equipment.
The Keter 17182239 almost matches the other two workbenches' max load capacity despite weighing less and lacking a reinforced steel body.
Keter supplies this workbench with accessories, including horizontal or vertical clamps, reflecting its 3D design.
Despite its visual complexity, Keter claims this quick-opening workbench assembles in 30 seconds, which will appeal to busy tradespeople or anyone who feels daunted by instruction manuals.
| | |
| --- | --- |
| Pros | Cons |
| Great for vertical clamping | Its plastic body may not wear well |
| Claimed 30-second assembly | Quite expensive |
| Weatherproof construction materials | |
---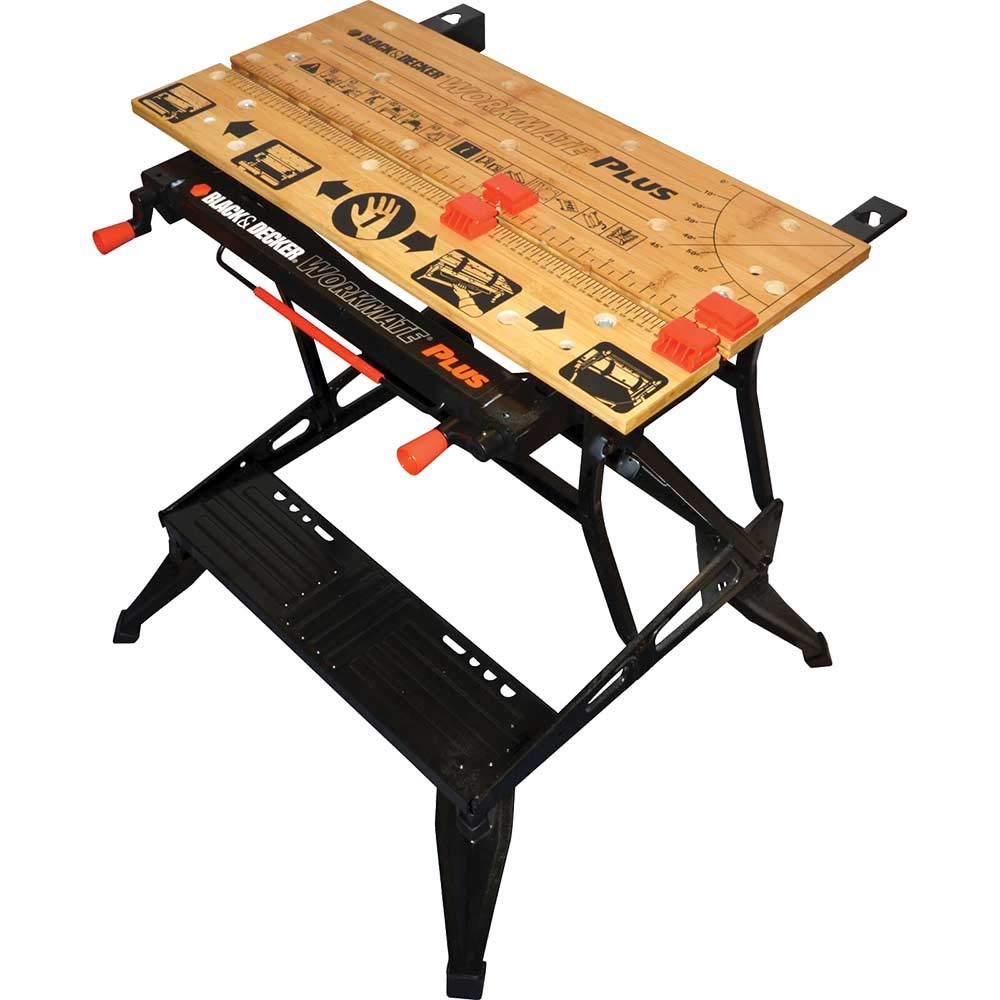 4. Black+Decker Workmate Plus WM825
Durable steel construction.
Anti-slip rubber feet.
Dual working heights allow use as a workbench, bench tool stand, vice, or sawhorse.
The front jaw swings up/down for vertical clamping, increasing flexibility to clamp odd-shaped objects.
Dual clamping cranks increase clamping force and versatility.
Workbench folds flat for compact storage and easy transportation.
Adjustable swivel pegs and jaw retention grooves provide clamping versatility and reliable material hold.
A lot is going on across the surface of BLACK+DECKER's Workmate Plus bench. Depending on your preferences for measurement markings and operating instructions, these extra features can be helpful or annoying.
Like the bench, there's a great deal to take in across this product. Dual working heights enable it to switch rapidly between workbench and sawhorse, while the one-handed clamp system ensures you can adjust the clamps simultaneously or independently. Furthermore, the front jaw pivots upwards for vertical clamping,
It's disappointing that a workbench weighing almost 15kg can only support 250kg, especially considering other products on our list support more than double this payload. However, the BLACK+DECKER's steel construction and anti-slip rubber workbench feet are well-designed and reassuringly solid.
| | |
| --- | --- |
| Pros | Cons |
| Feels well-assembled | Disappointing max weight |
| Supports vertical clamping | It looks a bit fussy |
| Measurements and instructions on the bench | |
---
5. Wolfcraft Master 200
Two MDF clamping jaws and an adjustable front jaw.
Integrated tool rack.
The bench holds up to 180kg.
Quick-folding system for space-saving storage.
The Wolfcraft Master 200 looks pretty basic compared to the hieroglyphic BLACK+DECKER workbench, let alone the robot-in-disguise Keter. Even so, it's a sturdy companion with two MDF clamping jaws and an integral tool rack.
The underwhelming underframe offers quick folding and collapses almost entirely flat, requiring minimal space for storage. It accepts a 180kg payload, which is the lowest in this test, though its 650mm maximum width is beaten only by the Stanley and WORX workbenches.
There's an undeniable sense that this is a budget product, but nice touches include the cyan handles and pre-marked degrees arc on the table. An integrated tool rack is also a welcome addition.
| | |
| --- | --- |
| Pros | Cons |
| Affordably priced | It feels low budget |
| Some nice design details | Lowest load weight |
| It takes up very little space | |
---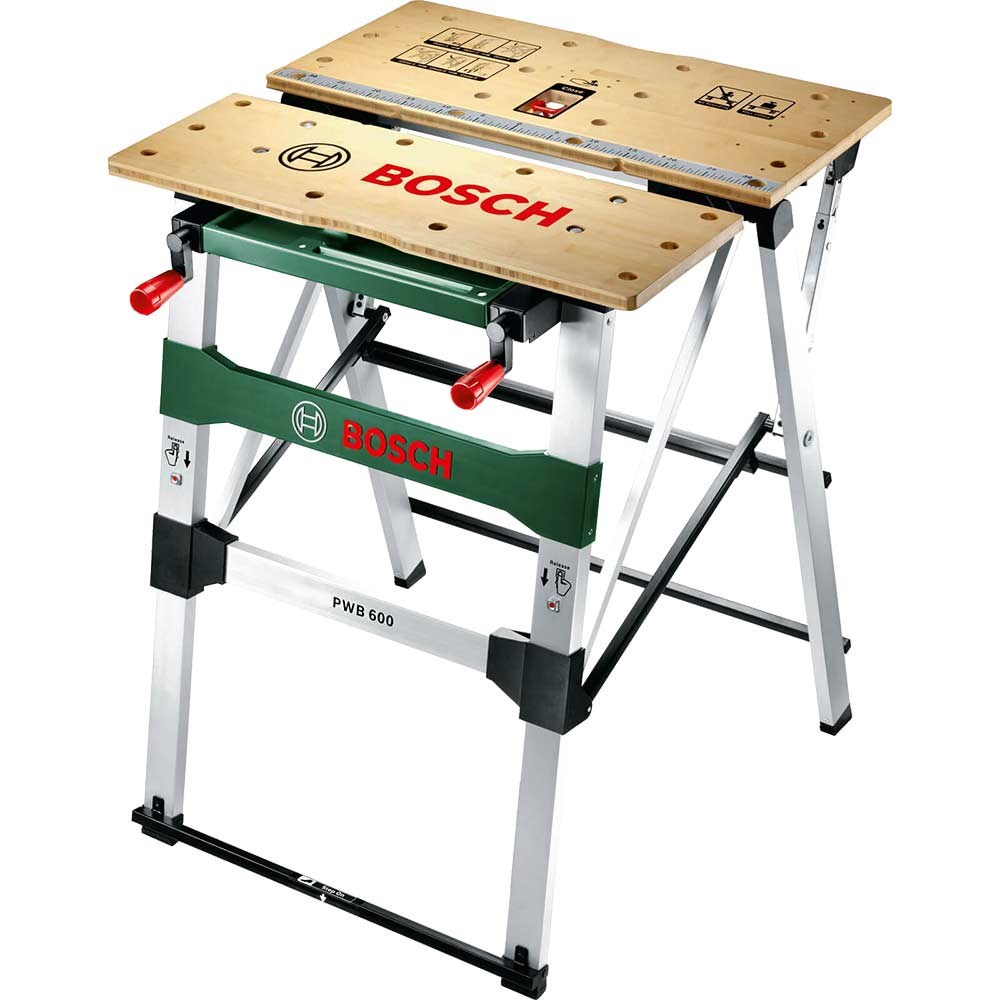 6. Bosch PWB 600 Workbench
Workbench includes flexible clamping jaws for a firm hold.
Bamboo surface provides a durable workspace.
Table folds flat via aluminium construction for easy transportation and storage.
Overall size: 805mm x 650mm x 785mm.
If the Keter resembles a Transformers robot, the PWB 600's emerald paint colour and the bamboo top could only have come from Bosch.
Supplied with four clamps, it's an attractive and practical design finished with water-repellent materials, making it great for outdoor work in harsh conditions.
Offering a maximum clamping depth of 34mm, its full width of 525mm achieves a mid-table finish in our comparison chart (below).
The load-bearing capacity of just 200kg is the second-lowest we recorded (Draper hasn't published figures for their product), though we did like the PWB 600's integral storage tray and grippy feet.
Bosch claims you can dismantle their product in five seconds, which is an impressive claim if hardly ground-breaking. Our primary concern — and the reason for its relatively low overall score — is that this is the most expensive product we tested, yet it doesn't excel in any specific area.
| | |
| --- | --- |
| Pros | Cons |
| Quick to deploy and collapse | Cheap packaging |
| Strong clamps | Underwhelming capacities |
| Suitable for outdoor use | |
---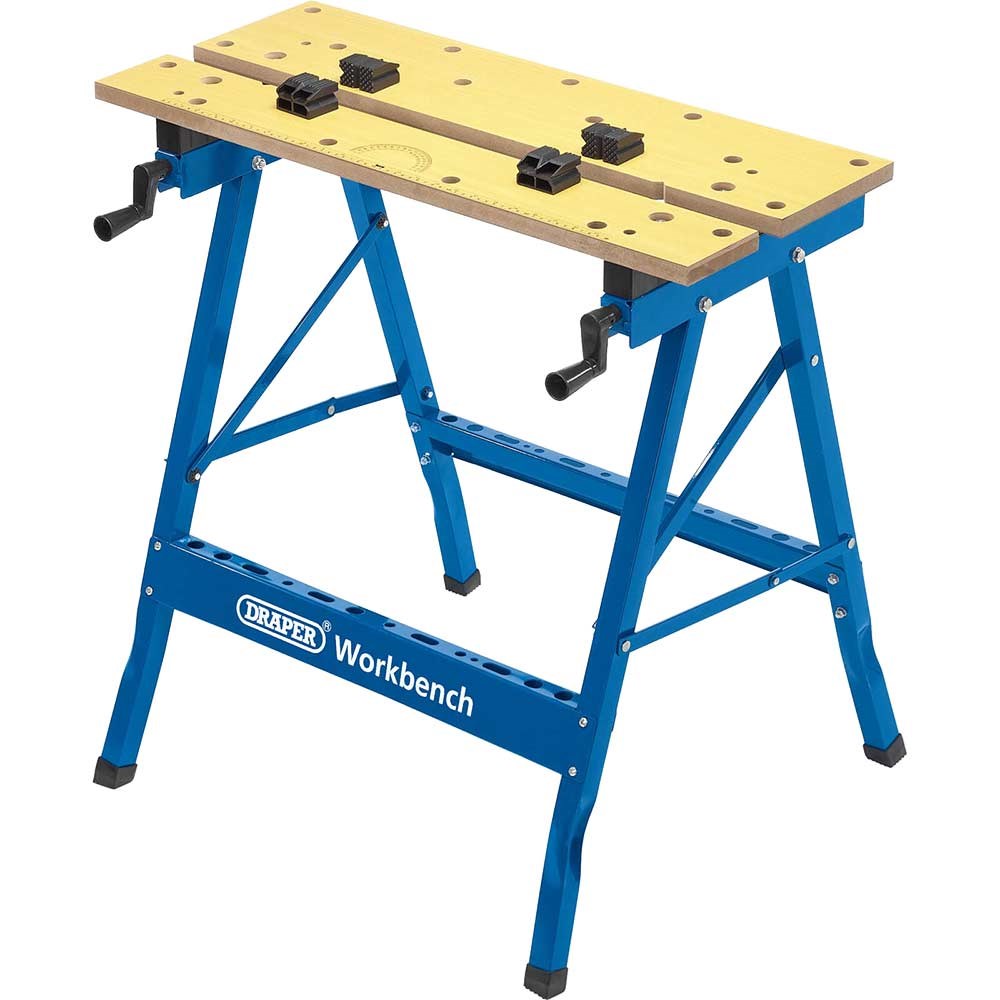 7. Draper Fold Down Workbench, 800mm (21353)
Heavy-duty construction with MDF worktop.
Dual clamping action clamps objects of almost any shape.
Workbench folds flat for easy storage and transportation.
Overall size: 805mm x 650mm x 785mm.
Draper provides limited information on this workbench, but it's not our shortlist's most sophisticated or advanced product. It's by some distance the cheapest, which is a compelling advantage, though you get what you pay for with this workbench.
The materials used look cheap, the frame feels less sturdy than other products, and there are few user-friendly touches to make life easier mid-job. We even found that the black measurement markings sometimes leave residue on anything pressed against them.
The Draper's maximum clamping width of 430mm is the second-smallest we tested, with only the Keter performing worse in this area. The two products have almost identical weights, though Draper hasn't published a maximum load — it's unlikely it would match the Keter's impressive 453kg payload capacity. Then again, this product is half the price.
If you want something cheap and cheerful to hold your timber in place occasionally, it's hard to argue with Draper's value for money.
| | |
| --- | --- |
| Pros | Cons |
| Excellent value | Measurement markings rub off |
| It has 35 pre-drilled holes | Relatively small maximum width |
| It weighs just 11kg | |
---
Best Folding Workbench in the UK — 2023 Comparison Table
| | | | | | |
| --- | --- | --- | --- | --- | --- |
| Model | Max load | Max width | Weight | Height | Rating |
| WORX WX051 Pegasus | 454kg | 787mm | 13.9kg | 810mm | 9 |
| Stanley FatMax FMST1 75672 | 450kg | 850mm | 12kg | 800mm | 8 |
| Keter 17182239 Master Pro | 453kg | 384mm | 10.9kg | 850mm | 8 |
| BLACK+DECKER Workmate Plus WM825 | 250kg | 610mm | 14.6kg | 890mm | 7 |
| Wolfcraft Master 200 | 180kg | 650mm | 11.9kg | 800mm | 7 |
| Bosch PWB 600 | 200kg | 525mm | 11.6kg | 834mm | 6 |
| Draper 21353 | N/A | 430mm | 11kg | 900mm | 6 |
---
Folding Workbench Buying Guide
As our product reviews demonstrate, folding workbenches come in various shapes and sizes. Below are all the factors worth considering when researching a new purchase, starting with perhaps the most critical attribute.
Work Surface Area
All of our shortlisted workbenches have pre-drilled holes which accommodate plastic pegs (aka bench dogs), allowing you to move them around and create a flexible work surface area.
The maximum widths we tested ranged from 384mm on the Keter to 850mm on Stanley's FatMax, with the latter more than sufficient for most jobs.
Clamps range from basic handles to more sophisticated affairs, but any clamp ought to pin even heavy timbers firmly in place.
Adjustable pegs also simplify the job of positioning objects on the table. The only product which doesn't come with clamps is the Stanley – the main reason it achieves a lower points score than our test-winning WORX.
Maximum Load Weight
In truth, no amateur DIYer is ever likely to find themselves cutting an object which taxes the maximum load weight of a modern folding workbench.
Even the Wolfcraft, whose 180kg max payload is the lowest we recorded, shouldn't be stretched by internal doors or cabinets.
By the time you reach the 450kg weight limit on the WORX, you're talking about being able to hold an object as heavy as a concert hall-standard grand piano. And when was the last time you felt the need to clamp a grand piano in place and do some sawing?
Measurements and Markings
Some manufacturers etch measuring tapes, angle compasses and even operating instructions onto the surface of their benches. This approach can be confusing if you look at them upside down, but we'd always recommend a product with these markings over ones that don't. It's a simple addition, yet it can reduce the need for additional tools and streamline the process of fine measurements mid-job.
Reports show that the black measurements printed onto the Draper leave imprints on timber. This issue could be problematic if you're working with delicate materials which wouldn't benefit from needing a wash or sand-down to remove markings.
Durability, Stability and Construction
To our surprise, we found the plastic-bodied Keter, WORX, and Stanley outperformed the steel Draper, Wolfcraft and BLACK+DECKER in testing.
However, we must praise Bosch's combination of an aluminium frame and a waterproof bamboo top. Not only is this the most aesthetically pleasing product to store in your tool shed, but it's also convenient.
All our products, bar the Stanley, have cross-pieces providing additional bracing between the legs, with the WORX and Keter turning these braces into practical tool storage. 
Cross-members often look thin, but like the spindly poles used to hold car bonnets, they're usually more than sufficient once locked into place.
Our shortlisted benches all have grippy (if compact) feet, reducing their propensity to slip on anything other than polished surfaces.
However, uneven surfaces such as rough concrete floors could quickly destabilise them; it's worth balancing a spirit level on the top before starting work if you're not confident they're entirely level.
Height and Weight
Any workbench will be between 800mm and 900mm high once assembled, though taller patrons, in particular, should look for products approaching the latter height to avoid stooping.
Weight is more significant, especially if you're going to be lugging a bench up and down your stairs alongside tool bags and other equipment.
There were less than four kilograms between our lightest and heaviest objects, with the plastic Keter weighing in at just under 11kg compared to the 14.6kg steel-framed BLACK+DECKER.
Tool Storage Space
Some of our shortlisted products offer integral tool storage, typically in the form of a shelf.
The Keter is particularly impressive, offering loads of horizontal space for resting drills, saws, spirit levels and other essential items while clamping an object.
Cheaper products tend to lack this storage space, reducing practicality and meaning the workbench has to be situated close to a table or separate bench for easy access to tape measures and other tools.
Folding Mechanism
There are two main mechanisms for collapsing a folding workbench:
A-frame design where the top drops down.
X-shape approach, with legs folding under a solid top.
Irrespective of which system your chosen bench incorporates, it should tuck into a relatively flat package that can be hung on a wall from a bracket or tucked away beside folding stepladders and other expandable paraphernalia.
---
Best Folding Workbench in the UK — Final Thoughts
Vertical clamping, inboard measurement markings, tool storage, and wobble-free chassis design are some of the attributes we valued highly in testing.
Of the products we tested, WORX's reinforced-steel chassis and Keter's 3D design were particularly impressive tools of the trade. 
We admired Stanley's vertical clamps and the BLACK+DECKER's intricate bench markings, both of which emphasise that the humble folding workbench doesn't have to be an entirely humdrum affair.
However, there can only be one winner for our 'Best Folding Workbench in the UK' award. And this year's award goes to the highly practical and robust WORX WX051 Pegasus Workbench.
---
FAQ — Best Folding Workbenches
Below, we answer some of the most commonly-asked questions about folding workbenches.
What's the Correct Height for a Workbench?
Most of our tested products stand between 800mm and 900mm tall, and this height should be optimal for using power tools or manual saws.
Do I Need a Folding Workbench?
Given the space constraints in most sheds and work areas, we'd say yes. A folding workbench has a minimal footprint when not used and can be wall-mounted on a sturdy peg or bracket.
You wouldn't want a stepladder that was constantly in the A-frame position, taking up valuable square footage, and the same is true of workbenches which tend to be occasional-use items.
What is Vertical Clamping?
As its name suggests, vertical clamping is a function offered by some — though by no means all – folding workbenches. It enables you to secure objects horizontally or vertically, potentially supporting more oversized items, giving you a choice of cutting techniques, and increasing the achievable cutting depth. 
What is the Best Width for a Workbench?
In testing, the maximum clamping width ranged from 430mm on the Draper to 850mm on the Stanley. The latter might seem excessive, considering that even a typical interior door is only 762mm wide, but it's better to have excess capacity for larger jobs like this. 
If you do not intend to plane a door any time soon, any product offering clamping width over 500mm ought to be perfectly adequate; only the Draper fell below this threshold in our seven-strong shortlist.