Property Workshop is proudly reader-supported. When you buy through links on our site, we may earn a small Amazon affiliate commission but this does not affect the price you pay. Learn more here.
---
To help you pick from the best sanders in the UK, we've compiled this comprehensive guide, focusing on the five power sander types:
Multi Sander
Random Orbit Sander
Belt Sander
Power File Sander
Detail Sander
Your final choice of sander from the list above will depend heavily on how you'll be using it. For example, if sanding wooden floors, you should go for a belt sander because of its wide coverage. However, detail sanders are your best option if you're restoring furniture and need to reach tight spots.
This guide will start by reviewing the best sanders for the above five types. After that, we'll provide you with everything you need to know when shopping for the best sanders in the UK.
Read on to find the best sander for you and your projects.
Table of Contents
---
1. Best Multi Sander in the UK – 2023 Reviews
Multi sanders are designed to deliver the best of all worlds and fulfil multiple roles. Bosch is the leader in this market, and we're reviewing two of our favourite models below.
Best Overall Sander
Best Overall Sander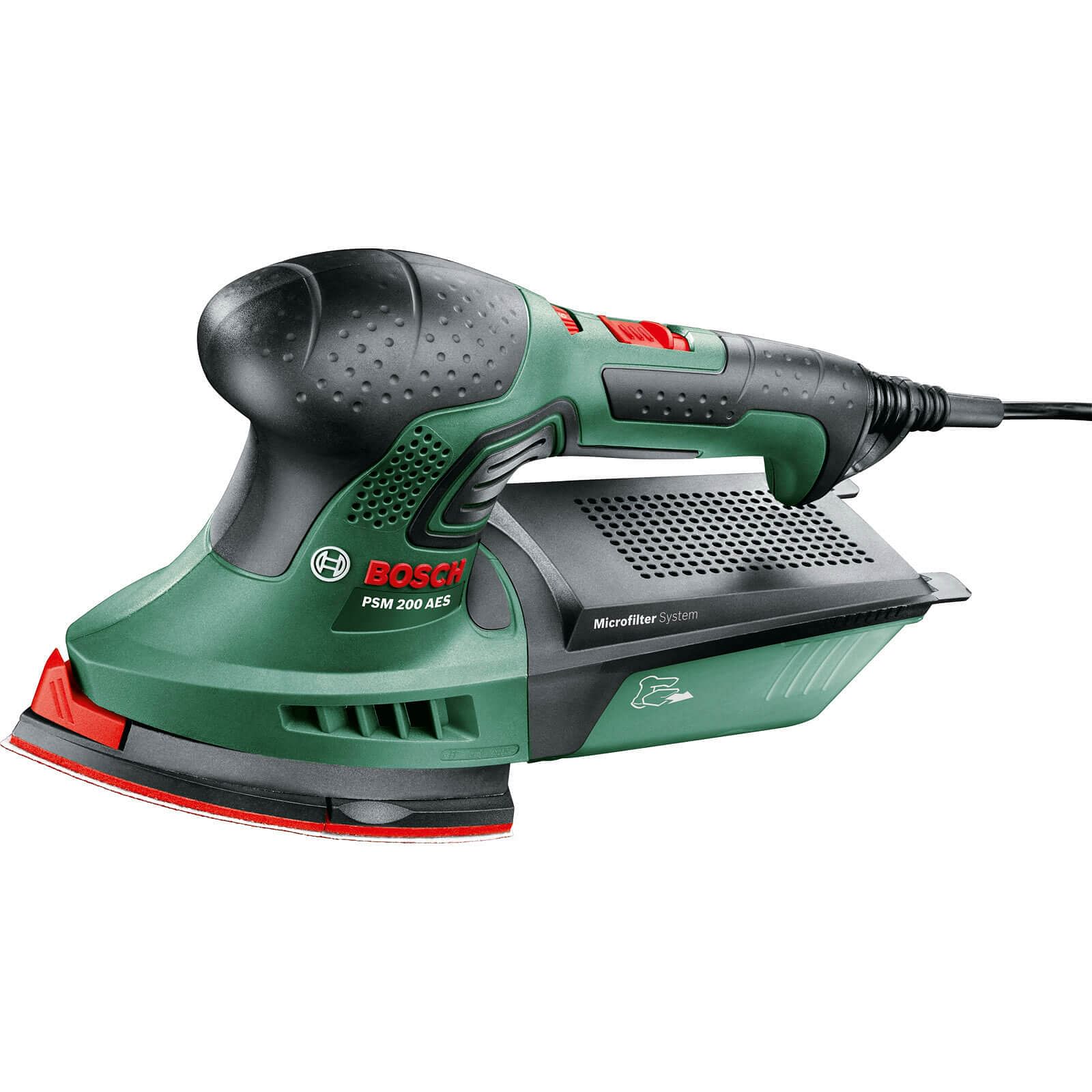 Bosch PSM 200 AES Multi-Sander
Includes triangular and rectangular sanding plates
Electronic speed preselection
Ideal for sanding medium and larger-sized flat surfaces, corners, and edges
For work on wooden, varnished and painted surfaces and metal
Automatically draws dust into the removable Microfilter dust box
Quick and easy sanding paper changes
If you're looking for a higher-end multi-sander, look at the Bosch PSM 200 AES.
This multi-sander is ideal for your weekend projects, whether you're a beginner or an experienced DIYer. Its compact size, low weight, and ease of use make it an excellent choice for sanding furniture such as tables and chairs.
The iron-shaped design allows you to closely sand edges, corners and other hard-to-access areas. The velcro fixation system makes sanding sheets attach easily and securely, while the two-piece sanding plate improves your sanding paper's durability.
It comes with two types of sanding plates – iron-shaped and rectangular
The Bosch ergonomic soft-grip handle keeps your hand comfortable even during lengthy projects.
The dust container can be tricky to remove and suffers the same issues as many sanders in this list.
Technical Specifications
| Power (W) | Orbital Stroke Rate (opm) | Orbital Diameter (mm) | Sanding Surface Iron Shaped (cm²) | Sanding Surface, Rectangular (cm²) | Tool Dimensions (mm) | Weight (kg) |
| --- | --- | --- | --- | --- | --- | --- |
| 200 | 6,000 – 26,000 | 1.8 | 104 | 164 | 311 x 102 x 158 | 1.4 |
Source: Bosch
Summary: As an all-rounder, complete with sanding sheets and a carry case, the Bosch PSM 200 AES Multi Sander offers fantastic value.
Pros
Iron-shaped and rectangular sanding plates
Compact and lightweight
Ergonomic soft-grip handle
Carry case, and sanding sheets included
Cons
Difficult to remove the dust container
Velcro sanding pads can wear out quickly if misused
---
Best Performance Multi-Sander
Best Performance Multi-Sander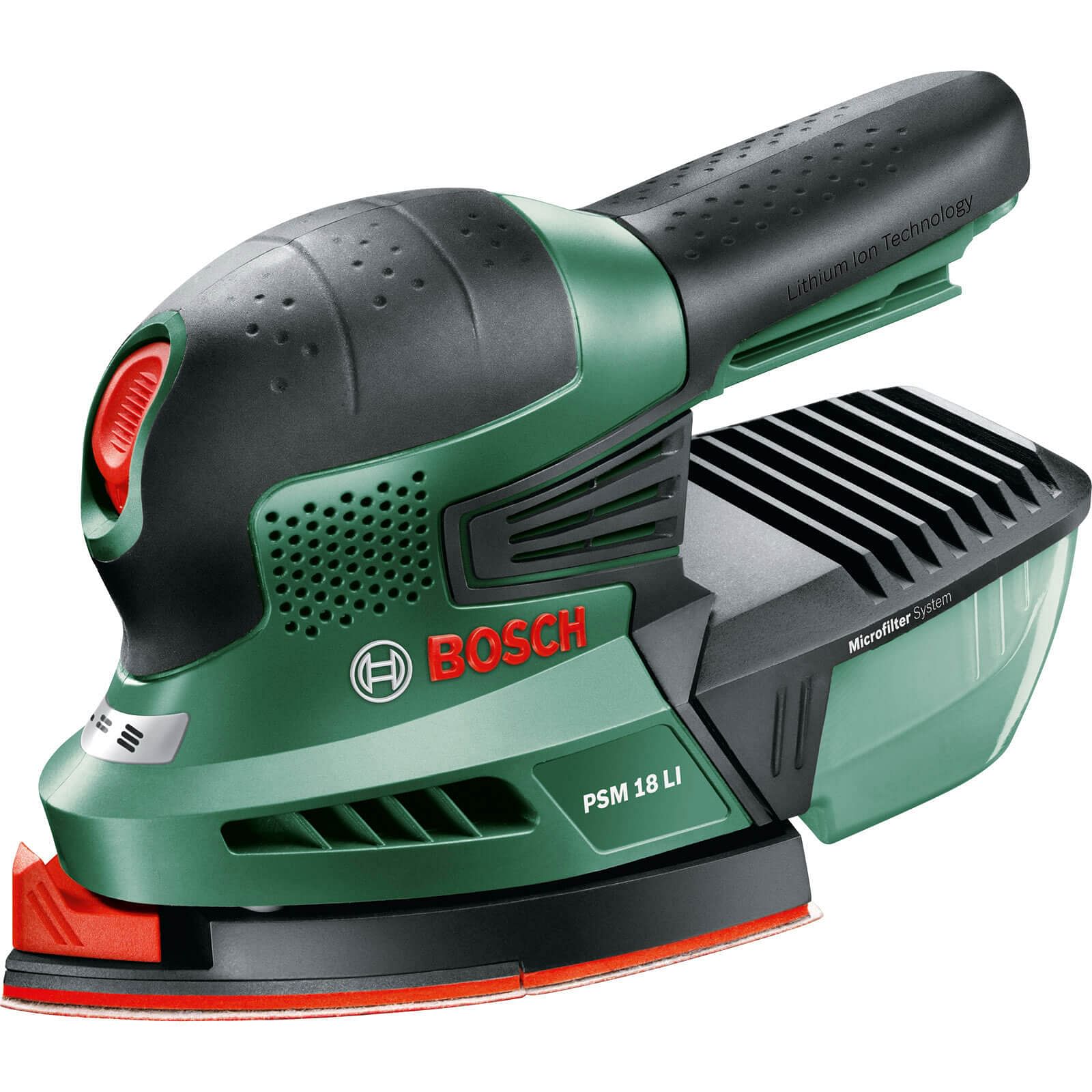 Bosch PSM 18 Multi-Sander
Powerful all-rounder for corners, edges, and medium-sized flat surfaces
Compatible with Bosch 18V 'POWER FOR ALL' batteries
Use on hardwood, softwood, varnished and painted surfaces
Syneon technology regulates energy use for optimal efficiency and longer runtime
Automatically draws dust into the removable microfilter dust
Quick and easy sanding paper changes
This Bosch multi-sander is an excellent choice if you're looking for a cordless multi-sander and already own other Bosch 18V Power4All range tools.
This compact sander features LED battery level indicators, so you know at a glance how much power you have remaining and when it's time to charge up.
Bosch's Syneon Intelligent Power Chip intelligently manages power output, ensuring maximum power and endurance no matter your project.
This multi-sander is sold without a battery or charger but is compatible with the Bosch 18V Power4All range (hence why it's a good choice if you own other tools in this range).
The iron-shaped sanding plate allows you to easily get into corners, and the velcro fastening system is quick and straightforward. The only drawback to this versatile sander is its dust collection.
Technical Specifications
| Battery Voltage (V) | Battery Capacity (Ah) | Orbital Stroke Rate (opm) | Orbital Diameter (mm) | Sanding Surface (cm²) | Sanding Sheet/Disc Attachment | Weight (kg) |
| --- | --- | --- | --- | --- | --- | --- |
| 18 V | 2.5 | 22.000 | 1.6 | 104 | A micro hook-and-loop fastening system | 1.3 |
Source: Bosch
Summary: If you need an excellent all-purpose cordless multi-sander capable of getting into corners and over rounded edges, we highly recommend the Bosch PSM 18 Cordless Multi Sander.
Pros
Bosch Syneon Intelligent Power Chip
Iron-shaped sanding plate
LED battery level indicators
Velcro fastening
Ergonomic soft-grip handle
Cons
No battery included
Poor dust collection
---
2. Best Random Orbit Sander in the UK – 2023 Reviews
Whether you're looking for versatility or value in a random orbit sander, we've chosen robust and reliable products. Our recommended products have variable speed settings and are easy to set up and use.
Best Performance Random Orbit Sander
Best Performance Random Orbit Sander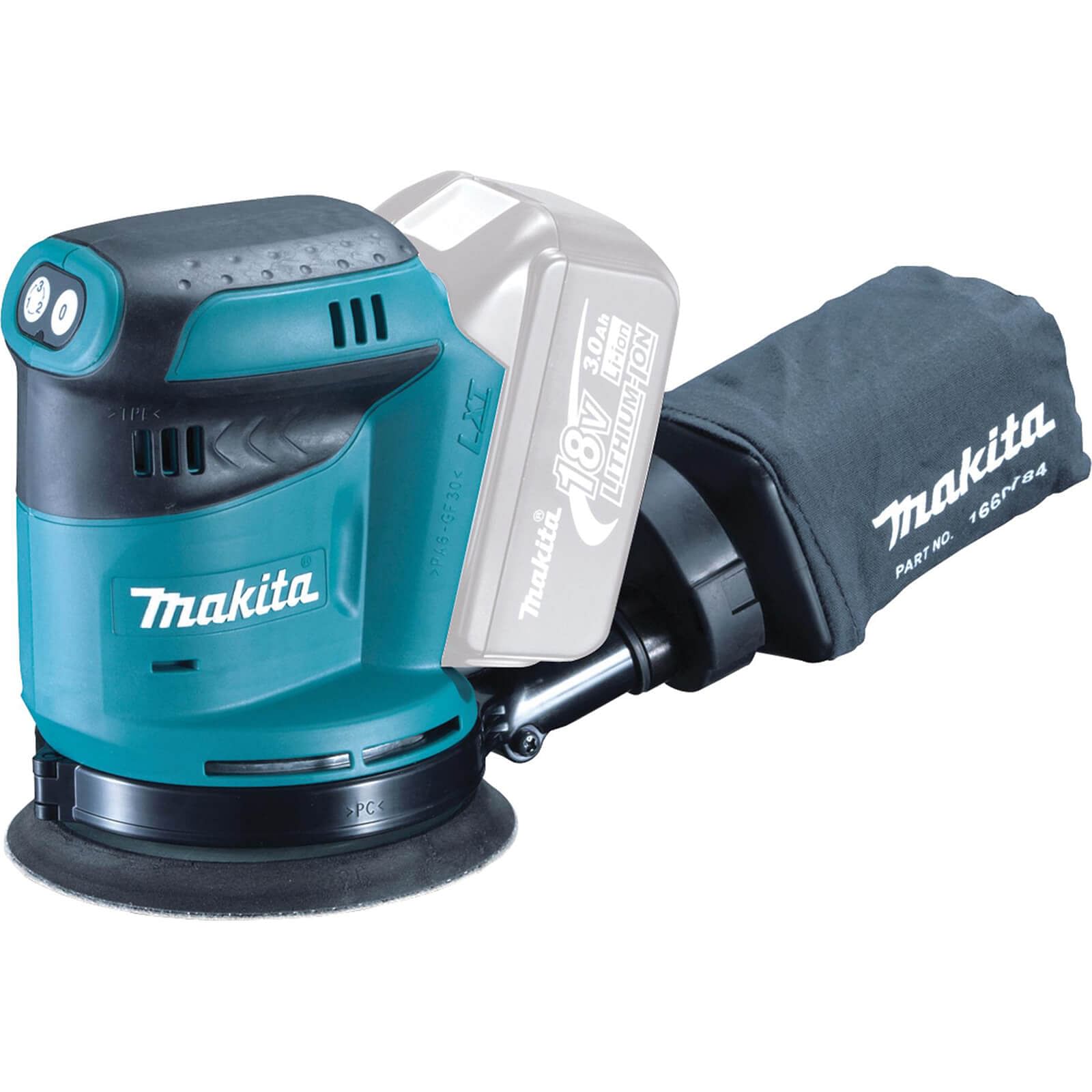 Makita DBO180Z Random Orbit Sander
Easy to operate with 3-speed settings
Compatible with 18V 4.0Ah Battery with 36-minute charge time
Connects to dust extractor
Compact design with short height and lower centre of gravity for better manoeuvrability

This random orbit sander by Makita is a robust, well-designed model that makes a great choice if you're looking for a high-performance cordless sander.
It has a comfortable grip, and its compact size and low centre of gravity make it easy to manoeuvre.
This sander is easy to set up and use with simple touch buttons and velcro paper fastenings.
The pad control system features a controlled spin start and a brake for better control.
This Makita model has three separate speed settings at 14,000, 19,000 and 22,000 strokes per minute, giving you the flexibility to reduce the speed if you need to conserve battery power.
This particular model does not come with a battery. However, this makes it an ideal choice if you own other compatible Makita 18V power tools.
There is no storage case with this model, which would be nice if you frequently transport your tools.
Technical Specifications
| Power (W) | Battery Voltage (V) | Orbital Stroke Rate (opm) | Orbital Diameter (mm) | Sanding Stroke per Minute (spm) | Paper Fastening | Paper Size (mm) | Vibration: Sanding (m/sec²) | Weight (kg) |
| --- | --- | --- | --- | --- | --- | --- | --- | --- |
| 190 | 18 | 7,000/9,500/11,000 | 2.8 | 14,000/19,000/22,000 | Hook & Loop | 125 | 2.5 | 1.4 – 1.7 |
Source: Makita
Summary: Compatible with Makita dust extractors, this cordless random orbit sander is our top choice for cable-free performance.
Pros
Three-speed settings
Compact size
Velcro paper fastening
Dust extractor connectable
Pad control system
Cons
Batteries not included
No storage case
---
Best Value Random Orbit Sander
Best Value Random Orbit Sander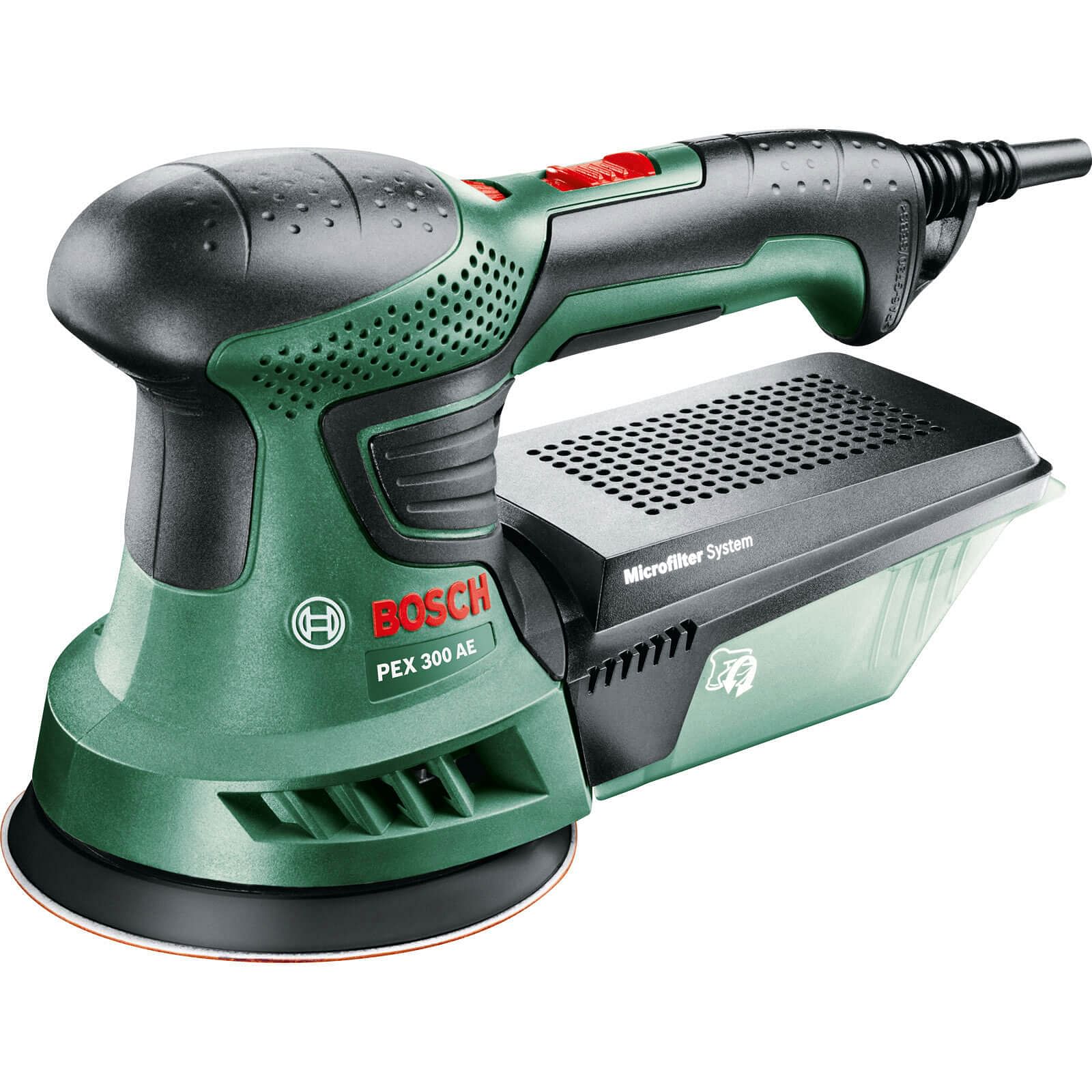 Bosch PEX 300 AE Random Orbit Sander
Powerful 270W Motor
Electronic speed preselection
Comfortable sanding in different orientations
Ideal for wood, plaster, painted, varnished, and polished surfaces
Bosch Low Vibration for excellent shock-absorbing and vibration-dampening
Automatically draws dust into the removable Microfilter dust
Quick and easy sanding paper changes
If you're in the market for a corded random orbit sander, then the Bosch PEX 300 AE is the one to buy.
Its powerful 270-watt motor makes it suitable for large tasks, while its compact design and low weight mean that it won't tire you out when doing extensive work.
Its ergonomic, soft-grip handle and low-vibration design ensure maximum comfort.
The controls are located on the handle, making it easy to change the speed on the go using the speed adjustment thumbwheel.
You can use this model on delicate and rough projects with speeds between 4,000 and 24,000 sanding movements per minute (spm).
The main drawback to this sander is its dust box. Unfortunately, it's not very effective, with some dust escaping during tests.
Unfortunately, the velcro on the backing plate (where the pads attach) damages easily.
It includes a solid stackable case to keep it in optimum condition.
A Bosch paper assistant guide makes changing papers a quick & easy job.
Technical Specifications
| Power (W) | Orbital Stroke Rate (opm) | Orbital Diameter (mm) | Sanding Pad Diameter (mm) | Tool Dimensions (mm) | Weight (kg) |
| --- | --- | --- | --- | --- | --- |
| 270 | 4,000 – 24,000 | 4 | 125 | 281 x 111 x 152 | 1.5 |
Source: Bosch
Summary: For the price, this is an excellent model with a wide range of uses
Pros
Adjustable speed control
Ergonomic soft-grip handle
Dynamically balanced 270W motor
Compact and low weight
Bosch paper assistant included
Cons
Inefficient dust collector
Backing plate velcro is easily damaged
---
3. Best Belt Sander in the UK – 2023 Reviews
It's all about the wattage on our best belt sanders, with our top-performing Makita product generating over a thousand watts from its motor. We've also prioritised practicality, from cord length to the ease of belt changes.
Best Performance Belt Sander
Best Performance Belt Sander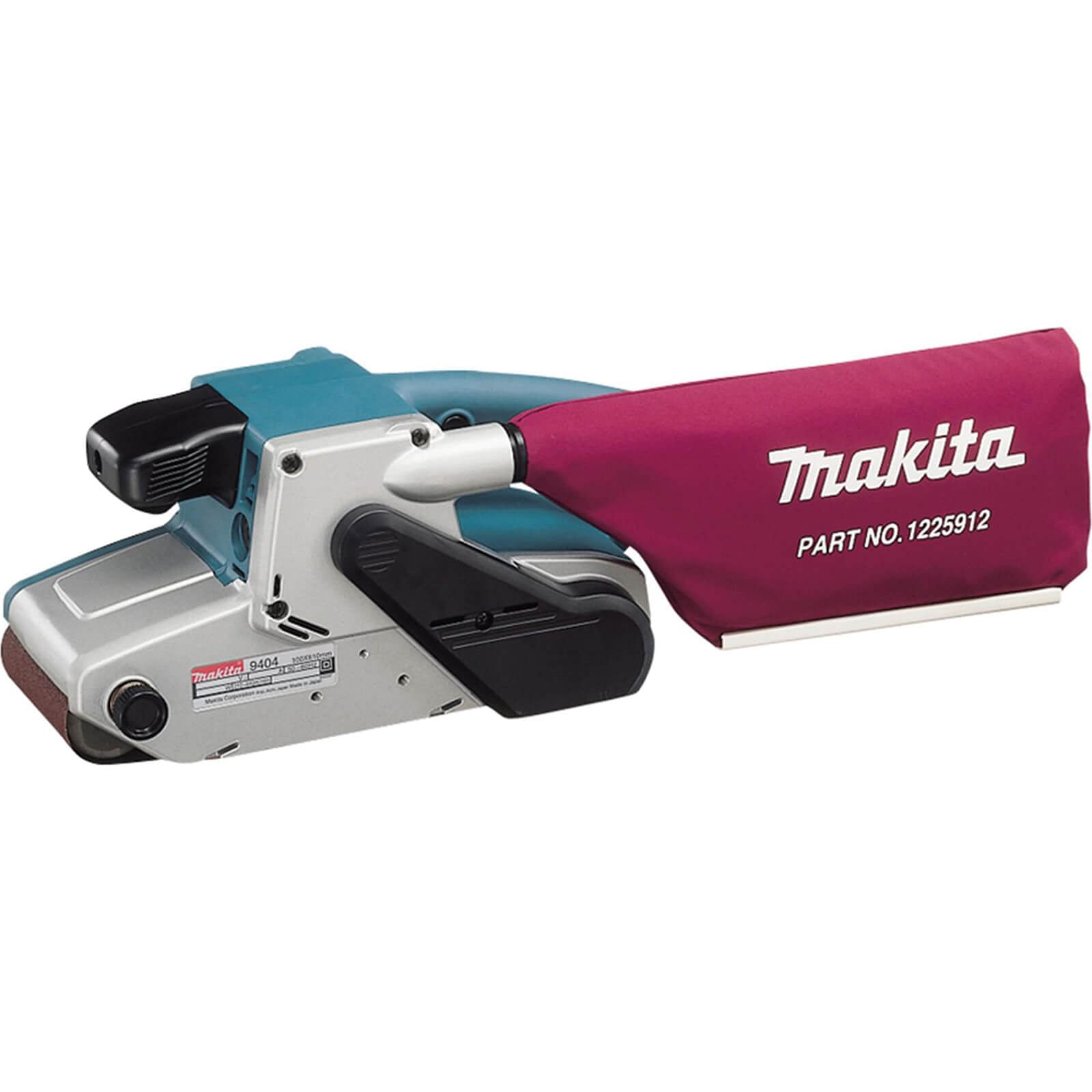 Makita 9404 Belt Sander
Variable speed control
Powerful 1,010W for stock removal
Flat top for inverted applications
Dust bag
Long cable
The Makita 9404 Belt Sander is our top pick for extensive, large projects thanks to its superior performance and power.
Equipped with a 1,010-watt motor, this model has the endurance and capacity you need for big jobs. You can comfortably work with this sander for hours on end with minimal vibration.
The long power cord enables you to cover large areas, making it ideal for stripping back wooden floors.
You can quickly and easily adjust the speed from 210 to 440 metres per minute for fast-paced sanding to suit your needs.
The design makes it easy to get the nose and side of the sander flush with the walls for an unbeatable wall-to-wall finish.
The 9404 features a flat top, so you can use it upside down while fixed to your workbench.
There's a dust bag to help keep your work environment clean and dust-free.
Changing belts is simple, thanks to the auto-tracking belt system, meaning you'll be able to spend more time on your project rather than messing about trying to fit belts manually.
This high-performance sander is durable and well-constructed; however, all this comes at a hefty price. So, if you're a beginner and only looking to take on smaller projects, you may be better off with a less powerful and cheaper model.
Despite the high price tag, this sander does NOT come with a carry bag or storage container.
Technical Specifications
| Power (W) | Belt Speed (m/min) | Belt Size (mm) | Vibration: Sanding (m/sec²) | Noise Sound Power dB(A) | Noise Sound Pressure dB(A) | Weight (kg) |
| --- | --- | --- | --- | --- | --- | --- |
| 1,010 | 210 – 440 | 100 x 610 | 2.5 | 96 | 85 | 4.8 |
Source: Makita
Summary: if you need a heavy-duty belt sander that you will use often, this is the one to purchase.
Pros
Powerful 1,010W motor
Variable speed
Flat top for inverted operation
Long cable
Auto-tracking belt system
---
Best Value Belt Sander
Best Value Belt Sander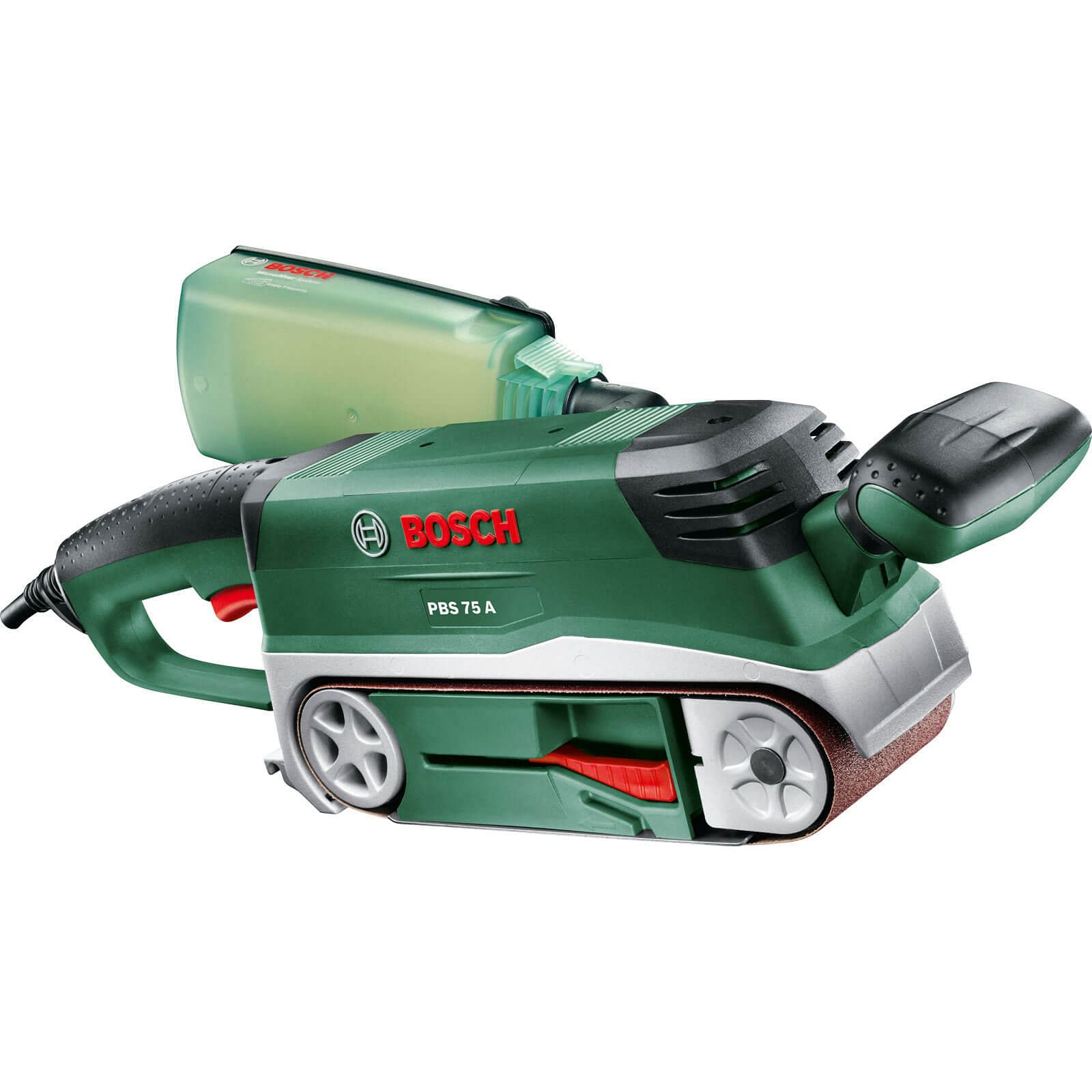 Bosch PBS 75 Belt Sander
Powerful 710W motor
Removable auxiliary handle for optimal handling
Automatic belt system keeps belt centred during operation
Ideal for sanding larger flat areas on a range of materials from wood to metal
Bosch Low Vibration is a shock-absorbing and vibration-dampening
Automatically draws dust into the removable microfilter dust box
Quick and easy sanding belt changes
The Bosch PBS 75A Belt Sander is ideal for coarse sanding wood, plastic or metal.
This versatile belt sander is equipped with a powerful 710-watt motor and offers outstanding performance on big projects, including floors, tabletops and other large furniture items.
Thanks to its soft-grip main handle, your hands will remain comfortable, while the secondary handle helps to optimise grip and control.
The integrated Bosch dust collection system helps clean your work area, and the low vibrations improve your comfort levels.
Changing the belt is extremely easy on this model. The automatic belt tensioning system means you'll waste little time fitting your belt in the middle of a big job.
Remember that it tends to go through belts relatively rapidly, given its power.
This model features only a single speed setting which is its only real drawback.
Technical Specifications
| Power (W) | Sanding Surface (mm) | Belt Speed (m/min) | Belt Size (mm) | Vibration: Sanding (m/sec²) | Tool Dimensions (mm) | Weight (kg) |
| --- | --- | --- | --- | --- | --- | --- |
| 710 | 76 x 165 | 350 | 75 x 533 | 3.5 | 554 x 174 x 154 | 3.4 |
Source: Bosch
Summary: This robust sander is an absolute powerhouse with durable aluminium parts and an excellent design for maximum user comfort.
Pros
710W motor
Robust aluminium parts
Second handle
Bosch soft-grip main handle
Automatic belt tensioning system
Cons
Single-speed
High sandpaper belt consumption
---
4. Best Power File Sander in the UK – 2023 Reviews
Small and lightweight, power file sanders are designed for intricate or detailed sanding.
Their compact bodies don't support vacuum attachments, but there's no excuse for lacking adjustable power or easy belt-changing mechanisms.
Best Performance Power File Sander
Best Performance Power File Sander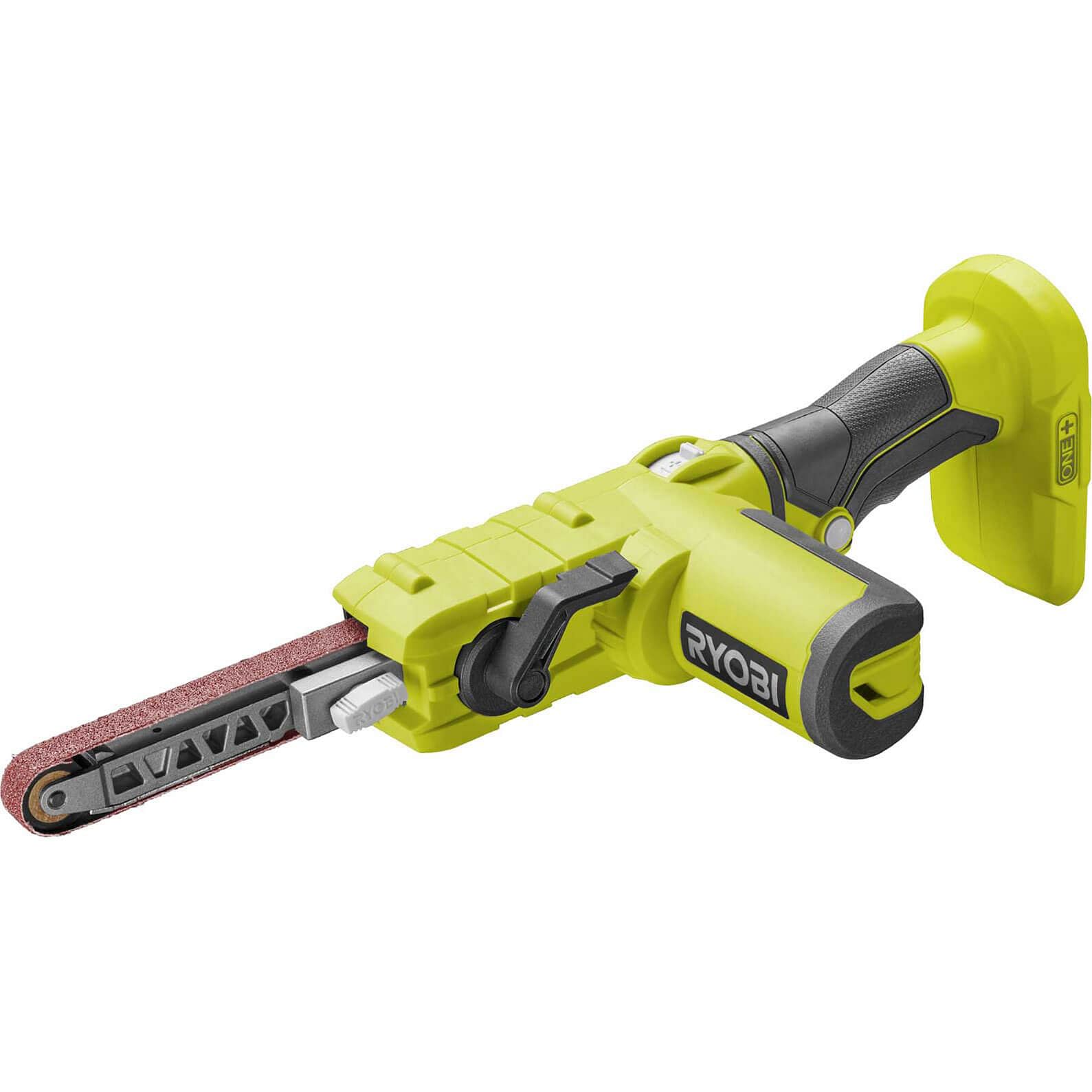 Ryobi R18PF-0 18V ONE+ Power File Sander
Slimline file sander, ideal for sanding and shaping in tight spaces
Up to 630 m/min with variable speed control
Tool-free belt tracking
Tool-free lever for quick & easy sanding belt fitting
Lock on switch allows for greater control and manoeuvrability
The body-only R18PF-0 is part of Ryobi's ONE+ range of cordless tools, meaning other Ryobi batteries will clip neatly onto its canary-yellow chassis. However, if this is your first exposure to the Ryobi ecosystem, there'll be an additional battery expense on top of this body-only power file sander.
An 18-volt motor supports belt rotation up to 630 m/min, with variable speed control ensuring it doesn't have to run full speed for smaller or delicate work.
Ryobi includes several sanding belts, a toolless tension lever supporting rapid belt changes and a tracking dial enabling fine adjustments.
It works well as a plunge sander, enabling you to access the inside of tubing or inner corners on awkwardly-shaped furnishings.
The main drawback to this product is its lack of dust extraction. You'll need goggles and a dust mask to use this sander indoors.
Technical Specifications
| Battery Voltage (V) | Belt Size (mm) | Belt Speed (m/min) | Vibration: Sanding (m/sec²) | Noise Sound Power dB(A) | Noise Sound Pressure dB(A) | Weight (kg) |
| --- | --- | --- | --- | --- | --- | --- |
| 18 | 457 x 13 | 260-630 | 1.6 | 79.0 | 68.0 | 1.4 |
Source: Ryobi
Summary: If you already own Ryobi tools, this ONE+ model will slot neatly into your toolbox for detailed sanding jobs. It's powerful and flexible but has no dust extraction mechanism.
Pros
Very powerful
Lightweight chassis
Comfortable to hold
Belt rotation of over 600 m/min
Easy to change and adjust belts
Cons
No dust extraction
Expensive to buy, especially if you don't already have Ryobi batteries
---
Best Value Power File Sander
Best Value Power File Sander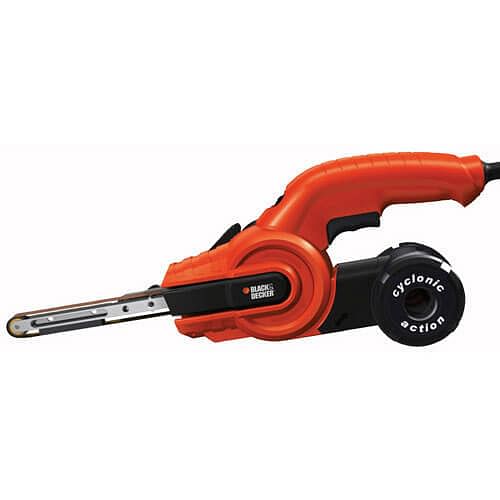 BLACK+DECKER 350W Electric Powerfile Sander - KA900E
Powerful 350W motor
Ideal for sanding, shaping, filing, sharpening and rust removal
Narrow arm for fast material removal in confined spaces
Variable speed control
Cyclonic action dust collection canister
Screw-operated belt tracking
There's a pleasing simplicity to this mains-powered power file sander from BLACK+DECKER, which is also highly affordable.
It has a 350-watt motor with variable speeds, delivering a consistent finish in different environments.
A dust canister does a fair job of capturing dust generated by the sander belt, though it fills quickly and doesn't capture as much as a vacuum system would.
The belt has a screw-operated tracking system to prevent slipping off its rollers during extensive use.
BLACK+DECKER provides three sanding belts, so you can use this sander immediately after unboxing.
A weight of 1.2 kg makes this a relatively heavy object and requires a moderate amount of upper-body strength for prolonged use.
Technical Specifications
| Power (W) | Belt Size (mm) | No Load Speed (rpm) | Vibration: Sanding (m/sec²) | Noise Sound Power dB(A) | Noise Sound Pressure dB(A) | Cable Length (m) |
| --- | --- | --- | --- | --- | --- | --- |
| 350 | 451 x 13 | 900-1,600 | 1.7 | 95 | 84 | 3 |
Source: BLACK+DECKER
Summary: This sander does a great job of blending power with affordability, and it's ready to use out of the box. However, for a mains-powered device, it's surprisingly heavy to hold.
Pros
Affordably priced
Easy to use out of the box
Variable speeds
Won't lose charge mid-job
Powerful enough for most sanding jobs
Cons
Quite heavy and noisy
The limited success of dust capture mechanism
---
5. Best Detail Sander in the UK – 2023 Reviews
The ideal tool for reaching corners and edges. A detail sander is essential if you're looking for the perfect finish on floors and inside cupboards where recessed right angles might defeat a random orbit or belt sander.
Best Performance Detail Sander
Best Performance Detail Sander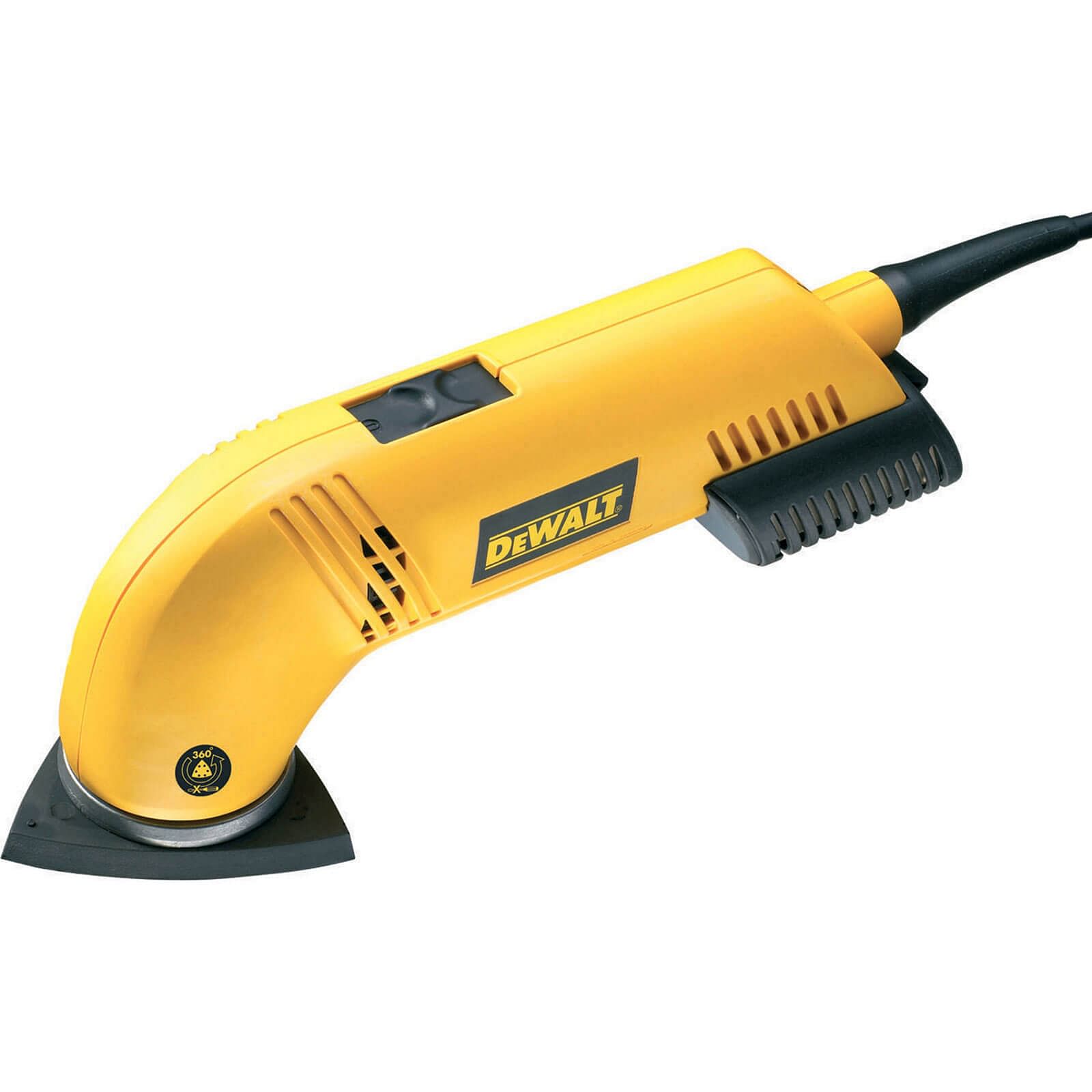 DeWalt D26430 240V 300W Detail Sander
Variable speed control 14,000-22,000 orbits per minute
Large orbit size for high stock removal
Dust collection using integrated extraction or external dust extractor
High-performance motor
Interchangeable quick fit sanding pad, with optional scraper blade or louvre attachments
360-degree rotating base plate for improved access and uniform sanding sheet wear
Improved sealing for maximum protection from dust ingress
Ergonomic rubber coated back handle
Output air slots designed to protect users' eye
DeWalt's mains-powered D26430 is our go-to detail sander when you have a large workload.
Despite weighing almost 1.8kg, this corded electric device has a high-performance motor.
A variable speed control setting enables you to adjust performance between 14,000 and 22,000 orbits per minute, while a large orbit size ensures a large coverage area.
You can choose between integrated cartridge extraction or an external vacuum, which minimises the amount of dust in the ambient environment.
Any 90mm hook and loop sanding pads will fit, so you're not locked into buying DeWalt products.
Some people have pointed out that the cooling motor's position means dust is blown back into the user's face, so protective goggles and masks are advisable.
The relatively high price may put off more casual DIYers who could buy our other recommended product for less than half as much.
Technical Specifications
| Power (W) | Orbital Stroke Rate (opm) | Orbital Diameter (mm) | Paper Fastening | Sanding Surface (mm) | Product Length (mm) | Cable Length (m) | Weight (kg) |
| --- | --- | --- | --- | --- | --- | --- | --- |
| 300 | 28,000-44,000 | 1.8 | Hook & Loop Fixing | 93 x 93 | 305 | 3 | 1.3 |
Source: Dewalt
Summary: Capable of 22,000 orbits per minute and with a choice of extraction techniques, the DeWalt offers all the detail you're ever likely to need.
Pros
No batteries or charging to worry about
Accepts any 90mm sanding pads
Variable speed control
Large orbit size
Cons
Relatively heavy and quite expensive
May expel dust into the user's face
---
Best Value Detail Sander
Best Value Detail Sander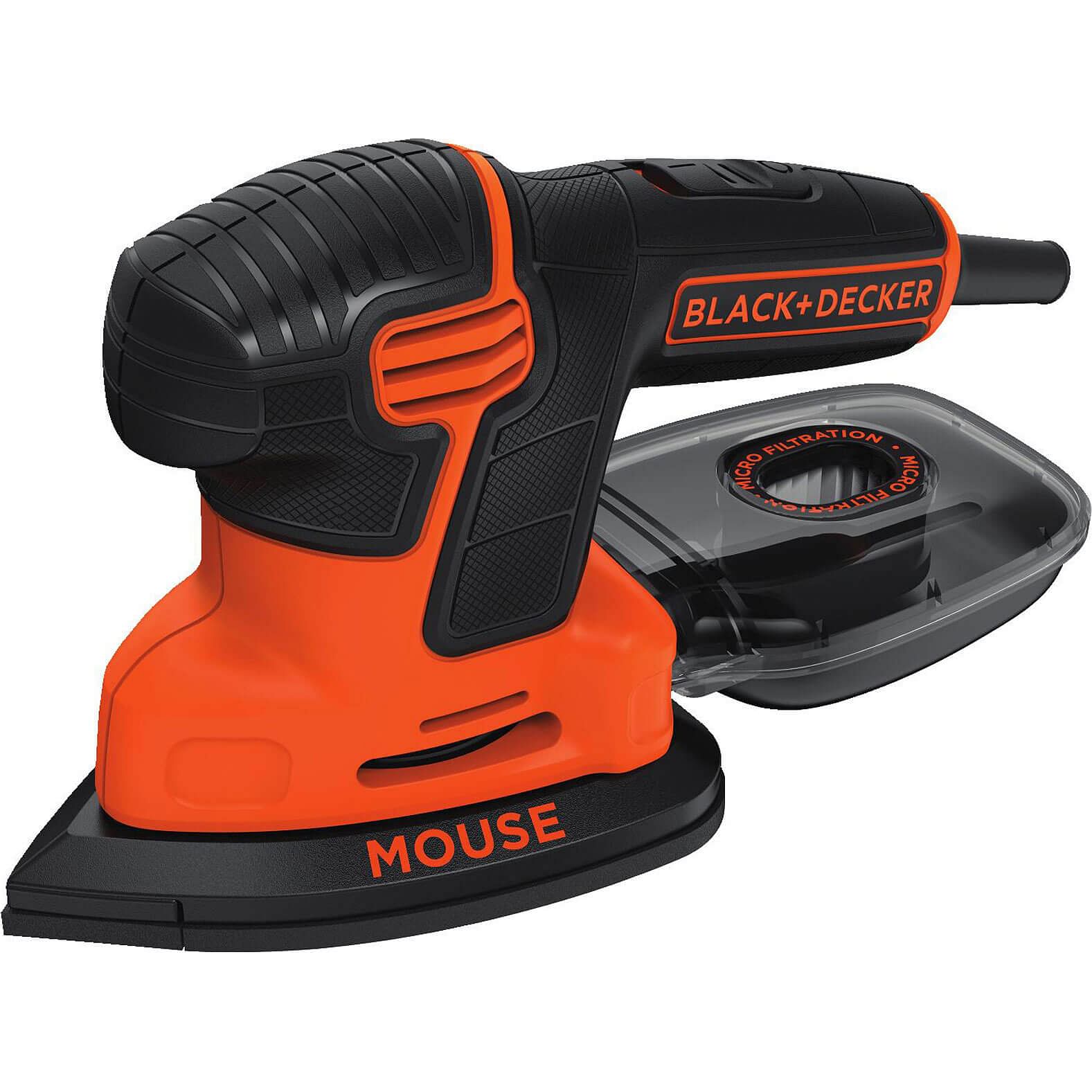 BLACK+DECKER 120W Detail Mouse Electric Sander - KA2500K
Detail base produces superior results when sanding intricate areas
Quick fit sanding sheets provide four times the life of standard sandpaper
Compact design allows for optimum control, with three separate rubber gripping areas
Dust sealed slide switch for reduced fatigue during continual operation
Microfiltration dust canister for optimum dust collection
Our second detail sander recommendation is also mains-powered, helping it weigh less than one kilogram.
Its compact design makes it easy to use one-handed, while three separate rubber gripping areas provide an ergonomic hold.
It's compatible with BLACK+DECKER's range of mesh sanding sheets, which the manufacturer claims can last up to four times as long as traditional sandpaper.
A rocker switch enables continuous operation without the user manually keeping it activated, which benefits larger jobs and ones in awkward corners.
A microfiltration dust canister is standard.
The KA2500K comes with a kit box and nine accessories, making it excellent value for money.
However, the dust extractor is relatively small, while the no-load speed of 11,000rpm is on the low side for a product of this type.
Technical Specifications
| Power (W) | Orbital Diameter (mm) | Sanding Surface (mm) | No Load Speed (rpm) | Vibration: Sanding (m/sec²) | Noise Sound Power dB(A) | Noise Sound Pressure (dB(A) |
| --- | --- | --- | --- | --- | --- | --- |
| 120 | 2 | 110 | 14,000 | 7 | 84 | 73 |
Source: BLACK+DECKER
Summary: A kit box and nine accessories make the KA2500K an attractive option. Its main problem is the limited power and dust extraction capacity.
Pros
Outstanding value
It comes with everything you need to get started
Lightweight chassis
Long-lasting mesh sanding sheets
Grippy and easy to use for extended periods
Cons
Not the most powerful detail sander
Dust collector fills surprisingly quickly
---
Best Sanders in the UK – 2023 Comparison Table
---
Sanders Buying Guide – 2023 UK Edition
To help you find the best sander for your needs, we've detailed each type of sander below. We've also included the top features and things to avoid.
1. Multi Sander
As their name suggests, carpenters use multi-sanders for sanding intricate areas or hard-to-access parts.
Compact and lightweight, they're designed for maximum manoeuvrability, giving added freedom of movement.
How to Choose Your Multi-Sander
Consider the following features when buying a new multi-sander:
Corded vs Cordless
Multi-sanders don't need as much power as other sanders, but they need to be highly manoeuvrable, so cordless models are preferable.
Time spent on intricate sections may add up, but the slower speed draws less power from the battery. Moreover, power cords are an extra hindrance over tricky areas such as finials or balustrades, so consider whether a cordless model will make your task easier.
The main advantage of opting for a corded multi-sander is the price, as corded models tend to be cheaper. This is especially true if you don't own any power tools with interchangeable batteries from the same product range.
While a cord may get in your way, if you don't have a charged-up battery ready to go, it's often more convenient to plug in a corded model and get the job done.
Handle
Multi sanders are designed for one-handed use and generally feature straight handles that allow you to angle your sanding blade precisely.
Some models have handles that sit over and above the sanding plate, making them better suited to tasks such as sanding small flat furniture items.
Weight
Ideally, your multi-sander should be lightweight, so it's easier to move around and get into tight spaces.
Corded versions weigh around one kilogram, preventing your hand from becoming fatigued and making it easier to angle your sander when accessing hard-to-reach areas.
Fastening System
Like random orbit sanders, multi-sanders use adhesive or velcro fastening pads. It's preferable to opt for velcro fastening, which tends to stay in place for longer and is more durable over time.
Pro Tip: Aside from the fastening type, consider the availability and cost of extra sandpaper pads when choosing a multi-sander.
Sanding Plate Shape
Multi sanders come with triangular-shaped sanding plates, making them look like ironing plates. This shape allows them easy access to tight corners and along edges.
Before purchasing, consider the size and width of the sanding plate and whether it's narrow enough to produce the level of detail you're trying to achieve.
Dust Bag/Box
Your model should come with a dust bag or box to collect sawdust. Multi sanders don't produce as much sawdust as belt sanders, so multi sanders dust bags tend to be on the small side.
If you're using your multi-sander for long periods, check if you can attach a dust extractor or vacuum cleaner. This feature allows you to get on with your project without frequently stopping to empty your sander.
---
2. Random Orbit Sander
Random orbital sanders are highly versatile and produce a better finish with few visible scratches.
How to Choose Your Random Orbit Sander
While all random orbit sanders work similarly, there can be many differences in power type, weight and design.
Corded vs Cordless
Before looking at individual models, take a few moments to decide whether a corded or a cordless model best suits your needs.
Cordless
Cordless models offer greater freedom as you don't need to use your sander near a plug socket. You can also take advantage of good weather and work outside – cutting down on interior dust and mess.
Without a power cord, you can enjoy greater freedom of movement, especially when taking on larger projects with a greater surface area.
Many cordless models require you to purchase a battery and charger separately unless you own batteries from the same product range.
You should also purchase a spare battery for longer jobs, inflating the price considerably compared to a corded model offering similar performance levels.
Corded
Corded models tend to be more powerful and won't run out of battery. So, corded models are better if sanding at high power for long periods.
They're often less expensive, as they don't require additional batteries or chargers.
Speed Settings
Variable speed control is convenient for quickly switching tasks or taking care of more delicate items.
When you use a cordless model with variable speeds, you may find it helpful to work slower when conserving battery power. This feature is handy when waiting for a spare battery to charge up.
Weight
Lighter random orbit sanders are much more comfortable for extended periods. However, you'll find it easier to sand more effectively if your sander has some extra weight. This additional weight prevents you from continually pushing down over large areas.
Pro Tip: When choosing a random orbit sander, pay attention to the model's weight while considering your strength and the type of projects you'll be undertaking.
Sandpaper Attachment Type
Sandpaper pads attach with an adhesive back or a velcro-style attachment. For better longevity and improved adhesion, velcro fastenings are preferable.
Grip
Sanding for any time can leave you with aching hands and wrists, so it's essential to check the quality of the handle before purchasing.
Ergonomically shaped handles with an easy-to-grip coating are an excellent choice for improving your comfort and safety.
Controls
Check the controls for ease of use. They should be located within easy reach but not so close; you risk hitting them inadvertently. Rotary dials or thumbwheels offer great ways to adjust speed on the go.
Dust Bag/Extractor Compatibility
While most models include dust bags or boxes, they're not always highly effective, and you may have to stop to empty them frequently.
You should attach a dust extractor if you take on coarse sanding projects or large surface areas.
Pro Tip: Consider the availability and cost of compatible extractors for any particular model before purchasing.
Carry Bag
It's not essential, but a carry bag or storage box is a great way to keep your random orbit sander safe when you're not using it.
While an included carry bag isn't a deal-breaker, it's a nice extra that helps organise your workshop and improves portability.
---
3. Belt Sander
Carpenters generally use Belt sanders to strip back finishes over large areas. They tend to be pretty heavy-duty and provide coarse sanding.
So, a belt sander is best if you want to sand back a floor or tabletop.
How to Choose Your Belt Sander
While most manufacturers build their belt sanders to a standard design, there are particular features you should look out for when buying the best belt sander for your needs.
Wattage
A lower-wattage model could work to your advantage if you don't have much experience or are looking to complete medium-sized jobs. I.e. powerful models sand aggressively, leaving you with lines you need to sand out.
A higher-wattage model is best for large tasks like stripping paint off a wooden floor or a large table.
The increased power allows you to get the job done faster, without the need to keep passing over the same area.
Power Cord
It's crucial to ensure that the power cord is long enough for your projects. A longer cable gives you more flexibility, especially when working outside.
Handles
Check the handle's grip and positioning to ensure your hands are comfortable using your belt sander over a large area.
Also, check the controls are within easy reach of the handles so you can safely stop and start your belt sander.
Automatic Belt Tensioning System
Pay close attention to any systems that make changing the sandpaper belt easier and faster. This feature saves you time adjusting each new sandpaper belt manually.
Automatic belt tensioning systems are generally safer and great for hassle-free belt changes.
Variable Speed
If possible, look for a belt sander with variable speed, allowing you to adjust the speed to suit your needs. You'll find that different wood densities require different speeds.
You may also want to adjust the speed to quickly get through the coarser sanding stage, then reduce the pace for a smoother finish when using finer sandpaper.
Flat Top
If you plan on using your belt sander on its back to sand the edges of boards or as a sharpener, ensure your chosen model has a flat top with no protrusions.
Always follow the manufacturer's instructions when using your belt sander invertedly, and some may require a special fixing kit.
Dust Bag/Extractor Compatibility
Most models come with an attached dust box or bag as standard. This handy accessory helps keep your work area dust-free and reduces clean-up time.
As coarse sanding over large areas produces a lot of sawdust, you may have to stop frequently to empty your dust bag.
Check if your model is compatible with a dust extractor or vacuum cleaner. This feature removes sawdust without having to stop as frequently.
---
4. Power File Sander
This specialist sanding tool is the perfect companion for intricate or detailed sanding jobs, such as bannister spindles.
Power file sanders are also great for filing, sanding, sculpting, and smoothing out protruding metalwork or sharpening knife blades. You shouldn't have to apply pressure when sanding – simply ensure the belt is in contact with the material.
Each power file sander has an adjustable arm extending from its main motor housing, which can extend into places larger devices (and even your arm) might struggle to reach. This sander contains a belt that spins at a speed calculated in metres per minute (m/min).
How to Choose Your Power File Sander
In truth, there isn't a massive disparity between one power file sander and the next. Any device should make light work of timber, though motor power and wattage come into play if you're working with more abrasive materials like metal.
Wattage
There are varying ways manufacturers promote the power of their sanders. For example, our chosen BLACK+DECKER product is listed as having a 350-watt motor, whereas Ryobi markets its offering as having a belt rotation of up to 630m/min. While these are incompatible measurement methods, both devices are more than capable of any task you're likely to undertake.
Power Cord
Expanding on the last point, Ryobi quotes voltage instead of wattage – specifically, 18V DC on this battery-powered device, unlike the mains-powered BLACK+DECKER. The latter's cord is almost three metres long, ensuring excellent range.
Handles
Because of the vibration caused by the spinning belt passing through the chassis, comfortable hand grips are vitally important.
We recommend rubberised handles with dimples since plastic may become slippery as your hands experience ongoing heat and vibration.
The best power file sanders have protruding side handles for two-handed use, though it's worth noting these are always on the left side of the device. If you're left-handed, you might find it inconvenient having to use the trigger with your weaker hand.
Variable Speed
Our shortlisted products both have variable speed controls, allowing you to determine what finish you want. More challenging jobs require more power, whereas light decorative sanding shouldn't require much elbow grease.
Dust Bag/Extractor Compatibility
Vacuum extraction is too bulky for these relatively lightweight objects, so if your chosen device has a dust capture mechanism, it'll be a bag or container.
The BLACK+DECKER comes attached to a cyclonic action dust canister, which helps to keep working areas and surrounding surfaces relatively dust-free. However, the Ryobi has no such capture mechanism – worth remembering, depending on the nature of your work.
---
5. Detail Sander
Also known as a delta or mouse sander, a detail sander is a small triangular device used for sanding hard edges and recessed corners. It's smaller and lighter than a standard belt or disc machine, making sanding thin timbers like picture frames easier. They also fit neatly into tight corners and hard-to-reach spots.
As well as their core role of sanding, detail sanders can file down exposed nail heads, remove varnish and paint, or polish metallic/plastic surfaces. Bear in mind that different projects require varying coarseness of sandpaper.
How to Choose Your Detail Sander
As with the other sanders, detail sanders have varying features and specifications. Here's what you need to know.
Corded vs Cordless
Most detail sanders are corded.
As with orbit sanders, manufacturers generally list their power in watts.
Smaller batteries mean less power, influencing the sander's ability to tackle hard surfaces quickly.
Battery-powered devices also have the battery pack's extra weight, reducing their effectiveness while potentially tiring you out quicker.
Choosing a cordless design allows you to work anywhere, including outdoors – handy if you suffer from dust allergies or conditions like rhinitis.
Cordless is excellent for whole-room detailing where a mains lead might not stretch.
Sanding is physical work, so it's crucial to ensure your detail sander isn't too heavy. This concern might steer you towards a corded machine that doesn't need a battery pack.
Our chosen BLACK+DECKER detail sander weighs less than one kilogram, so it shouldn't cause too much arm ache on longer jobs. Severe arm ache is a common problem, especially when sanding higher-up areas like doors or window frames.
Fastening System
Our preferred method of attaching sandpaper is the hook and loop system. These velcro strips provide a substantial level of adhesion while being relatively straightforward to change.
We'd recommend avoiding any sander where you have to tuck sandpaper into place or cut it to shape manually. This extra step is unnecessary in the age of stick-on replacement strips.
Sanding Plate Shape
The beauty of a detail sander is that it tapers to a point rather than being rectangular or circular. While you could attempt to sand a recessed corner using a belt sander, having a triangular edge is perfect for getting into nooks and crannies.
Ensure your chosen detail sander has a plentiful supply of sanding sheets before investing in it. A discontinued model might be on sale, but it could represent a false economy if you have to pay a premium for increasingly hard-to-get sheets.
Our recommended DeWalt detail sander has a rotating base. This feature ensures uniform wear on each sandpaper strip, rather than filing down one edge and having the rest of the sheet in pristine condition.
Dust Bag/Box
Since sanding generates large quantities of dust, an extraction port is vital. Sawdust is drawn up into the sander through base plate holes before being expelled via the extraction port.
The port might clip onto a proprietary box or bag through a microfilter or simply allow you to attach a vacuum cleaner pipe.
With corded devices, it's worth considering the practicalities of having a mains cable and a vacuum pipe extending away from the machine while in use.
A capture box is a passive method of dust capture, and a vacuum is more powerful and far better at hovering up dust from the surrounding atmosphere.
---
Best Sanders in the UK – Final Thoughts
Your choice of sander depends heavily on your intended use. However, if you're looking for a versatile sander for various home DIY projects, we highly recommend the Bosch PSM 200 AES.
It has enough power for your weekend projects while remaining compact and light. Its two-piece sanding plate helps your sanding pads last longer and represents excellent value for money.
Whether a novice or an experienced user, this handy and inexpensive sander will be helpful for most household sanding tasks.
Its triangular-shaped plate gets into tight spaces and up against walls, great for sanding down medium-sized furniture, including a chest of drawers and tables.
And as if that wasn't enough, the sanding pads attach quickly and easily with velcro fastenings, making this sander a convenient option for any home.