Property Workshop is proudly reader-supported. When you buy through links on our site, we may earn a small Amazon affiliate commission but this does not affect the price you pay. Learn more here.
---
To help you avoid the pitfalls of purchasing a manual tile cutter, we've reviewed the best models on the UK market.
We'll also discuss the must-have features in our comprehensive manual tile cutter buying guide.
Read on to find out which model wins our award for the 'Best Manual Tile Cutter in the UK'.
---
Best Manual Tile Cutter Reviews — The UK's Top 3 in 2023
Like the materials they bisect, tile cutters come in all shapes and sizes.
In this guide, we've reviewed three of the best manual tile cutters in 2023, starting with a product we consider the best all-rounder…
Our Top Pick
1. VonHaus 600mm
Quick & easy score and snap operation
Anti-sliding surface
Produces less mess
Ergonomic and compact design
If you're looking for a reliable all-rounder, check out the VonHaus Manual Tile Cutter. This inexpensive product is easy to use and benefits from a highly portable, lightweight construction.
Using a simple score and snap operation, the non-slip rubber cutting surface helps to keep your tiles firmly in place.
Suitable for tiles up to 600mm long, you can use this tool for a wide variety of tiling projects, and it comes complete with a built-in adjustable measuring guide.
While this model offers excellent value for simple tile cutting, it's less suitable for jobs requiring precision cuts. We found too much play on the cutting wheel prevents you from making highly accurate straight lines.
Also, if you're cutting large tiles, you may need to score them several times before snapping. This scoring will, of course, slow down your progress.
However, on the whole, this manual tile cutter is an excellent choice when high precision and speed are less critical.
| | |
| --- | --- |
| Pros | Cons |
| Portable, lightweight construction | Not suitable for precision cuts |
| Two-year manufacturer's warranty | It may need to score large tiles multiple times |
| Rubber non-slip cutting surface | |
---
Runner Up
2. Vitrex 900mm Pro
Provides simple score & snap operation
Compact and lightweight, with rigid steel construction and adjustable cutting guide
Tungsten Carbide Tipped (TCT) cutting wheel
Cuts wall, floor and ceramic tiles up to 13mm thick and 900mm square
Cuts diagonally on tiles up to 610mm square
Whereas the VonHaus offers 600mm cutting capacity, Vitrex's industrial-looking alternative can cope with 900mm tiles. This extra capacity is perfect for high-end bathrooms, where larger tiles offer a classier aesthetic.
This Vitrex model can also cut 3mm deeper than the budget Faithfull, with a 22mm tungsten carbide cutting wheel slicing through porcelain and ceramic.
Tipping the scales at almost five kilograms, this is a reassuringly robust product, and it's still 1.4kg lighter than the VonHaus. Its steel chassis feels unyielding, and the score-and-snap operation is child's play to master.
Our primary concern is its price — twice as much as the VonHaus and almost six times more than the Faithfull! Then again, it's the default option if you're looking for a quality finish on larger tiles. 
Note: the 600mm version is only marginally cheaper, so this is the Vitrex model to buy.
| | |
| --- | --- |
| Pros | Cons |
| 900mm cutting capacity | Very expensive |
| 22mm tungsten carbide blade | Cutting capacity may be unnecessarily large |
| Relatively light and easy to move | |
---
Best Budget Manual Tile Cutter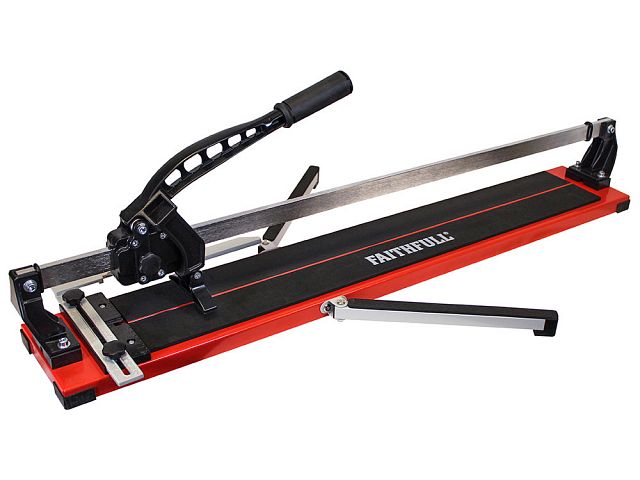 3. Faithfull 300mm
Single rail push action tile cutter with tungsten carbide tipped (TCT) cutting wheel
Cuts ceramic, quarry, wall and floor tiles up to 900mm square and 14mm thick
Built-in roller bearings
The robust steel base has four fold-out steel extension arms
A spring-loaded, lockable breaking device
A comfortable soft-grip handle
Faithfull's entry into our shortlist is something of an outlier. For one thing, it's the cheapest option – though this doesn't come at the cost of quality. Its chromed dual rails and tungsten carbide cutting wheel make it feel like a premium product in miniature.
Another key point of difference is size. This budget buy will slice through 300mm tiles of up to 10mm thickness, supporting diagonal cuts of 210mm. It has rubber bump stops and matching feet for excellent grip and smooth operation, while it uses the same score-and-snap principles as our other two contenders.
The Faithfull tile cutter's third key characteristic is its weight. At just 1.2kg, it's a portable device you can carry around under one arm.
Were it not for its limited cutting capacity (which inevitably limits its practicality), this model would have been a close contender for our top spot.
| | |
| --- | --- |
| Pros | Cons |
| Excellent value | Limited cutting capacity |
| Lightweight yet sturdy | It can only accommodate 10mm tile thicknesses |
| Five-year manufacturer's warranty | |
---
Best Manual Tile Cutter — 2023 Comparison Table
| | | | | | |
| --- | --- | --- | --- | --- | --- |
| Item | Cutting depth | Cutting thickness | Weight | Price Range | Our Score |
| VonHaus 600mm | 600mm | 12mm | 6.4kg | ££ | 9 |
| Vitrex 900mm Pro | 900mm | 13mm | 5kg | £££ | 8 |
| Faithfull 300mm | 300mm | 10mm | 1.22kg | £ | 8 |
---
Manual Tile Cutter Buying Guide
As their name suggests, manual tile cutters are mechanical objects that require no electrical power and offer a simple way to score and cut tiles. You're looking for robust components and a tungsten carbide cutting blade in this category.
Costs vary primarily according to the device's width — a larger cutting capacity requires a sturdier chassis since it has more potential for flexing. Our reviews above cover three sizes, from 300mm to 900mm.
Parts of a Manual Tile Cutter
Cutting Wheel Material
All three of our shortlisted products come with a tungsten carbide cutting wheel. Of all the materials on the market, this material offers the best blend of robustness and affordability.
A single score across a tile should allow each contender to cleanly slice through porcelain or ceramic without the splintering or cracking that would render the tile useless.
Tile Cutter Bed
Look for a rubberised bed as it holds all but the most polished tiles firmly in place, offering sufficient friction to prevent movement and ensuring a clean cut.
The rubber strips run on either side of the blade, ensuring tiles can't move in any direction while being cut.
The Base of the Tile Cutter
The main priority here is rubberised feet, which firmly grip the cutter. All our chosen products have rubber feet, and each should feel secure on any flat surface.
Capacity/Tile Thickness
We've deliberately chosen three products with different cutting capacities, reflecting that your needs vary depending on the scale and complexity of your projects.
As a rule of thumb, larger capacities also support greater cutting depths — the 900mm Vitrex slices to 13mm, whereas the 300mm Faithfull only goes down to 10mm.
Pro Tip: It's worth thinking about all the jobs you're likely to undertake before investing in a product with limited capacity.
Adjustable Measuring Bar and Angle Guide
Any manual tile cutter can comfortably manage straight lines, but diagonals are often trickier.
Diagonal cutting is one area where choosing a larger-capacity cutter pays dividends. Our largest product, the Vitrex, can make diagonal cuts of 610mm. By contrast, the Faithfull can only accommodate diagonal cuts of up to 210mm.
Weight/Portability
None of these products requires a wheelbarrow to move them around, but the weight differences can still be considerable.
For example, the Faithfull weighs one-fifth as much as the VonHaus, which is extraordinary considering there's only a 300mm difference between them!
If you regularly have to lug a large amount of equipment up and downstairs, this might steer you towards a lighter product, though we're assuming weight isn't a deal-breaker in most people's search for a manual tile cutter.
---
Best Manual Tile Cutter UK — Final Thoughts
We think the VonHaus is the best manual tile cutter on the UK market in 2023, providing excellent performance at a great price.
The VonHaus has all of the advantages of a manual tile cutter, enabling you to make intricate cuts with precision and straight lines for a professional-looking finish to any tiling project.
Offering unbeatable value for money for a high-performance manual tile cutter, this truly is the best model to go for — whatever your home DIY tiling project entails.
With that said, our other two shortlisted candidates have their merits, too. The Vitrex has an impressive capacity and the greatest cutting depth, while the Faithfull represents superb value and has excellent portability thanks to its featherweight mass.
Whichever product you choose, you'll benefit from a tungsten carbide blade, a sturdy flex-free chassis and rubberised feet that keep it anchored during each cut.
Pro Tip: If you've decided that cutting and fitting tiles isn't for you, check our guide on the costs of hiring a professional tiler in your area. If you plan on doing it yourself, check out these tiling tips.
---
FAQ — Manual Tile Cutters
Below are the answers to frequently asked questions about manual tile cutters:
What is the best manual tile cutter in the UK?
After rigorous testing, we found that the VonHaus 600mm is the best manual tile cutter on the UK market. If you want to see alternatives, check out the article above.
Manual vs Electric tile cutter – which should I buy?
Electric tile cutters pack considerably more power than the elbow grease you can apply with a manual cutter. That makes them suitable for tackling materials of a greater density than traditional porcelain and ceramic tiles – we explain below which types of tiles are (and are not) ideal for bisecting with a manual cutter.
Electric tile cutters tend to be considerably more expensive than their manual counterparts, which is a significant drawback if you only tackle one or two jobs.
They're also far heavier due to their cooling mechanisms — a typical 240V cutter might weigh 17kg! Electric tile cutters require cooling mechanisms because these machines can spend hours slicing through some of the most rigid materials known to man, generating vast amounts of friction and heat. 
Their diamond blades are also — if you'll pardon the pun — a cut above the (still robust) tungsten carbide blades supplied with manual tile cutters.
How do I maintain my manual tile cutter?
Basic housekeeping is essential here, such as removing crumbs and dusting off the device after using it. Keep a close eye on the wheel to ensure it's not blunted — cutting becomes far more challenging if it is. Store the device flat rather than hanging it vertically, putting pressure on the moving parts.
There's no need to lubricate these machines, though a few drops of oil on the runners might help eradicate any accumulated residual dust. Ensure you thoroughly wipe this off afterwards since future dust will adhere to any sticky surfaces and recreate the problem you attempted to solve.
What types of tiles can I cut with a manual tile cutter?
Every manual tile cutter on our list can slice through ceramic and porcelain, the two most common types of domestic tile. The two types have broadly similar compositions, though porcelain uses denser clay and is less porous. It's tougher to cut through, so all our tested products come with tungsten carbide blades for consistent cuts.
 
Cutting stone should also be within the remit of a well-designed manual tile cutter, providing its depth is less than the maximum your chosen device offers.
Manual tile cutters cannot cut through denser materials like marble or travertine. For straight slices across these materials, you'll need a wet saw tile cutter; angles or curves necessitate an angle grinder.
 
You may also be able to cut glass tiles using our shortlisted manual tile cutters, but there's a higher-than-average risk of cracking and fragmentation along the edges, so it's not something we'd recommend.