In our Bosch PSB 1800 LI-2 review, we take an in-depth look at the benefits and drawbacks of this model and how it compares to other combi drills we have tested.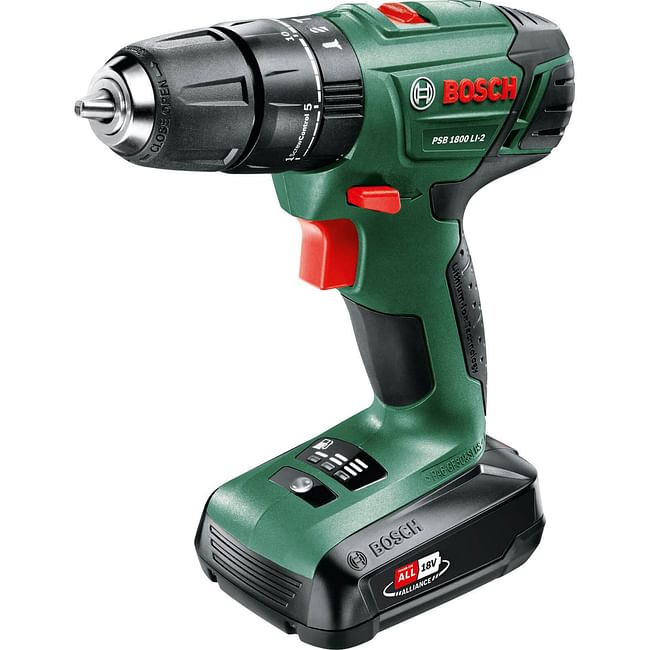 Bosch PSB 1800 Cordless Combi Drill
20 pre-selectable torque settings, including an impact drill setting
Syneon Technology
Powerful lithium-ion battery and one-hour charger - part of the Bosch 18 volt system
Bosch Electronic Cell Protection (ECP)
Keyless chuck with Bosch auto-lock
---
Pros and Cons
| Pros | Cons |
| --- | --- |
| Easy to use — and an excellent choice for novice DIYers | The lack of a brushless motor means it lacks the power required for professional use. |
| Two batteries and a charger are included as standard. | It doesn't come with a drill and screwdriver bit set |
| Drives screws, drills through wood and impact drills through masonry and steel | |
| Fast and straightforward keyless chuck for easy bit changes | |
| 20 pre-selectable torque settings | |
| Lightweight and easy to handle | |
| Built-in work light | |
| Affordable price tag | |
---
Key Features
More features = more bang for your buck. This section examines the PSB 1800 LI-2's key features and why they matter.
---
Bosch Syneon Chip
This drill uses a proprietary Symeon chip to control the battery, motor and gears, ensuring maximum coordination for greater efficacy and longevity.
In other words, this drill is easier to use, consumes less power and will last longer thanks to its special high-tech chip.
---
Bosch AutoLock Keyless Chuck
A manual chuck can waste precious time when you need to change your drill bit frequently. The Bosch AutoLock Keyless Chuck provides a tight, dependable grip and fixes for fast and secure drill bit changes within seconds.
---
Multiple Torque Settings
With 20 pre-selectable torque settings, this combi drill is also an excellent power driver.
The multitude of settings enables you to fine-tune the torque to your needs, be it simply putting together a flatpack wardrobe or removing tightly stuck, old screws when dismantling a bed frame.
---
Integrated LED Work Light
The integrated LED work light allows you to make the most of your freedom using this cordless combi drill. Whether drilling in dark corners or outside in poor weather, this drill's work light will ensure that you maintain high precision even in low-lit conditions.
---
Lithium-Ion Batteries
Lithium-Ion batteries are renowned for their low self-discharge rate and high energy density, making them ideal for power tools. Moreover, as the Bosch PSB 1800 LI-2 comes with two lithium batteries, you won't have to worry about running out of charge.
Another bonus of this combi drill is that its batteries are a part of the Bosch 18V range, meaning you can use them with other compatible Bosch 18V power tools.
---
One-Hour Charger
Not only does the Bosch PSB 1800 LI-2 come complete with two batteries, but its accompanying charger is highly impressive, taking just one hour to charge one battery.
---
Carry Case
The included carry case is a great way to safely and securely transport and store this combi drill. Unlike other lower-quality models, the Bosch PSB 1800 LI-2 comes with a well-made and robust carry case.
---
Bosch PSB 1800 LI-2 Review (Updated for 2023)
Let's look at how well the Bosch PSB 1800 LI-2 performs in the real world.
---
Build Quality
Robust and well-designed, the Bosch PSB 1800 LI-2 is a highly reliable model made to last, even in harsh conditions. Furthermore, thanks to its Syneon Chip, it automatically runs at maximum efficiency, guaranteeing an extended product lifespan.
---
Ease of Use
The controls are easy to use and highly intuitive. The forward/reverse switch is coupled with a handy forward/reverse indicator at the top of the drill, so you'll always know the direction setting.
The electronic trigger is comfortably located and isn't too sensitive, thus providing you with effective speed control. The two-speed gearbox further assists this feature, so you can quickly select your preferred gear for the task.
Lastly, the 20 pre-set torque levels give you plenty of options to select for various driving tasks. And if you need to switch to drill or impact drill mode, the required controls are clearly defined and within comfortable reach; you only need to twist the dial to select.
Changing your drill bit is also quick and easy thanks to the keyless AutoLock chuck, and the integrated work light makes this drill an excellent choice in low-lit conditions.
---
Battery Life
While 1.5Ah batteries are not the longest-lasting options, thanks to this drill's lithium-Ion batteries and its energy-efficient Syneon Chip, you'll find that you'll get a lot done with just one battery.
Also, with its fast one-hour charger and included second battery, the Bosch PSB 1800 LI-2 boasts a long battery life, with batteries that are quick and easy to charge up and change.
---
Versatility
Combi drills are highly versatile tools, and the Bosch PSB 1800 LI-2 is no exception. With 20 pre-selectable torque levels, it makes a great multi-purpose power driver. It also has a drill mode for drilling holes into wood and plastics and an impact drill mode for drilling into more challenging materials such as masonry and steel.
Furthermore, the Bosch PSB 1800 LI-2 has a two-speed gearbox ranging from 0–400 RPM in gear one to 0–1350 RPM in gear two. This gearbox lets you control your drilling or driving, whether you want to hang a curtain rail or remove a stubbornly stuck screw.
---
User Comfort
Thanks to its ergonomic soft-grip handle and well-balanced, lightweight design, the Bosch PSB 1800 LI-2 is comfortable to hold and use, even over long periods.
The combined drill and battery weigh just 1.25kg and are compact enough to fit into tight spaces without the discomfort often associated with larger, heavier drill models.
---
Value for Money
Complete with two lithium-ion batteries, a charger, and a carry case, we think the Bosch PSB 1800 LI-2 is excellent value for money, mainly if you are new to DIY and don't already have any interchangeable 18V batteries.
This high-quality combi drill comes with a two-year Bosch warranty for added peace of mind.
---
How Does the Bosch PSB 1800 LI-2 Compare with Other Combi Drills?
Still unsure whether this model is suitable for you? Let's look at how well the Bosch PSB 1800 LI-2 fares when pitted against its closest contenders.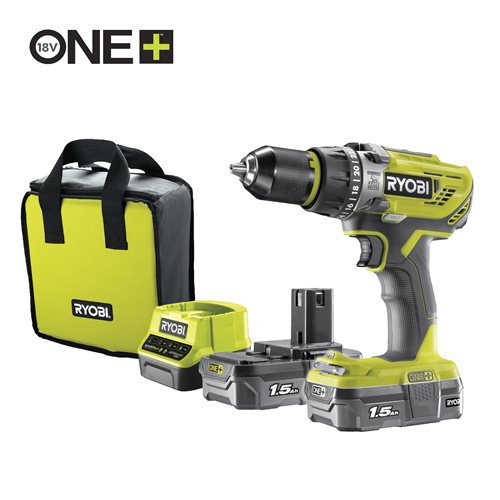 Ryobi R18PD31-213S Cordless Combi Drill
Easily drills through wood or metal
The hammer function helps drill through masonry
Great for driving screws
All Metal 13mm ratcheting chuck
24 torque settings
LED work light
This cordless combi drill by Ryobi forms part of their ONE+ product line and comes with two batteries that you can use across other tools in the same range.
With its 24 torque settings, you can use it as a power driver to remove even the most stubborn screws. Select the drill mode for regular tasks or percussion mode to drill through wood, plasterboard or masonry.
The main drawback is its weight. The Ryobi R18PD31-215S weighs 1.7kg with batteries, whereas the Bosch PSB 1800 LI-2 only weighs 1.3kg. This extra weight can make a big difference over extended periods of use.
---
Makita DHP453SFTK Combi Drill with Accessory Set
Drills 36mm into timber and 13mm into steel and masonry.
Two-speed metal gearbox
3 drill action settings
16 torque settings
High-comfort rubberised grips
Variable speed control
Single sleeve keyless drill chuck
Another great model, this Makita combi drill, also comes with an excellent accessory set. It's a good choice if you're new to DIY and don't have many accessories. However, it is pretty pricey and lacks the simplicity and ease of use seen in the Bosch PSB 1800LI-2.
---
DeWalt DCD796N 18v XR Combi Drill
15-position adjustable torque control
Ergonomic design with rubber grip over-mould
Two-speed all-metal transmission
Ultra-compact and lightweight design
Steel belt hook and magnetic bit holder
Brushless motor
Up to four degrees self-levelling with an automatic out-of-level indicator
Touch pad control panel with two button operation and low battery indication
This combi drill from DeWalt features an all-metal transmission and a brushless motor that provides high power and durability for heavy-duty use. However, it comes without batteries, a charger, and a storage case, making the Bosch PSB 1800 LI-2 better value unless you own compatible DeWalt Batteries.
---
Bosch PSB 1800 LI-2 Review — Final Thoughts
The Bosch PSB 1800LI-2 is a highly popular, multi-purpose cordless combi drill for a good reason.
Easy to use, even for the beginner, the PSB 1800LI-2 is an ideal choice for all home DIY tasks. It is also lightweight, comfortable to handle and well-powered with its dual Lithium-Ion batteries.
Therefore, we think the Bosch PSB 1800LI-2 is one of the best value combi drills on the market.