Property Workshop is proudly reader-supported. When you buy through links on our site, we may earn a small Amazon affiliate commission but this does not affect the price you pay. Learn more here.
---
When I think back to my building-site days, concrete breakers were giant machines that created massive amounts of noise and vibration.
These oversized concrete breakers were connected to compressors and typically operated by a big, burly man who undoubtedly suffered from white fingers and tinnitus.
These days, concrete breakers come in more manageable sizes and with different power options. However, buying the best concrete breaker for the average DIY enthusiast is still daunting.
To help navigate the complicated world of concrete breakers, I set out to find the best concrete breaker for those simply looking to dig up a concrete slab safely and efficiently.
---
Best Concrete Breaker Reviews – The UK's Top 3 in 2023
Here is my shortlist of the top three concrete breakers on the UK market:
Our Top Pick
1. Einhell TC-DH 43 Demolition Hammer
43J impact power
Robust SDS-hex tool chuck
Additional 180° adjustable handle
Robust 3m rubber cable
Supplied with a pointed and flat chisel
Includes handy storage case
The Einhell TC-DH 43 comes out on top because of its superior impact rate (1,800 BPM) and power (1,600W). Moreover, with an impact force of 43J, it's fast and highly effective at breaking through bricks and concrete.
The Einhell comes with 2 chisels – pointed and flat – to cover most situations, and changing chisels is easy with its SDS-hex tool chuck.
The fully adjustable handle means you can use the Einhell horizontally on walls, and at less than 15kg, this is a lightweight task compared to some other breakers.
This power tool is one of the most versatile breakers, and although the list price is pricey, many suppliers offer discounts that make it affordable.
The Einhell concrete breaker is built for long-term use thanks to its durable casing and comfortable grip handles, but you'll need ear defenders if you're going to be using it for more than 15 minutes at a time.
The breaker and chisels come in a robust carrying case, making it easy to transport to the point of use.
| Pros | Cons |
| --- | --- |
| The high-impact rate for speedy removal of material | Noise and vibration are high compared to smaller breakers and demolition drills |
| Lightweight and easy to use at all angles | |
| A powerful 1,600W motor delivers an impact force of 43J | |
| SDS-hex tool chuck makes changing chisels quick and easy | |
---
Runner Up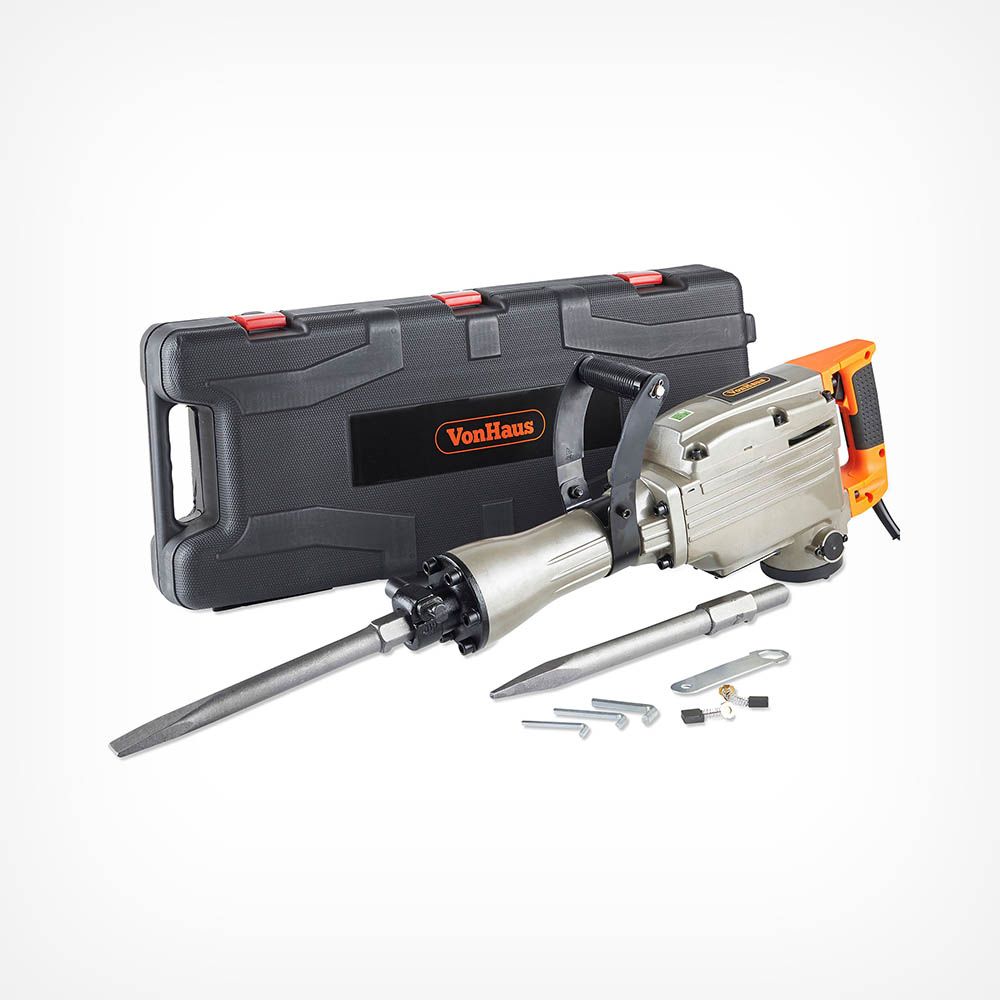 2. VonHaus 1,500W Electric Breaker
1,500 blows per minute (BPM) impact rate
Delivers 45J impact force
Two-handled design, including a 360-degree rotational side handle
Comfortable easy-grip handles help minimise vibration.
Supplied with a robust carry case, chisel, wrench, and oil can
The VonHaus electric breaker is placed second because it's heavier and less powerful than the Einhell. However, it's still a powerful tool and ideal for breaking up extensive hard-standing areas.
With an impact rate of 1,500 BPM and an impact force of 45J, the VonHaus easily cuts through most materials, such as brick, concrete, and general road surfaces.
The 180° rotational side handle makes it easier to use horizontally on walls and column faces, although you'll need considerable upper body strength to do this for long periods.
Like the Einhell breaker, the VonHaus uses a quick-release hexagonal chuck and includes all the accessories needed for maintenance. I.e. hex keys, spanner, oil can, spare pair of carbon brushes and two 400mm long by 30mm diameter chisels – one pointed and one flat. These tools are packed into a plastic case with wheels for easy manoeuvring.
| Pros | Cons |
| --- | --- |
| Although only 1,500W, it delivers 45J force | 230V limits usage to domestic situations only |
| It comes with two chisels, spare brushes and other maintenance tools | The plastic case is flimsy – more for storage rather than carrying |
| Great for use in tight spaces | |
---
Also Great
3. Makita HM0870C SDS Max Demolition Hammer
Double Insulation
Variable speed control
Constant speed under load setting
Soft start function
One touch sliding chuck
LED indicates when to replace the carbon brush.
The Makita HM0870C is the lightest breaker reviewed by far, making it easier to use on vertical surfaces. It's also the smallest, meaning you must bend more when using it on horizontal surfaces.
The Makita is less noisy, and the vibration level is lower than other breakers reviewed, meaning you can use it for longer. These attributes make it ideal for renovation projects rather than breaking up large concrete slabs.
The 1,100W motor is powerful enough for smaller jobs, delivering an impressive 2,650 BPM and 7.6J at full throttle. The variable speed control can be set for tile removal or breaking through brick and concrete.
Changing chisels and SDS-Max bits is easy using the one-touch sliding chuck, but remember that the Makita HM0870C is a hammer-only tool. There is no drill function.
One useful feature of the Makita HM0870C is the LED warning light telling you when the carbon brushes need replacing, and an automatic brush cut-off protects the commutator from damage. For an explanation of these terms, see our guide, Essential Drills and Drivers You Should Know.
| Pros | Cons |
| --- | --- |
| Much lighter, quieter and has less vibration compared to other models | 110V means you need a 230/110V transformer for domestic situations |
| Variable speed with constant speed under load feature | Its short length makes it more difficult to use on horizontal surfaces |
| Soft start for better control | Expensive |
| SDS Max chuck for quick tool change | Chisels not included |
---
Best Concrete Breaker in 2023 – Comparison Table
| Product | Impact rate (BPM) | Power (Watts) | Impact force (Joules) | Weight (Kg) | Cost | Rating out of 10 |
| --- | --- | --- | --- | --- | --- | --- |
| Einhell | 1,800 | 1,600 | 43 | 14.6 | £ | 9.0 |
| VonHaus | 1,500 | 1,500 | 45.0 | 20 | £ | 8.6 |
| Makita | 1,100 – 2,650 | 1,100 | 7.6 | 5.1 | ££ | 8.2 |
---
Concrete Breaker Buying Guide
Before buying a concrete breaker, you should establish that this is the best tool for your project. You might be better off with an SDS hammer drill for small demolition work, such as removing tiles or forming holes in brick walls.
However, for breaking up concrete slabs, foundations, rock and all forms of road construction, you can't beat the thumping power of a concrete breaker. Also known as a jackhammer or demolition drill, concrete breakers are characterised by their powerful motor – around 1,700W – and a high impact rate of up to 2,000 BPM.
The reviews above show you the best concrete breakers on the UK market. All the models we reviewed are easy to use, affordable and don't use compressors.
Facts & Figures
When you look at products online, you will see a lot of unfamiliar technical jargon. This information can be confusing when some manufacturers quote specific units of measurement and others don't. For instance, some provide hertz (Hz), which measures frequency, and some use Nm, a measure of torque.
Ignore a lot of the noise and focus on the three points below when comparing products
Impact rate
Impact force or energy
Power
1. Impact rate
Impact rate is the number of times the chisel hits the surface per minute and is measured in beats per minute (BPM). Sometimes you might see revolutions per minute (RPM), but this is a bit of a misnomer because the chisels don't revolve.
A higher impact rate means the concrete breaker will chop through the concrete quicker, but not necessarily through denser material. For this, you need to look at impact force…
2. Impact force
Impact force – measured in Joules (J) – is the thing that determines how easily the breaker will cut through concrete. The higher the force, the more effective the breaker is.
3. Power
Power at this level is measured in watts (W). Our article, Essential Drills and Drivers You Should Know, explains power ratings in detail, but typically, concrete breakers have mighty motors – around 1,600W. These high-power motors deliver the required impact rate and force to easily cut through concrete.
Chisels
You only need three types of chisel for concrete and masonry breaking:
Pointed
Flat
Curved
In most cases, you will only need the first two.
1. Pointed Chisels
You use pointed chisels to start the breaking process. With so much force concentrated on such a small area, concrete breakers easily cut through the densest concrete or stone. In many cases, this chisel is all you'll need.
Pro Tip: Use a crowbar to lever out the broken concrete, not the chisel, as this avoids damage to the breaker.
2. Flat Chisels
Flat chisels are best for working around the edges or where a neat, straight line is needed.
Flat chisels are also great for removing tiles (wall or floor) and scabbling concrete slabs. They come in three different widths to suit the job at hand. The wider flat chisels are better for asphalt and tarmac because they're less dense than concrete.
Pro Tip: When breaking up a concrete slab with a flat chisel, use it at an angle and not vertically. You'll find it cuts much better this way.
3. Curved Chisels
Curved chisels have a U-shaped profile and are great for cutting grooves or narrow channels in masonry or concrete. Sometimes referred to as gouge chisels, they can cut to various depths by adjusting the angle of the breaker.
Key Features
Weight
A heavy concrete breaker cuts through concrete easier than lighter models because the extra weight adds more downward force. However, heavier models are harder to haul around and require more upper-body strength.
Versatility
If you want a tool that can break up concrete and cut through a masonry wall, you need a lighter model to hold horizontally with two hands. Corded electric breakers are best suited to these situations.
Power Supply
This tip may sound obvious, but if you're breaking up a road in the middle of nowhere, you must think about how you will power your concrete breaker.
You can, of course, use a portable generator such as this 2.8 kVA Portable Petrol Generator. The alternative is to go for a petrol-driven breaker.
Note: Petrol-driven breakers require more servicing than electric breakers and are much heavier. However, the additional weight makes them more effective at breaking up dense concrete.
---
Best Concrete Breaker in the UK – Final Thoughts
The Einhell TC-DH 43 comes out on top because of its superior power-to-weight ratio and higher impact rate.
The VonHaus concrete breaker is great at breaking up slabs because of its weight, but it's not so easy to use in other situations.
The Makita is the choice of professionals for smaller renovation projects, but it comes at a cost.
Pro Tip: If you're unsure how to break up concrete slabs, this video on the Ultimate Handyman channel should prove helpful. Please ignore the first part about hire shops; it's almost as cheap to buy in most cases. Also, don't confuse the different terms for "point" and "chisel", as they're both chisels. Another helpful resource is WikiHow's guide on How to Break Up Concrete.