Property Workshop is proudly reader-supported. When you buy through links on our site, we may earn a small Amazon affiliate commission but this does not affect the price you pay. Learn more here.
---
Choosing the best cordless combi drill in the UK can feel overwhelming. With so many specs and features crying out for your attention, how do you know which is the best cordless combi drill for you?
After many hours of researching and testing the most popular cordless combi drills in the UK, we've narrowed them down to the top five. We've also provided the key features to consider before buying. Read on to find the best cordless combi drill for your needs.
---
Best Cordless Combi Drill Reviews – The UK's Top 5 in 2022
We've reviewed five of the UK's best cordless combi drills to give you a head start in choosing the best model for your DIY projects.
Our Top Pick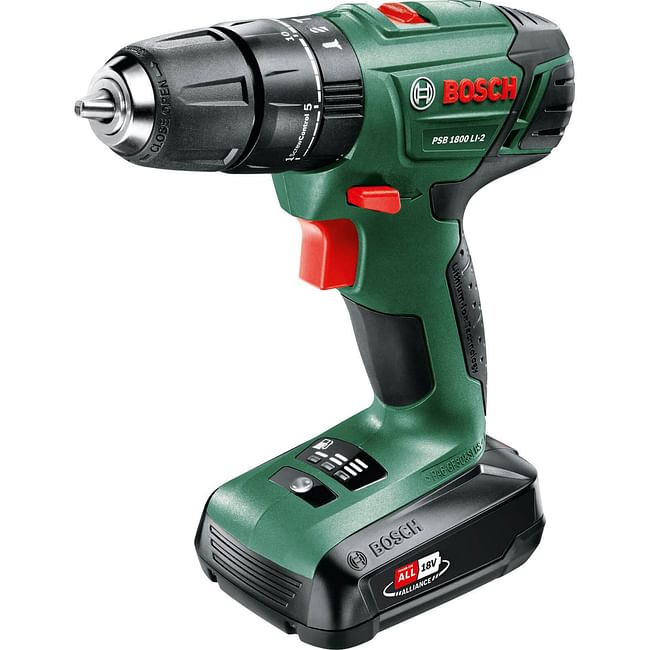 20 pre-selectable torque settings, including an impact drill setting
Syneon Technology
Powerful lithium-ion battery and one-hour charger - part of the Bosch 18 volt system
Bosch Electronic Cell Protection (ECP)
Keyless chuck with Bosch auto-lock
The Bosch PSB 1800 Cordless Combi Drill is an excellent choice if you're looking for a good all-rounder that can take on any home DIY drilling task.
Use it as a power driver with 20 pre-selectable torque settings, or use the drill mode for drilling holes in wood or plasterboard. It also has a hammer drill mode for drilling through harder surfaces.
The Bosch keyless auto-lock chuck makes it quick, safe and easy to change drill bits, saving you time and effort.
This model has two lithium-ion batteries compatible with other Bosch tools from the 18V range. This means you can charge one battery while using the other and share the batteries with other compatible Bosch tools. Also, these batteries rapidly charge in only one hour, so you'll never have to wait around too long to get drilling.
Just be aware that this drill is less suitable for drilling through masonry, as it lacks the power of a corded hammer drill. It's also too easy to hit reverse, which knocks it into neutral.
However, thanks to its intelligent energy-use Syneon chip for more effective drilling, its lightweight design and integrated work light, this model is one of the easiest combi drills to use. 
| | |
| --- | --- |
| Pros | Cons |
| 20 pre-selectable torque settings | Easy to accidentally hit reverse |
| Keyless Bosch auto-lock chuck | Lacks power for masonry drilling |
| Intelligent Syneon chip | |
| Includes two lithium-ion batteries | |
| Integrated work light | |
---
15-position adjustable torque control
Ergonomic design with rubber grip over-mould
Two-speed all-metal transmission
Ultra-compact and lightweight design
Steel belt hook and magnetic bit holder
Brushless motor
Up to four degrees self-levelling with an automatic out-of-level indicator
Touch pad control panel with two button operation and low battery indication
This Dewalt cordless combi drill makes an excellent choice if you're looking for a durable, powerful model that can fit into tight spaces.
With its brushless technology motor and all-metal transmission, this drill provides superior performance and can outlast many others on the market. Brushless motors generate no friction for better performance with less heat and wear. Furthermore, its ergonomic and lightweight design makes it comfortable to use over extended periods.
With its 15-position adjustable torque, plus drill and hammer drill modes, you can use this drill for just about any drilling task, while the intelligent trigger system makes it easy to control.
Although this drill is an excellent model, remember that it does not come with batteries or a charger. However, this won't be a problem if you own compatible Dewalt tools.
In summary, this is one of the best cordless combi drills, with the power, design and technology you can rely on.
| | |
| --- | --- |
| Pros | Cons |
| 15-position adjustable torque | Battery and charger not included |
| Brushless technology motor | No carry case |
| All metal transmission | |
| Compact and lightweight | |
| Ergonomic design | |
---
Drills 36mm into timber and 13mm into steel and masonry.
Two-speed metal gearbox
3 drill action settings
16 torque settings
High-comfort rubberised grips
Variable speed control
Single sleeve keyless drill chuck
If you're new to DIY or want to improve your existing tool collection, this cordless combi drill, with its extensive accessory kit, makes a great choice. 
Makita, famous for its high-quality power tools, has put together this essential set to assist you with every DIY project you undertake. Aside from various hand tools and drill bits, there's also a 3Ah battery for longer-lasting, superior performance compared to many other lower amp-hour drill batteries.
With its 16 torque settings, this combi drill is also great as a power driver, or you can simply select the drill or hammer drill setting for drilling holes. Designed to last, the all-metal gears ensure longevity and superior performance, especially when drilling through harder surfaces.
However, remember that this model lacks a brushless motor model and, despite its comfortable grip, you may find it a little heavy at almost 2kg. This can make it fairly tiring to use over long periods, although some users find its weight helps them to drill through tougher surfaces.
Thanks to its long battery life, fast change keyless chuck, and generous accessory kit, this set by Makita is excellent value for money.
| | |
| --- | --- |
| Pros | Cons |
| 16 torque settings | Not brushless |
| Fast change keyless chuck | Fairly heavy |
| Includes a long-lasting 3Ah battery | |
| All metal gears | |
| Includes 101 accessories and a carry case | |
---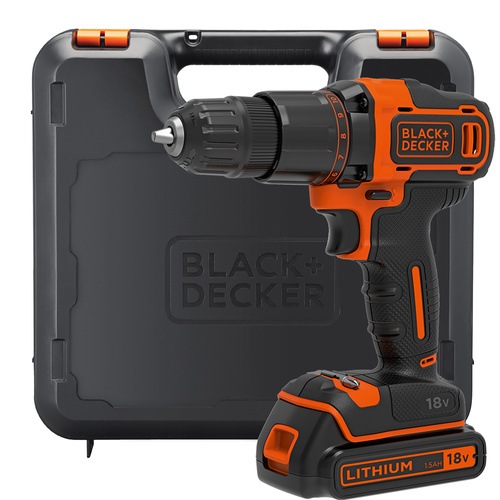 Hammer action for drilling into masonry and concrete
Two gears - High-speed for drilling through wood and Steel, Low-speed for controlled driving
11-position clutch
Lithium Ion battery holds over 80% of its charge over 90 days whilst idle.
Variable speed settings
Spring-loaded battery system
Anti-slip soft grip
This Black and Decker cordless combi drill has an all-metal motor and gearbox for solid performance and product longevity.
Whether you're looking to assemble flat pack furniture or drill holes in plasterboard or masonry, this combi drill is more than adequate thanks to its 10 torque settings, with drill and hammer drill modes. In fact, up to 2100 bpm hammer drilling goes a fair way to replacing your corded drill. 
Thanks to its lightweight and compact design and LED work light, it's easy to use even in confined, hard-to-reach spaces.
This model comes with two lithium-ion batteries, so you can use them to tackle long projects without running out of power. Remember that the batteries take a fair while to charge, so always put one on charge as soon as the drill starts to run low.
While the keyless chuck is a nice time-saver, there are reports of it occasionally 'sticking'. However, we did not notice this issue during our testing.
This combi drill is a good, versatile choice with the extra power you need to drill through harder surfaces, thanks to its rapid 2100bpm hammer drilling action and double battery set.
| | |
| --- | --- |
| Pros | Cons |
| 10 torque settings | Long battery charge time |
| All-metal motor and gearbox | Keyless chuck can stick |
| Up to 2100 bpm hammer drilling | |
| Includes two lithium-ion batteries | |
| Lightweight and compact | |
---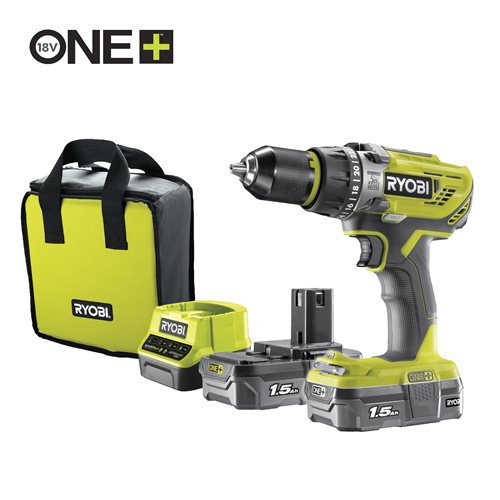 Easily drills through wood or metal
The hammer function helps drill through masonry
Great for driving screws
All Metal 13mm ratcheting chuck
24 torque settings
LED work light
This cordless combi drill by Ryobi forms part of their ONE+ product line and comes with two batteries that you can use across other tools in the same range.
With its 24 torque settings, you can use it as a power driver to remove even the most stubborn screws. Select the drill mode for regular tasks or percussion mode to drill through wood, plasterboard or masonry. Whatever job you're tackling, this model has the features you need.
Thanks to its two batteries, you won't have to worry about running out of power before completing your project. It's also comfortable to use over extended periods, with its comfortable grip handle and compact size. You may, however, find it a little heavy, especially if you're used to lighter, corded models.
| | |
| --- | --- |
| Pros | Cons |
| 24 torque settings | Fairly heavy |
| All-metal ratcheting chuck | Difficult to extend the warranty |
| Comfort grip handle | |
| LED work light | |
| Includes two batteries | |
---
Best Cordless Combi Drill in the UK – 2022 Comparison Table
Product
Features
Price
Score
Bosch PSB 1800 Cordless Combi Drill
20 pre-selectable torque settings
Keyless Bosch auto-lock chuck
Intelligent Syneon chip
Includes two lithium-ion batteries
Integrated work light
££
9/10
Dewalt DCD796N 18v XR Combi Drill
15-position adjustable torque
Brushless technology motor
All-metal transmission
Compact and lightweight
Ergonomic design
£££
8/10
Makita DHP453SFTK with Accessory Set
16 torque settings
Fast change keyless chuck
Includes a long-lasting 3Ah battery
All-metal gears
Includes 101 accessories and a carry case
£££
8/10
BLACK+DECKER BDCHD18KB-GB
10 torque settings
All-metal motor and gearbox
Up to 2100 bpm hammer drilling
Includes two lithium-ion batteries
Lightweight and compact
££
7/10
Ryobi R18PD31-213S Cordless Combi Drill
24 torque settings
All-metal ratcheting chuck
Comfort grip handle
LED work light
Includes two batteries
£££
8/10
---
Cordless Combi Drill Buying Guide
When choosing your new cordless combi drill, pay particular attention to the following features to ensure that you pick the right one for your needs.
Variable Torque
To get the most out of your cordless combi drill, opting for one with adjustable torque levels is wise.
Torque is the "turning power" that your drill provides. So when you're using your combi drill as a power driver, it's important to modify the torque to suit your project.
For example, if you're struggling to dismantle a bed frame with screws that simply refuse to budge, use your combi drill on a low torque level to fully engage the clutch and ensure the bit doesn't slip.
Size and Weight
Most people opt for a cordless combi drill over traditional corded versions because they want greater freedom and manoeuvrability when working. Not being tethered to a power outlet is one thing, but if a drill is heavy and cumbersome, you should consider whether fatigue is likely to be an issue.
For example, opting for a lightweight and compact model enhances your drill's usability and makes it easier to handle when drilling in confined spaces.
Chuck
Everyone has a different opinion when it comes to chucks. Some people prefer traditional keyed chucks and find they hold tighter. Others prefer keyless chucks that allow faster changing of drill bits.
To begin with, you'll probably find using a keyless chuck a little easier. However, for extensive hammer drilling, where vibrations tend to shake the drill bits loose, we'd recommend going for a keyed chuck.
Work Light
An integrated work light is extremely useful if you're likely to use your combi drill in dark corners. For example, when erecting kitchen cabinets, you'll often find your light source obscured and risk drilling off the mark. Having the option of a built-in light ensures you always drill exactly where you intended.
Carry Case/Accessories
If you're new to DIY and don't have a lot of equipment, opting for a model with accessories, such as a carrying case and several drill bits, makes sense.
However, always prioritise the drill's quality and functionality first and foremost. After all, no amount of accessories will help if you have a weak, unreliable drill that struggles to get the job done. 
Battery
Let's face it, no matter how great your drill is, it's useless if it doesn't have the required power.
Some power tool ranges have interchangeable batteries that you can use across various products. This feature can save you money in the long run, as you can buy other cordless tools from the same range without purchasing additional batteries. However, if you don't own any tools from that range, you'll find the initial cost more expensive than a tool-only purchase.
Some manufacturers provide drill and battery bundles, with two batteries included with your drill. Having a second battery allows you to charge one up while using the second one. This is a great option if you don't own any existing power tools with compatible batteries. 
Lastly, you'll need to pay close attention to what type of battery is provided, its amp-hour (Ah) rating, Voltage (V) and how long it takes to charge up. If you're unsure about cordless battery drill specifics, read our explanation below:
Understanding Cordless Combi Drill Batteries
Many people are confused about purchasing batteries for their cordless drills. This section looks at the different types of batteries available and their benefits and drawbacks. 
Li-Ion
Li-ion stands for lithium-ion and is one of the most popular battery types for power tools. Lithium-ion batteries have a high energy density, unlike other batteries, making them suitable for high-powered devices such as drills. 
Li-Ion batteries also have a much lower rate of self-discharge (going flat when not used) than Ni-Cad batteries. To learn more about their advantages and disadvantages, look at this comprehensive article about li-ion batteries.
Ni-Cad
Nickel-Cadmium batteries are one of the oldest types of batteries available.
Known for being tough, these batteries have good impact resistance and perform well in difficult conditions and extreme temperatures. They also have a respectable life cycle and are inexpensive to purchase.
On the downside, NiCd batteries tend to have a lower charge capacity than alternatives. They're also rather weighty and must be cooled before recharging.
NiMH
Nickel-Metal Hydride (NiMH) batteries offer greater capacity than Ni-Cad batteries but less than Li-Ion batteries.
This type of battery is usually cheaper than Li-Ion, but they're particularly vulnerable to shortages in lifespan caused by poor charging and storage practices. They have a high rate of self-discharge when not in use, and if left fully discharged for periods of time, they quickly suffer reductions in performance.
Volts
For cordless drills, voltage determines how much power your cordless drill can produce.
Most cordless power tools run on 18V batteries; however, some professional ranges are available with higher voltages. When you're choosing a battery separately from your drill, be sure to check its compatibility before purchasing.
Ah Rating
Ah stands for ampere-hour, a measurement of electrical charge. The higher your battery's Ah, the longer it runs on a single charge.
So, if your cordless combi drill frequently runs out of battery, you may consider purchasing an additional compatible battery with a higher Ah rating.
---
Best Cordless Combi Drill in the UK – Final Thoughts
While all the combi drills in our list offer great value, our favourite cordless combi drill is the Bosch PSB 1800.
Complete with two batteries compatible with the Bosch 18V range, this model won't run out of power halfway through your project. It also benefits from a rapid one-hour charger.
With its 20 pre-selectable torque settings, it makes a great power driver. Furthermore, the drill and hammer drill modes allow you to quickly and easily drill holes in wood, metal and masonry.
Thanks to its comfortable handle and simple controls, this cordless combi drill is extremely easy to use, even for the beginner. 
Finally, with its integrated work light and durable carry case, this drill offers wonderful value for money.