Property Workshop is proudly reader-supported. When you buy through links on our site, we may earn a small Amazon affiliate commission but this does not affect the price you pay. Learn more here.
---
Knowing which plasterboard fixing is best for your job is challenging, and picking the wrong one can mean disaster for your favourite painting, mirror, etc.
To save you this headache, we've spent hours narrowing down the dizzying array of choices to seven key types of plasterboard fixings that cover any project you're likely to undertake.
Read on to find the best plasterboard fixings for your next job and avoid the disastrous consequences of picking the wrong one.
Pro Tip: Run a nifty gadget called a stud detector over your walls to ensure you aren't about to screw through a water pipe or electric cable!
---
Best Plasterboard Fixings — The UK's Top 7 in 2023
Here's our list of the seven most commonly used plasterboard fixings and their uses:
1. GRIPIT Fixings
When To Use GRIPIT Fixings
Use GRIPIT for fixings large items to plasterboard.
How To Use GRIPIT Fixings
GRIPIT fixings work by being inserted into a pre-drilled hole of between 15 and 25mm.
After tapping in the GRIPIT with a hammer, insert a screwdriver into the coloured plastic at the front to turn the metal wings at the back, locking the GRIPIT in place.
There are four types of GRIPIT fixings; Blue (113kg), Brown (93kg), Red (74kg) and Yellow (71kg). Each type is rated by the max weight it can hold.
We're big fans of the GRIPIT Blue fixings below:
GRIPIT Blue
Gripit blue holds up to 113KG.
A unique 3-way gripping system adjusts to plasterboard depth and distributes weight more effectively.
The collar adjusts to the thickness of the plasterboard from 9.5-15mm.
The wings open to hold Gripit in place, and the ribs stop it from rotating.
The screw draws the wings into the back of the plasterboard for a more effective hold.
Made from ultra-strong and extremely lightweight Polyacetal.
The white collar has a slim profile which is easy to conceal, and the turning mechanism makes it super easy to retract the wings for reuse or repositioning.
---
2. Redidrive (self-drive)
When To Use Redidrives
While they look like evil alien probes, redidrives are sturdy and easy to fit. They're great for pinning plasterboard to wood battens or light switch plates to plasterboard.
How To Use Redidrives
You insert the long screw into the probe bit and screw through the plasterboard into the wood.
Drilling a small pilot hole isn't necessary, but it guards against the screw snapping.
Only use on stud walls because redidrives cannot affix plasterboard to masonry.
Pro Tip: Confusingly, people often refer to these fixings as 'Ready Drive'.
We're big fans of the redidrive fixings below:
fischer Self Drill Cavity Fixing
Fixing requires less space behind plasterboard due to a short fixing length.
Suitable for lightweight objects only.
No drilling is needed when used on simple planked gypsum plasterboard.
Suitable for pre-positioned installation.
---
3. Plastic Toggle
When To Use Plastic Toggles
Plastic toggles are ideal for bearing heavy loads. Insert them at the top of the object you're attaching.
How To Use Plastic Toggles
The triangle part collapses so that you can push it through a pre-drilled hole in the plasterboard.
Once through the hole, the triangle bounces back, fixing the toggle in situ.
Proceed to screw through the toggle and into the plasterboard; the triangle is drawn up towards the plasterboard creating a robust fix.
We're big fans of the plastic toggles below:
TOGGLER Hollow Wall Anchors
Reinforces the plasterboard and spreads the load.
Vibration and shockproof.
Anti-Rotation fins prevent spinning.
Non-magnetic/conductive.
---
4. Hollow Wall Anchor (or cavity fixing)
When To Use Hollow Wall Anchors
Fixing large objects to plasterboard, where a strong brace is required.
How To Use Hollow Wall Anchors
It works nearly identically to the plastic toggle, although the anchor part is metal and isn't triangular.
We love the cavity fixings below: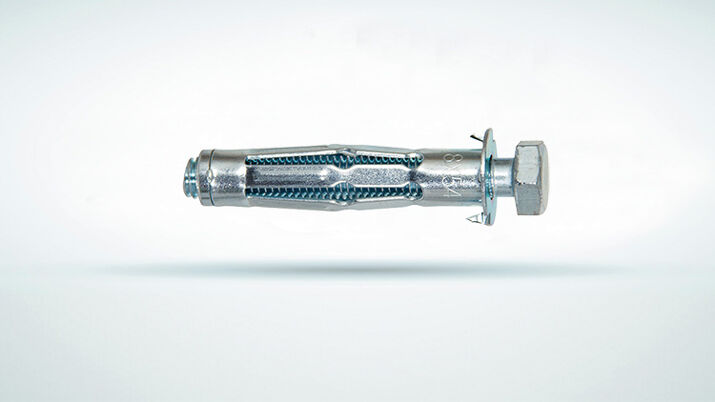 fischer Metal Cavity Fixing
Repeated removal and installation don't reduce load-carrying properties.
High-load capacity due to expansion arms.
Claws secure fixing in plasterboard.
Suitable for pre-positioned installation.
---
5. Butterfly Toggle
When To Use Butterfly Toggles
Butterfly toggles are ideal for hanging shelves.
How To Use Butterfly Toggles
They work the same way as plastic toggles and wall anchors but are metal, and the toggle shape is different.
With butterfly toggles, the metal toggle flattens back against the plasterboard when you insert the screw, forming a vertical brace.
We love the butterfly toggle fixings below:
fischer Spring Toggle Fixing
Work great on gypsum plasterboard, fibreboards, chipboard, plywood and cavity slabs.
Suitable for overhead applications.
Toggle expands behind plasterboard, securing the fixing
Sprung-loaded pre-assembled head for simple installation
---
6. Rubber Anchor Nut
When To Use Rubber Anchor Nuts
A rubber anchor nut is a great all-rounder, fitting into irregular holes and resisting corrosion.
How To Use Rubber Anchor Nuts
Drill through the plasterboard wall to create a hole for the anchor nut.
Bash the rubber anchor nut in place with a hammer.
Screw through into the cylinder, where a metal thread inside the rubber guides the screw.
---
7. Universal RawlPlugs
When To Use Universal RawlPlugs
Standard rawlplugs are not strong enough to hold objects to plasterboard, but you can use special universal ones for lighter objects.
How To Use Universal RawlPlugs
Pre-drill the hole to the size of the wall plug
Insert the plug and then turn the screw
We love the rawlplugs below: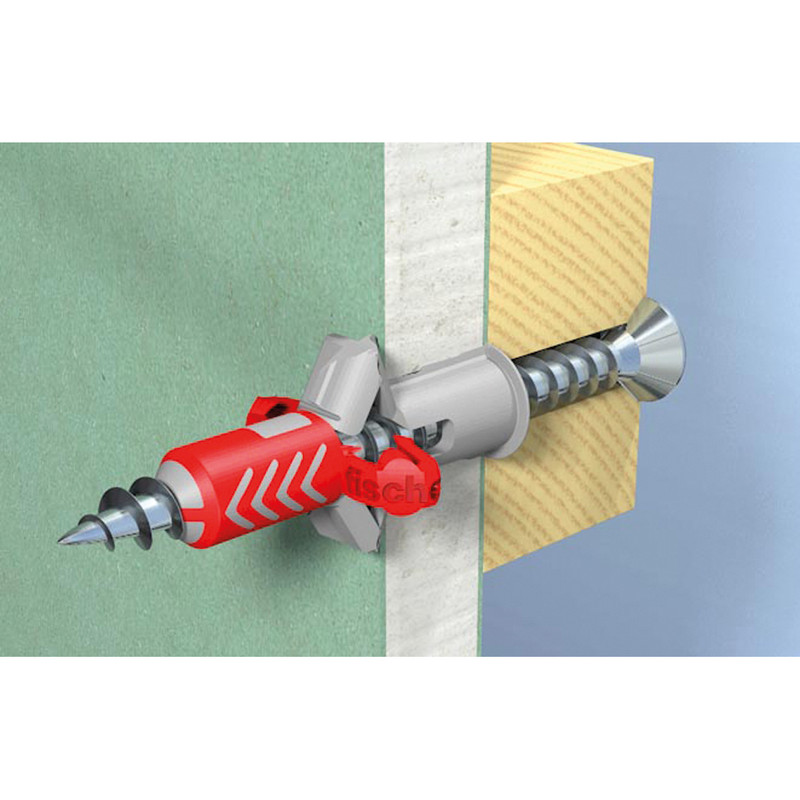 fischer DuoPower
Composite parts produce better performance.
Works on solid, hollow and panel building materials.
Easy installation - Narrow edge prevents fixing from falling deeper into the drill hole.
---
Final Thoughts — Best Plasterboard Fixings
After reading this guide, you should feel confident about choosing the best plasterboard fixings based on the objects you're fixing and the required load support.
If you're looking for more info about wall fixings, check out our guide on how to fix into plasterboard, brick and breezeblock.
---
Best Plasterboard Fixings Infographic