Property Workshop is proudly reader-supported. When you buy through links on our site, we may earn a small Amazon affiliate commission but this does not affect the price you pay. Learn more here.
---
In all my years of woodworking, there's nothing more satisfying than the feel of a sharp chisel cutting through wood.
Whether you're a time-served joiner or a keen amateur, your choice of chisel depends on the job.
This guide will show you the best wood chisels in the UK for general usage and explain the different types of chisels for more specialised work.
---
The Best Wood Chisels in the UK — 2023 Reviews
I've spent hours researching and testing the best chisels on the UK market so that we could declare a clear winner — the WorkPro 3-piece chisel set. This fantastic set of chisels covers most situations around the home and should last you a lifetime if you look after them.
Read on for more details on each product we tested, starting with our clear winner:
---
Our Top Pick
1. WorkPro 3-Piece Wood Chisel Set
Bevel edge for multi-purpose use
Ergonomic bi-material handle
Steel butt design
This WorkPro 3-piece set came out on top for the following reasons:
Strength and durability of the blades
Sturdiness and comfort of the handles
Overall impression of quality
Although only 3 pieces — 12mm, 19mm and 25mm — this WorkPro 3-piece set covers most jobs around the home, such as fitting hinges or door locks. If you want to form a nice mortise joint, you'll probably need to add a smaller chisel to the set.
These chisels feel good in your hand, and the drop-forged chrome vanadium (Cr-V) steel blades provide excellent strength and durability.
With their finely polished, electroplated finish for corrosion resistance, these WorkPro chisels are built to last.
With an overall length of 230mm, WorkPro chisels are well-balanced and easy to manipulate.
The polypropylene (PP) handle includes thermoplastic rubber (TPR) inserts to provide a better grip. Also, the metal striking plate at the end allows a hammer or mallet to strike it.
| Pros | Cons |
| --- | --- |
| High-quality, razor-sharp blades. | You'll need to purchase an extra chisel for fine joinery work. |
| Easy-grip, non-slip handles built for comfort. | The cost per chisel works out to be more expensive than the others tested. |
| The three chisels provide a wide range of widths. | |
| You can use a hammer or mallet with this set. | |
---
2. Draper Expert 88605 8-Piece Wood Chisel Set
Six chisels (6, 12, 20, 26, 32 and 38mm),
Full-length bevel-edged blades
Chrome vanadium steel blades
Blades are hardened, tempered, finely ground and coated in a clear lacquer
Impact-resistant soft grip polypropylene handles
Includes honing guide and aluminium oxide sharpening stone
We exceeded our £20 budget (by around 50%) on this Draper Expert set, but look what you get for the money! This set includes six chisels (6, 12, 20, 26, 32 and 38mm), a honing guide and a sharpening stone!
The bevel-edged chisel blades are made from hardened chrome vanadium steel with a clear lacquer coating for corrosion protection. As with most sets, the 6mm chisel is square-edged, but that shouldn't be an issue in most cases.
The polypropylene handles have soft grip inserts for easy handling, but they don't have striking plates. However, the manufacturer claims the handles are impact-resistant and can take a hammering.
Pro Tip: I recommend using a wood or rubber mallet rather than a steel hammer.
So, let's look at the "extras". A honing guide helps get a precise cutting edge on the blade. The aluminium oxide sharpening stone is also a must-have, although some might prefer a grittier stone than the one provided.
This extra is handy, but you can pick up a decent sharpening kit for less than £15, including an oil bottle. Still, six chisels for that price represent good value.
On the downside, you may have to hone the blades before using them for the first time. Several users raised this issue.
| Pros | Cons |
| --- | --- |
| Great value for money. I.e. 6 chisels, a sharpening stone and a honing guide in one kit. | The blades will probably need some work before you can use them, which might be more than just honing. |
| This set includes a wide range of blade sizes. | This kit could be expensive if you already have a honing guide and an oil stone. |
| It comes in a nicely presented set in a blow-molded case. | |
---
Best Budget Wood Chisel Set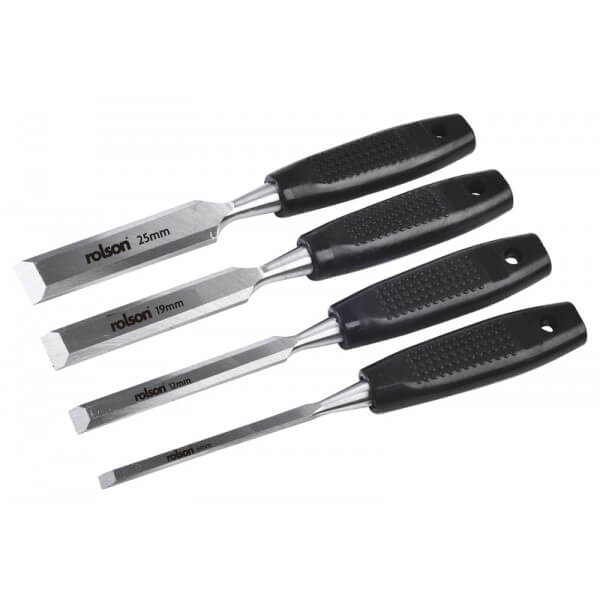 3. Rolson 56159 4-Piece Wood Chisel Set
4 chisels (6, 12, 19 and 25mm)
Precision ground blades
Drop forged, heat-treated blades
Impact-resistant plastic handle
At the low end, price-wise, the Rolson 56159 is an excellent 4-piece chisel set for a beginner or as a backup for a seasoned DIYer.
The set comprises all the sizes necessary for most jobs — 6, 12, 19, and 25mm.
The bevel-edged blades are made from drop-forged heat-treated carbon steel. Although drop-forged steel is solid, the quality of the finish is only as good as the die used to forge the blade. A poor die may be why so many users complain about defects in the cutting edge of the Rolson chisel.
The handle is made of plastic and is said to be impact resistant. However, there isn't a metal striking plate, so I would be cautious about using a hammer.
The Rolson is a decent chisel, but it lacks that extra quality that sets the others apart.
| Pros | Cons |
| --- | --- |
| Good value general purpose chisels. | They will likely require sharpening and shaping before first use. |
| The 4 sizes included cover most jobs. | There's no striking plate on the end of the handle. |
| High-strength drop-forged steel blades retain their sharpness even after heavy use. | |
---
4. AmazonBasics 4-Piece Wood Chisel Set
4 chisels (13, 19, 25 and 32mm)
Heat-treated chrome vanadium steel blades with bevelled edges
Comfortable wooden handles with metal strike plate
Includes storage pouch with buckle closure
As with many chisels we reviewed, this AmazonBasics set is classed as bevel-edged, but the blades have a sizeable straight edge before the bevel, which might not suit everyone.
The blades are manufactured from heat-treated chrome vanadium steel, and the widths are 12, 19, 25 and 32mm. I would have preferred a 6mm blade over the 32mm one, as I think this would be a better choice for most carpenters and DIY enthusiasts.
The wooden handles incorporate a metal striking plate and a hoop to stop the end from mushrooming after repeated blows.
The wooden handles have a natural warm feel, but the varnished coating will wear off after repeated use, leaving a rough bare wood finish.
| Pros | Cons |
| --- | --- |
| A choice of 4 heat-treated chrome vanadium bevel-edged steel blades. | The set lacks a 6mm blade for accurate joinery work. |
| Wooden handles incorporate a metal striking plate and hoop. | The varnished coating on the handles will wear off over time, leaving a rough finish. |
| The set comes in a storage pouch with a buckle closure to keep the chisels safe and in order. | |
---
5. Stanley Dynagrip 3-Piece Wood Chisel Set
3 chisels (10, 15 and 20mm)
Forged high chrome carbon steel blades
Pre-sharpened and lacquered blade
Full-length blade guard
Ergonomic soft grip CAB handle
More extended handle design with steel strike cap
Manufactured in Sheffield, England
The Stanley Dynagrip chisel set is expensive for a 3-piece, with each chisel costing double that of the AmazonBasics set and three times that of the Rolson kit. So what do you get for your money?
Inside the neat carry case are three chisels — 12, 18 and 25mm widths — that will cover most situations you are likely to encounter. The 2 wider blades are bevelled, and the slimmer one is straight.
The CAB (cellulose acetate butyrate) handle provides a soft ergonomic grip for comfort. Furthermore, the handle is longer than most for better control and shock resistance.
The forged chrome-carbon steel blade is extremely tough, with a lacquered finish to protect it from corrosion. The blades are pre-sharpened for immediate use, but they may need a little honing to remove burr and markings.
Each chisel has a steel strike cap for use with a hammer or mallet.
| Pros | Cons |
| --- | --- |
| Forged chrome-carbon steel blades for extra corrosion resistance. | Expensive for a 3-piece. |
| The 3 blades provided are enough for most situations | Some honing may be required to remove burr and markings. |
| Long ergonomically designed non-slip handle for ease of use. | |
| Lacquer-coated blades protect against rust, improving longevity. | |
| Steel striking cap for use with a hammer or mallet. | |
---
The Best Wood Chisels in the UK — 2023 Comparison Table
| Product | No. and size of Chisels (mm) | Type of Handle | Blade Material | Cost | Rating out of 10 |
| --- | --- | --- | --- | --- | --- |
| WorkPro | 3 — 12, 19, 25 | PP and rubber | Drop forged Cr-V | ££ | 9 |
| Draper | 6 — 6, 12, 19, 25, 32 and 38 | PP and rubber | Drop forged Cr-V | ££ | 8.4 |
| Rolson | 4 — 6, 12, 19, 25 | Plastic | Drop forged carbon steel | £ | 8 |
| Amazon Basics | 4 — 12, 19, 25, 32 | Wood | Drop forged Cr-V | ££ | 7.5 |
| Stanley | 3 — 12, 18, 25 | CAB plastic | Drop forged carbon steel | £££ | 7 |
---
Best Wood Chisels in the UK — Buying Guide
This section examines what makes a great chisel and the process we used when reviewing the best wood chisels in the UK.
What Makes a Great Chisel?
A chisel has two main components — the handle and the blade. Both are equally important.
Chisel Blade
The steel blade has a cutting edge/bevel at one end and typically a tang, which slots into the handle at the other end. Both are important to the chisel's longevity.
The sides or edges of the blade can be straight or bevelled. Straight edges leave a neat 90⁰ shape and are best for mortise joints, but bevelled edges are better for forming shaped joints such as a dovetail joint.
For more on the difference between straight and bevel-edged chisels, check out the video below by Paul Sellers:
The tang must fit tightly to avoid working loose. Some chisels have a metal ferrule to reinforce the handle and blade joint.
Material
Most chisel blades are made from carbon steel, and the amount of carbon determines the hardness and toughness of the tool.
High-carbon steel is more rigid but less tough than low-carbon steel, which means it's more prone to cracking. In a chisel, hardness is a crucial factor.
For additional strength, chromium-vanadium (Cr-V) can be added to form an extremely hard yet tough alloy, ideal for chisels that'll take a hammering during their lifetime.
Manufacturing Method
Traditionally, chisels were hand forged by heating the metal and hammering the cutting edge into shape. Sometimes, molten metal was poured into a mould and cooled before forging or machining.
These days, virtually all chisels are made using the drop-forge method. This method involves heating the metal until red-hot and placing it on a die. An upper die is then "dropped" onto the piece with sufficient force to shape it into a chisel blade.
The shaped blade is then immersed in water to cool it down quickly. This heating and cooling process is known as tempering, and it's this technique that makes drop-forged chisels so hard.
Chisel Handle
The handle must be comfortable and is made from wood or synthetic materials such as plastic and rubber.
Some handles have a steel hoop or a striking plate at one end. This hoop/striking plate prevents damage to the handle when used with a mallet or hammer.
Handles designed for striking have a cone-shaped section that fits into the blade's socket instead of a hole where the tang slots.
---
Other Considerations
Below are other essential factors to consider when buying high-quality chisels.
Sharpness
When you buy your new chisels, you will naturally expect to use them immediately. But often, you may find markings on the chisel's cutting edge or slight imperfections that require attention.
These markings are standard on all chisels, even the more expensive ones, as they're part of the manufacturing process.
If you watch this video by Paul Sellers, you'll get some idea of the type of defects you might find on a brand-new set of chisels and how to correct them.
What's the Difference Between Honing and Sharpening?
Honing is the process of realigning the cutting edge of a blade by rubbing it against a block of oil stone or water stone.
Use a honing guide to maintain the perfect angle — around 25⁰ or 30⁰, depending on the tool. These tools are cheap and will save you a lot of time when trying to get a perfect edge.
When you sharpen a blade, you remove some of the material, so you'll need a harder block than the steel you're sharpening, such as a ceramic or diamond grit block. These blocks are often called 'whetstones', with 'whet' meaning to sharpen, nothing to do with water.
In most cases, the cutting edge only needs honing before first use, and you may have to do this each time after heavy usage.
If you use your chisels a lot, you also need to sharpen the blade occasionally to keep it in good condition.
Water Stone or Oil Stone — What's the Best Stone?
Water and oil stones typically use aluminium oxide as an abrasive with grit sizes varying from 140 to 4000. The lower end is used for repair work.
Mid-range stones — 400 to 3000 — are used for sharpening, and the high-end stones — anything above 3000 — are best for honing and finishing.
One obvious advantage of a water stone is that no special oils are required, only tap water. This attribute also makes it easier to clean.
Water stones are softer, so the old grit comes away easily, leaving fresh grit to hone your chisel, resulting in a faster process. The downside is they wear out quicker.
Oil stones use a harder binder, holding the grit in place longer, so they don't wear out so quickly. They usually come with a bottle of honing oil, but any mineral oil works. Some use vegetable (cooking) oil, but this is an expensive method of lubricating a stone.
I've used an oil stone made from carborundum (silicon carbide, almost as hard as diamond) for many years. It never seems to wear down! I use it for knives and chisels, with just a little 3-in-1 oil to catch the swarf.
Width of Blade
A good selection of blade widths is essential to cover a range of jobs that need tackling around the home or on-site. Starting at 3mm (⅛ʺ), standard blade widths increase in increments of 3mm up to 38mm (1½ʺ).
That's ten chisels in total! You can't expect to own all ten unless you're a pro, so which ones should you add to your toolbox? If you only have three, make sure these are 12mm, 19mm, and 25mm. Add a 6mm blade to the set if you can stretch to four.
This range covers most situations, and you can always add to your collection later if specific needs arise.
Cost
You'll find quite a difference in prices when buying chisels.
At the top end, an Ashley Iles cabinetmaker's chisels set (10 chisels) will set you back £380, but you'll have every size available, and they'll probably last a lifetime.
We looked at chisels at the more affordable end of the spectrum for this review to see what we could get for less than £20.
There's a great choice on the UK market, but there's no point in skimping on cost if the product falls apart after the first hammering.
---
Looking For Something More Adventurous?
If you want to do more with a piece of wood than form a recess or a mortise joint, consider adding a couple of gouges to your set. Gouges come in various widths and depths, either convex or V-shaped.
This little box set from Narex is a great way to start wood carving, either as a hobby or for the keen amateur joiner. Costing around £40, you get a skew chisel (slanted cutting edge for precise paring), three gouge chisels (shallow, medium and deep), and a V-tool.
---
Best Wood Chisels in the UK — Final Thoughts
In this review, the WorkPro 3-piece chisel set came out on top because of its strength, comfort and overall quality.
However, the Rolson set is worth considering if you're looking for a good, economical 4-piece set.
Are you looking for an excellent project to test your new chisels? If so, check out our guide to fitting a new door handle from scratch.
---
FAQ — Best Wood Chisels in the UK
What is the best manufacturer of wood chisels?
This question is tricky because it primarily depends on the chisel type you want to purchase. In terms of quality, many would confess that Czech-based Narex Richter is one of the best. But what other manufacturers are in the frame? Below are a few manufacturers that spring to mind:
Ashley Iles — a Lincolnshire family business that started in Sheffield in 1949, and they have been making quality products ever since.
Pfeil — being Swiss-made, you expect perfection, and Pfeil chisels won't disappoint.
VonHaus — although Manchester-based, manufacturing is outsourced to China and Southeast Asia. Nevertheless, VonHaus is known for making quality products.
Are Irwin Marples chisels any good?
William Marples and Sons began making quality tools almost 200 years ago in Sheffield, England, but the tools we see today bearing the Irwin Marples logo are made in China.
The old Marples chisels are revered by many as being the best. Some are still in use after 30 years or more!
Are the modern Irwin Marples chisels as good? According to Wood Magazine, "The blades sharpen easily and cut nicely, but dull quickly," scoring only 4.3 out of 5. However, despite the need for regular honing, most users seem to like these Irwin Marples chisels.
How good are EZARC chisels?
EZARC chisels have a traditional look with shiny chrome vanadium blades and lacquered wooden handles. The 6-piece set comes in a nice wooden box and is priced well at less than £50.
As we found with many chisels, EZARC chisels are classed as bevel-edged but have a significant square edge before the bevel. So, if you intend to do detailed work, such as dovetail jointing, these chisels are not for you.
However, the steel blades are sharp straight out of the box and retain their sharpness even after medium use. The handles also have a nice ergonomic feel making EZARC chisels a product worth considering.
Which chisel is best?
The choice of the best chisel comes down to factors such as price range, type of usage, and longevity.
In this product review, we looked at chisels at the low to medium end of the market in terms of cost, and the WorkPro 3-piece set came out on top. However, other chisels would come into the frame if we raised the budget.
If you're a pro or regularly need to use a chisel, it's worth looking for something that feels comfortable in your hand and lasts for a long time. When you find a chisel you like, you'll want to keep it for many years, so a blade that stands up to regular use and honing is essential.
For this reason, I would go for anything in the Narex Richter range. Not too expensive, Narex Richter has a chisel for all occasions.
What's the best way to sharpen a chisel?
To clarify, sharpening a chisel entails removing some of the material from the blade, which means using an abrasive tougher than the steel used to form the blade. Diamond, ceramic and carborundum are the usual choices for this job.
If the blade only needs honing, i.e., a realignment of the cutting edge, then aluminium oxide grit blocks will suffice, either with oil or water as a lubricant. To get the perfect angle, you must use a honing tool.
Is a wood handle better than plastic?
Wood handles are the traditional choice, but modern plastic handles are better designed and are often more comfortable. Moreover, polypropylene handles with thermoplastic rubber inserts provide a better grip.
What size chisels are best for a beginner?
For your first set of chisels, you can get away with three — 12mm, 19mm, and 25mm. However, if you intend to do more intricate work, such as a mortise joint, add a 6mm blade to the set.