Property Workshop is proudly reader-supported. When you buy through links on our site, we may earn a small Amazon affiliate commission but this does not affect the price you pay. Learn more here.
---
There are plenty of pillar drills to choose from in the UK, but only a few are worth your hard-earned money.
We've spent hours filtering the good from the bad to find the best pillar drill in the UK.
To avoid making a costly mistake, both in time and money, keep reading to find out which pillar drill is best for you.
---
Best Pillar Drill Reviews — The UK's Top 3 in 2023
These are the best pillar drills currently on sale in the UK.
Our Top Pick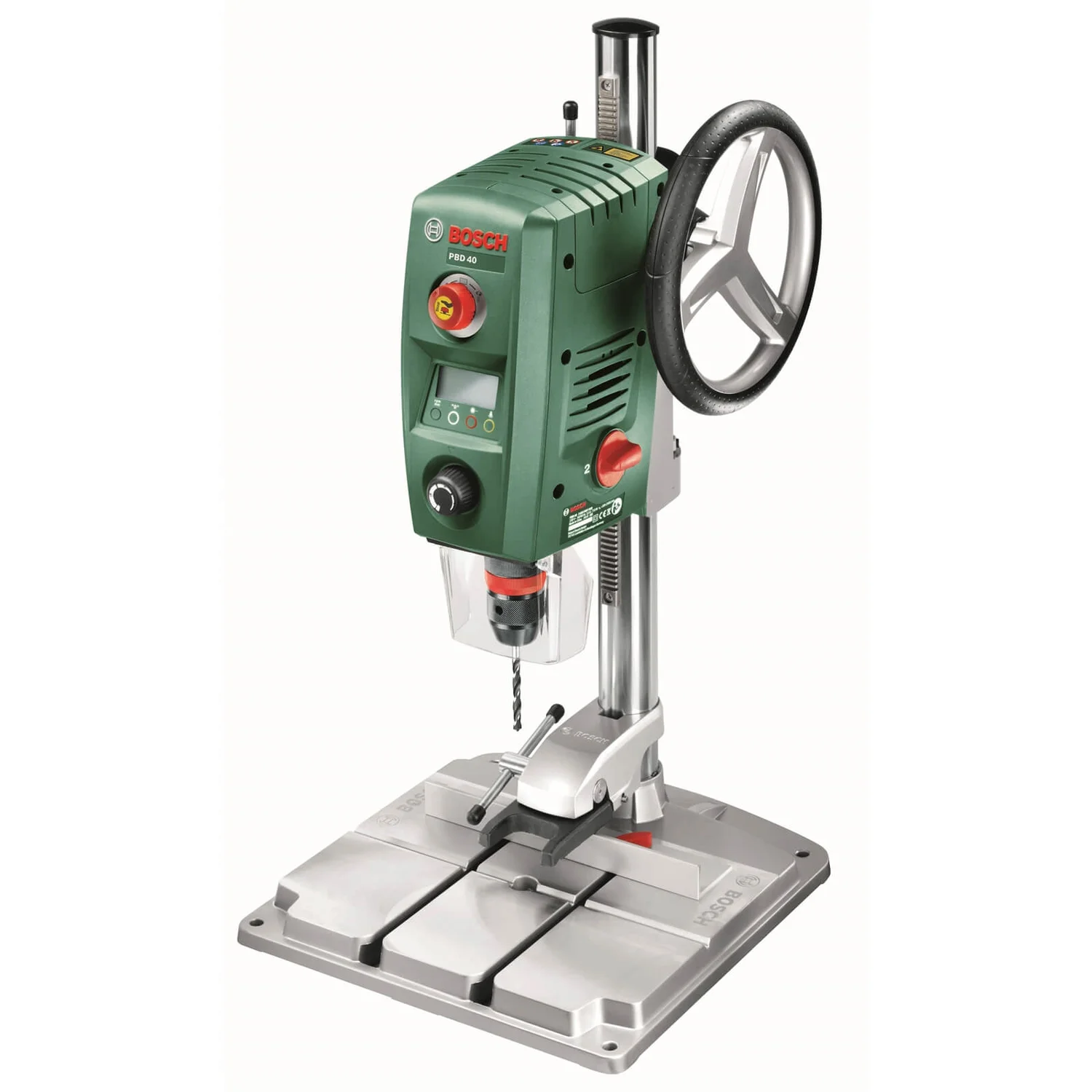 1. Bosch PBD 40
The digital system displays drilling speeds and depths
Quick clamp mechanism
Keyless chuck automatically retightens drill bit
Two-speed gearbox: high power (first gear) and high speed (second gear)
Adjustable speed control
Despite being marketed as a bench drill, Bosch's acclaimed PBD 40 is undoubtedly a pillar drill.
The PBD 40 is the only drill in our reviews to sport an integrated laser for ensuring marked holes perfectly align with the bit. However, some reviewers have noted the crosshairs can be a millimetre out of alignment.
The PBD 40 oozes quality, from its polished table to the dimpled three-spoke wheel used to adjust the motor's height.
The quick-release clamps can support circular workpieces, while the table is a substantial size.
With a powerful 710W motor, this drill can cut through 13mm steel and 40mm wood. There's also the option to replace the standard 13mm chuck with larger sizes.
The PBD 40's main drawback is its cost, which makes it a machine for professionals rather than hobbyists. It's also lightweight compared to the Einhell, weighing barely more than a quarter as much. That could lead it to wander more than its heavyweight rival.
| | |
| --- | --- |
| Pros | Cons |
| Powerful motor | Not the cheapest model we tested |
| Solid and sophisticated design | Laser crosshairs can be 1mm off-centre |
| Includes a variety of digital features that improve drilling accuracy | |
---
Best Budget Pillar Drill
2. Clarke CDP5RB
13mm chuck capacity (spindle taper B16)
Five Speeds from 620 – 2,620 RPM
Powerful 350W motor
Safety features include an electrical cut-out on the belt guard, NVR switch and clear perspex chuck guard
160 x 160mm tilting work table
Includes depth gauge and user reference chart
While the Bosch has a high-end look with its familiar green motor housing and prominent wheel, Clarke's CDP5RB is a far more industrial-looking machine. In some respects, it's reassuringly British, with a cast iron motor housing covered in stuck-on reference charts and safety notices.
The finish is inferior to the Bosch, with exposed springs and a basic three-spoke handle for raising and lowering the motor. Yet, considering that the Clarke costs around one-third as much as the Bosch, its aesthetic shortcomings are more forgivable.
Weighing almost 15kg, this is a chunky and robust device powered by a 350-watt motor. It has a 13mm capacity chuck, while the motor offers five speeds for slicing through wood, metal and plastic.
The worktable is 160mm square, and the chuck can support taper shank drill bits. These bits are ideal for cutting ferrous and non-ferrous metals.
Some reviews describe difficulty ensuring drill bits are fully vertical, leading to wobbling during operation. The worktable isn't the strongest, and several owners have reported chassis screws not coming out or plastic pieces breaking off.
The Clarke CDP5RB might need delicate hands, but it's a solid pillar drill at a competitive price.
| | |
| --- | --- |
| Pros | Cons |
| Five-speed motor | Question marks over build quality |
| Affordable price | Lacks sophistication |
---
Also Great
3. Einhell TE-BD 750 E
Adjustable speed control
LCD shows the current speed
1-16mm quick-action chuck
MK2 chuck for morse taper bits
LED work light
Smooth and quiet induction motor
Height adjustable table with tilt and swivel function
Emergency stop switch
It's fair to say Einhell's product is in a league of its own compared to our other shortlisted pillar drills. For one thing, it weighs an astonishing 44.4kg — the weight of a small adult! That means it lacks portability and requires a sturdy workbench to stand on.
The Einhell feels reassuringly solid, but it's hard to justify its scale-shattering weight in use. The base is sturdy, and the handles don't feel flimsy, but its performance statistics aren't that far above the Bosch.
The TE-BD 750 E can support 16mm drill bits, while its 750W induction motor operates above a height-adjustable table with tilt and swivel functionalities.
There's no laser, and its LED light won't light up a dark corner of your workshop.
Nice touches include an LCD screen and infinitely adjustable speed control, while there's an MK2 chuck for morse taper bits. However, we have some concerns about build quality, which is disappointing considering this model's weight and price — it's the most expensive pillar drill we've tested, and by some distance.
| | |
| --- | --- |
| Pros | Cons |
| Accepts 16mm drill bits | Expensive and heavy |
| LCD screen and LED light | Question marks about durability |
| Infinitely adjustable speed control | |
---
Best Pillar Drill in the UK — 2023 Comparison Table
| | | | | | |
| --- | --- | --- | --- | --- | --- |
| Model | Power | Laser/light | Max chuck size | Weight | Rating |
| Bosch PBD 40 | 710W | Yes/Yes | 13mm | 11.2kg | 8 |
| Clarke CDP5RB | 350W | No/No | 13mm | 14.7kg | 7 |
| Einhell TE-BD 750 E | 750W | No/Yes | 16mm | 44.4kg | 6 |
---
Pillar Drill Buying Guide — Key Features & Benefits
Below are the key points to consider when buying the best pillar drill in the UK:
Pillar drills come with varying levels of sophistication. Cheap models create perpendicular holes in wood and metal but lack the lasers and LED lighting on more advanced pillar drills.
Occasional users are typically OK with models costing less than £100. In contrast, carpenters who regularly construct furniture may spend four times as much on a model from a premium manufacturer.
If you plan on taking your pillar drill on-site for property refurbs, look for compact models that travel well. Remember, all pillar drills are mains powered, so you'll need to find a nearby socket or a long extension cord.
A bad workman blames his tools, and pillar drills tend to get blamed for holes that aren't perfectly perpendicular. Common causes include; workpieces not being clamped in place tightly enough, drill bits inserted at a slight angle, and even the quality of the drill bit itself. We recommend buying premium drill bits as they tend to fit better and last longer.
---
Final Thoughts — Best Pillar Drill in the UK
These three models appeal to markedly different markets, making direct comparisons difficult.
The Bosch is a heavyweight machine with its 710W motor and array of digital features aimed at the professional market. If money is no object, the Bosch PBD 40 Bench Drill stands head and shoulders above its competitors.
The Einhell is the 800lb gorilla of this test, but its sheer mass and price don't seem to be backed up with sufficient quality. It's a tactile and well-designed product nonetheless, with an LCD screen and LED light, and serious DIYers will appreciate its ability to accommodate 16mm drill bits.
The Clarke CDP5RB represents a good compromise. It might be heavy and rather uninspiring, but it does a fine job of delivering accurate cuts through various materials. As such, it might not achieve our highest rating, but it's an excellent machine for those who want the accuracy of a powerful pillar drill without paying for professional extras.