Property Workshop is proudly reader-supported. When you buy through links on our site, we may earn a small Amazon affiliate commission but this does not affect the price you pay. Learn more here.
---
After careful consideration and extensive analysis, we reckon the best screwdriver bit set in the UK is manufactured by Draper.
We especially liked that their 82398 Magnetic Bit Holder Set contains niche heads, including Robertson and imperial/metric hex bits. It's hard to imagine a screw head you can't extract or insert with this set! This range alone more than justifies its price premium over cheaper rivals.
Given the number of DIY jobs which involve a screwdriver, choosing the right bits is vitally important, especially if you're planning to use an electric screwdriver.
We found softer metals shear and splinter under pressure during testing, while an incomplete bit set doesn't give you the optimal purchase on each screw. These are two critical factors for larger DIY projects, like close boarding a fence.
---
Best Screwdriver Bit Set in the UK – The Top 5 in 2023
These are our picks as the best screwdriver bit set in the UK, starting with a product whose sheer wealth of attachments gives you more bits than you'll ever need…
---
Our Top Pick
1. Draper 82398 Magnetic Bit Holder Set (127 Piece)
127 piece set of 1/4" bits
Manufactured from chrome vanadium steel, hardened and tempered with a shot blast finish
Bit holder with quick release collet
Includes a heavy-duty storage case with plastic inlay
Featuring 30 different types of bit, some of which are additionally supplied in nine different sizes, it's hard to imagine you'd ever encounter a screw that Draper's offering couldn't tighten.
Also, there are multiple copies of standard sizes like 4.5mm cross slot, meaning you can lose the odd bit without rendering the entire set useless.
This set is the most expensive product we tested, but it has by far the greatest number of different lengths, extending up to 150mm.
The magnetic case also makes storage and insertion/removal easy, while the sliding lock is more straightforward to operate with greasy hands than the clasp mechanism on rival cases.
Overall, this is a deserving and worthy test winner.
| Pros | Cons |
| --- | --- |
| Peerless range of materials | It can take a while to find the right bit |
| Manufactured from hardened chrome vanadium steel | Expensive |
| Magnetic housings are easy to use | |
---
2. Makita P-79158 Screwdriver Bit Set
39-piece 1/4" bit set
Colour-coded screwdriver bits
Includes 1/4" HEX ratchet drive
There's an air of quality to Makita's 39-piece bit set, starting with a reinforced plastic case that feels built to last.
Pull up the clip fastener, and a padded lid stands above a compact collection of colour-coded bits – one of only two products we tested which uses a different colour for each attachment type. This feature simplifies finding the appropriate bit, though they can be fiddly to extract.
Our biggest complaint with this set is the absence of varying lengths – you'll have 25mm bits, and that's it.
This limited range reduces practicality but ensures the case is compact and easy to transport.
If desired, you'll also have money left over for investing in longer drill bits – this is one of the cheapest products on test, despite its high-quality rating.
| Pros | Cons |
| --- | --- |
| Excellent colour-coordination | Only 25mm lengths |
| Robust case | Bit extraction from the case could be more effortless |
| Plenty of bit options | |
---
3. Bosch Professional 43 pcs. Screwdriver Bit Set
43-piece bit and nutsetter set
S2 modified steel and an optimised heat-treatment process
Tapered torsion zone
Includes magnetic universal holder
There are many similarities between Bosch's Professional bit set, and the Makita set reviewed above.
For one thing, Bosch has also gone down the colour-coordination route – a brilliant yet obvious way to simplify the task of finding a specific bit.
The case feels equally sturdy, while each bit has space around it for easy extraction and reinstatement.
Bosch improves on Makita's offering by including a blend of 35mm and 75mm lengths alongside a nutsetter (learn more about this power tool accessory here) with a permanent magnet for hex bolts.
Each piece is modified steel to fit Bosch power tools, including our favourite cordless combi drill.
Indeed, the Professional set would have finished second in this test were it not for a price that seems high, especially in light of concerns surrounding the durability of the bits.
| | |
| --- | --- |
| Pros | Cons |
| Colour-coded bits easy to find | The worst value of any product we tested |
| Attractively packaged | Concerns about durability |
| 75mm lengths are ideal for drilling | |
---
Best Budget Screwdriver Bit Set
4. Amazon Basics 42-Piece Impact Screwdriver Bit Set
42-piece bit set
Includes a variety of Phillips, Slotted and Torx sizes
Long-lasting engineered tips
Includes a portable storage case with a secure latch
It's evident on close inspection that Amazon's foray into screwdriver bits has been manufactured down to a budget.
The heads have a cheap black coating that can flake off, and only three types of bit are included, with one or two notable absences.
Yet none of these things is evident on first inspection; only the plastic storage case's proprietary label gives the game away.
The case has the same side-opening issue as Ryobi's offering but for considerably less money – this is the cheapest item we've tested.
Yet, you'd struggle to tell the difference in daily use – the bits are toughened and suitable for high-torque drivers, with a feeling of sturdiness.
This set is also the only one of our products with a dedicated home for each bit – ideal for keeping them in ascending size order.
| Pros | Cons |
| --- | --- |
| Exceptional value | Manufactured to a budget |
| Every bit has an indicated housing | Lacks PZ1 and PZ2 bits |
| Case feels robust | |
---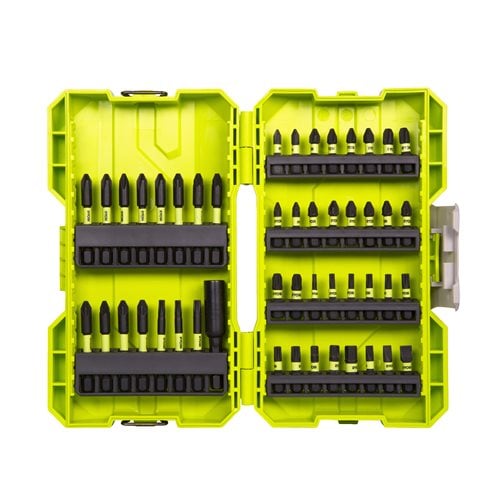 5. Ryobi RAK48SDI Torque+ Impact Screwdriver Bit Set
48-piece bit set
Torque+ impact bits
Features Max Fit and Torque Zone technology
Includes impact-rated driving kit
Designed to dovetail with its equally luminous range of ONE+ drills, Ryobi's collection of bits extends to 48 items in a case designed to be opened like a book.
This opening mechanism is awkward since most people will open it like a suitcase, meaning the bits are all situated sideways. At least the grey clasp pops up quickly.
Ryobi doesn't publicise what material their bits are made of, though they claim they deliver ten times the lifespan of standard bits, having been specially hardened to withstand high torque output.
The set comprises 32x 25mm and 15x 50mm bits, including Pozidriv and Hex heads.
| Pros | Cons |
| --- | --- |
| It offers a variety of lengths | Portrait case lacks practicality |
| It should last a long time | Seems expensive |
| Includes five types of bit | |
---
Best Screwdriver Bit Set in the UK – 2023 Comparison Table
| Model | Pieces | Lengths | Material | Price | Rating |
| --- | --- | --- | --- | --- | --- |
| Draper 82398 | 127 | 25-150mm | Chrome vanadium steel | £££ | 9 |
| Makita P-79158 | 39 | 25mm | N/A | ££ | 8 |
| Bosch Professional Screwdriver Bit Set | 43 | 35-75mm | Alloy steel | £££ | 7 |
| Amazon Basics Impact | 42 | 25-50mm | Alloy steel | £ | 7 |
| Ryobi RAK48SDI | 48 | 25-50mm | N/A | ££ | 7 |
---
Screwdriver Bit Set Buying Guide
When buying a screwdriver bit set, you expect certain things as standard. That's why each of our shortlisted sets incorporates the following:
A blend of Phillips, slotted, and Torx heads
A collapsible carry-case to keep all the bits in one place
A compact screwdriver chassis capable of accommodating the various bits.
Beyond this basic set of specifications, there are marked differences between our shortlisted products.
The Draper has over three times as many bits as the Makita, who (along with Ryobi) don't publicise their construction materials.
Amazon and Bosch have adopted alloy steel. Draper proudly boasts that their bits are manufactured using chrome vanadium steel (also an alloy), with greater toughness than carbon steel.
Pro Tip: If you want to understand why some materials are better than others as screwdriver bits, this YouTube video explains the different components of steel, including the carbon and alloy steel variants mentioned above.
---
It's a Long Story
Screwdriver bit lengths have been standardised at 25mm (one inch) for some time, but most of the manufacturers on our shortlist additionally provide extra lengths. These range from 50mm (Ryobi and Amazon) to 150mm (Draper), with Bosch unusually offering 75mm lengths.
Generally speaking, you'll only find a variety of lengths in larger sets, and that's why the 127-piece Draper includes so many different varieties. It also contains imperial and metric hex bits, tri wings and Draper's own TX – STAR heads. Variety is the spice of life in this set.
---
Final Thoughts
While you could argue about the rival merits of the other four products we tested, Draper's product is a clear winner for us.
Draper's set offers more individual pieces than Makita, Bosch, and Amazon combined. It's also fashioned out of sturdy alloy steel and supplied with multiple copies of commonly-used (and therefore commonly-lost) bits. It might be the most expensive product in our comparison table, but it's the best value.
The term 'value' also applies to Amazon's cut-price collection of alloy steel bits, though there are question marks around this product's durability. Worryingly, that's also a sentiment that applies to the Bosch set – not something you'd expect from such a reputable brand and a real let-down considering how well it's designed.
Makita's set takes second place for its colour-coordinated bits and attractive packaging, with Ryobi's collection finishing last.
---
FAQ – Best Screwdriver Bit Set in the UK
What is the best brand of screwdriver bits?
Based on our testing, we reckon Draper is the go-to brand for screwdriver bits. However, if you're operating on a tight budget, the Amazon Basics set should suffice for a while, and we were impressed with the build quality of Makita bits.
Are DeWalt screwdriver bits any good?
As a long-established brand, DeWalt products are well-made and widely available. Their DT7969-QZ set may be smaller than our tested contenders, but it's well-packaged and colour-coordinated.
Are Wera screwdriver bits any good?
Again, we chose to focus on other products in this test. If you're looking for Wera screwdriver bits, they tend to come without cases and are considerably more expensive than our shortlisted candidates.
How do I choose a screwdriver bit?
Each screw-head will have a particular bit size that provides optimal purchase and coverage. Use trial & error to find this perfect bit.
More obscure types (such as Torx and Robertson) necessitate a wider choice of bits in your chosen set, with a degree of trial and error before finding the optimal size for a particular screw.