Property Workshop is proudly reader-supported. When you buy through links on our site, we may earn a small Amazon affiliate commission but this does not affect the price you pay. Learn more here.
---
Brad nailers aren't a romantic purchase and don't include advanced features. A brad nailer is one DIY product where simplicity is a virtue and affordability is vital.
If you want a quick and dependable way of applying nails to fabrics or relatively thin timbers, there's no reason to look beyond VonHaus's electric staple gun/nailer.
Not only is the VonHaus capable of firing 15mm to 25mm staples, but it also accommodates brad nails up to 32mm. Costing a quarter of our most expensive alternative, it's the best brad nailer in the UK.
---
Best Brad Nailer Reviews – The UK's Top 3 in 2022
These are our best brad nailers, starting with a product that represents incredible value for money…
---
VonHaus has done its best to simplify matters. This model is supplied with a mains cable for all-day use without requiring accessories or sold-separately power sources. It also comes with a selection of staples and nails in the box.
However, the main reason VonHaus's nailer wins this test is its incredible value, costing only a quarter of the body-only Ryobi!
Despite its low price tag, the VonHaus still fires narrow crown staples from 15mm to 25mm, and brad nails from 15mm to 32mm.
The VonHaus also includes a continuous fire mode with an anti-jam mechanism, producing tacking speeds of 20 nails/staples per minute.
The only drawback to the VonHaus, and it's a big one, is its dependence on mains power. So you'll need dry weather and a lengthy extension cord to build a garden fence with this model.
There are cordless and air compression versions of this product, though they weren't on sale during our testing.
At over 2kg, it's also heavier than the Makita, while the maximum nail length of 32mm might not be suitable for securing tougher timbers together.
| Pros | Cons |
| --- | --- |
| Incredible value | Needs a plug |
| Works straight out of the box | Only fires 32mm nails |
| The anti-jam mechanism should aid its reliability | |
---
Adjustable depth
Air duster produces powerful air blasts for clearing up
Joist hook
Ergonomic soft grip
Toolless nail jam clearing
Window to check the remaining number of nails
The slim nose provides better visibility and the ability to work in tight spaces
Distinguished by the twin air compressor rods inelegantly tacked onto its chassis, Makita's offering costs twice as much as the VonHaus.
For many people, the flexibility of the AF506 in terms of cordless nailing is worth the extra money. However, there are other benefits to this aluminium-finished brad nailer – and one or two drawbacks, too.
If you're working with heavy objects like fencing, the extra 18mm purchase offered by the Makita's 50mm nail capacity might be invaluable. The AF506 can also operate from 70 to 120 psi, making it suitable for hardwoods, whereas the VonHaus is better with softer materials.
A quick-release lock accompanies a toolless depth adjustment dial for clearing jammed nails (a potential risk on any device, regardless of manufacturer claims to the contrary). There's also a window to see how many remaining nails are in each 100-capacity magazine.
Another nice touch is Makita's air duster, which redirects compressor air to the nozzle, clearing any sawdust that might have accumulated on horizontal surfaces. A slim nose tip further aids visibility.
We found that air compression is fiddly to replenish, involving equipment the amateur DIYer may not possess or even know how to use. The AF506 is also a top-heavy product (though not the heaviest overall), which leads to aching biceps after prolonged use.
| Pros | Cons |
| --- | --- |
| The affordable option for cordless nailing | Requires air compression top-ups |
| Can dispatch 50mm nails at 120 psi | Top-heavy design isn't always comfortable |
| Dust blower helps on horizontal jobs | |
---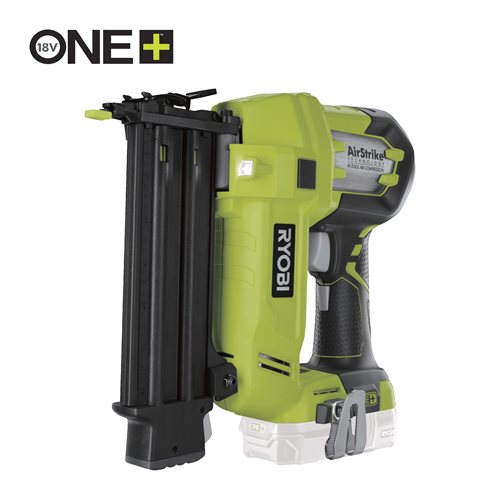 AirStrike technology provides cordless convenience
Fires 18 gauge/1.2mm nails from 15 to 50mm long
Two firing modes - full sequential mode for precision and contact actuation mode for rapid fastening
Grip-light technology engages twin LEDs by grasping the handle
Toolless depth of drive adjustment
Dry-fire lockout prevents operating without nails loaded
Toolless jam release
Low nail indicator
Belt hook mounts left or right side
Includes two non-marring pads
Let's resolve the main issue with Ryobi's R18N18G-0 at the outset – it's costly. You could buy four VonHaus products for the same price.
Initially, it's hard to see where the extra money goes, considering the Makita is also half the price yet matches many of the Ryobi specs. Worse, this is a body-only purchase, with batteries sold separately.
Unless you're already enmeshed in the Ryobi ecosystem, the combined cost may be prohibitive for an item many people use sporadically.
Despite its tongue-twister name, the R18N18G-0 ONE+ 18G AirStrike Nailer is a fine piece of kit. It's a more professional workhorse than the other two, with sequential and contact actuation modes for safe and rapid fastening.
There's also a dry-fire lockout which prevents it from operating without nails loaded, and the 105-nail capacity is slightly higher than the other products we've tested. There's even an indicator showing how much more work you can do before it's time to reload.
Other nice touches include a pair of non-marring pads, which ensure no tool marks appear around the nail insertion points. A right-sided LED work light attached to the chassis is also handy for optimal low-light performance.
While the 2.5kg weight may lead to tiring arms, it does mean this canary-yellow device forms a reassuringly chunky presence in your hand. It's also less top-heavy than the Makita, whose centre of gravity could do with being lower down.
| Pros | Cons |
| --- | --- |
| It offers two firing modes | Extremely expensive |
| Packed with user-friendly touches | It doesn't come with batteries |
| No need for power leads or gas canisters | |
---
Best Brad Nailer – 2022 Comparison Table
| Model | Weight | Nail capacity | Max nail length | Power source | Price | Rating |
| --- | --- | --- | --- | --- | --- | --- |
| VonHaus 9A | 2.08kg | 100 | 32mm | Mains | £ | 8 |
| Makita AF506 | 1.32kg | 100 | 50mm | Air | ££ | 7 |
| Ryobi R18N18G-0 | 2.5kg (body only) | 105 | 50mm | Batteries | ££££ | 6 |
---
Best Brad Nailer Buying Guide
All three of our shortlisted contenders use brad nails. These thin finishing nails are typically found discreetly embedded in joins or joists.
All three can handle nails of 15mm to 32mm, while the Ryobi and Makita extend this capacity to 50mm.
In reality, a 32mm nail should be sufficient for most scenarios, but some people might welcome the additional length of our more expensive contenders.
You can read more about brad nails – and their many siblings – in our comprehensive guide to nails.
Pro Tip: Brad nails are also known as 18 gauge or 1.2mm nails, which refers to their width rather than their depth.
A brad nailer is perfect for cabinet makers, amateur DIYers and anyone who simply doesn't want to use screws or glue. However, if your workload is more industrial, consider using a more heavyweight finishing brad nailer.
There are also specialist roofing and flooring nailers, while staple guns work well for upholstery and carpet fitting. It's worth noting that the VonHaus we've tested doubles as a staple gun.
---
Airs and Graces
Each of our shortlisted products has a different method of propulsion:
The Makita uses two compressed air cartridges.
The VonHaus is mains-powered.
The Ryobi runs on the manufacturer's 18V ONE+ battery system.
These interchangeable batteries are welcome if you already have Ryobi tools in your bag. For everyone else, the additional cost of buying a battery and charging unit on top of the body-only brad nailer might seem prohibitive.
Equally, if you're not au fait with recharging air-powered DIY equipment, the VonHaus's mains cord is far more practical.
However, mains power has drawbacks, especially if you're trying to work in the rain or a considerable distance from the nearest power socket. Lengthy extension leads aren't always practical, so the VonHaus is better suited to garage projects than garden landscaping.
---
Safe and Sound
Brad nailers are potentially dangerous and often noisy, so it's worth investing in protection before firing brad nails. In particular, we recommend the following:
Ear defenders if you suffer from tinnitus or sensitive hearing
Eye protection, since nails could theoretically shatter, and wood occasionally splinters
Surge-proof extension leads and power cables if you're using a mains-powered product.
---
Final Thoughts – Best Brad Nailer
Your choice of brad nailer will vary according to your DIY needs and personal preferences.
If you're planning to close board a fence in the depths of winter, the mid-priced Makita with its 50mm nails ticks all the right boxes.
If you're already a fan of Ryobi products, with a couple of 18V batteries always charging, their R18N18G is the obvious choice. It's packed with user-friendly features like non-marring pads and LED lighting, while the dry-fire lockout and nails-left indicator are also worth considering.
However, it's impossible to overlook the affordability of the VonHaus. For a quarter of the Ryobi's cost, you'll receive a gun that is lighter and quicker to set up while offering comparable nail capacity. It works straight out of the box, doesn't require complicated recharging equipment like an air compressor, and can even staple.
For people planning to use their brad nailers in a workshop or garage without the need for advanced features like LED lights or cartridge display windows, the VonHaus represents a worthy test winner.