Property Workshop is proudly reader-supported. When you buy through links on our site, we may earn a small Amazon affiliate commission but this does not affect the price you pay. Learn more here.
---
After many hours of research and rigorous testing, we highly recommend the Stanley Fatmax 5-in-1 Hacksaw.
It's uniquely flexible (though not literally — its lightweight frame can deliver 100kg of blade tension) and has five different configurations, including one as a jab saw.
While any hacksaw can cut plywood, it takes plenty of chassis strength to tackle more challenging materials. We feel the Stanley 0-20-108 has this strength in abundance, and it's our top pick for the Best Hacksaw in the UK.
---
Best Hacksaw Reviews — The UK's Top 5 in 2023
Whether preparing a pipe, working on wood or moulding metal, a reliable hacksaw is your best friend.
Unfortunately, we found that many hacksaws struggle with anything more challenging than timber and are unsuited for more rigid materials like metal.
To help you avoid these underperforming hacksaws, below are our top three hacksaws for cutting metal, starting with a uniquely versatile product from one of the DIY daddies:
Our Top Pick
1. Stanley 5-in-1 Hacksaw
Large throat depth.
The blade can attach to the front of the hacksaw frame for inside cuts.
Quickly position the blade to 45° for flush cuts.
Fully adjustable tension.
When working in tight spots, the removable front section allows it to act like a jab saw.
Blade storage inside the frame.
The Stanley Fatmax range extends to hundreds of products, all distinguished with the same canary yellow finish.
Their oddly-titled 0-20-108 is a multifunctional hacksaw with a removable front section. When removed, the 0-20-108 becomes a handy jab saw. The blade can also be attached to the front of the frame for inside cuts.
However you configure the 0-20-108, it has a reassuringly solid grip handle. Its frame supports 100kg of blade tension, while its blade has 120mm throat depth in its standard 90-degree position. The Fatmax also cuts at 45-degrees for flush cuts.
There's storage inside the chunky frame for spare blades, though the 0-20-108 comes with one 30cm 24 TPI blade.
| | |
| --- | --- |
| Pros | Cons |
| Reassuringly robust | Relatively heavy |
| Supports 100kg of blade tension | Blade changing is not intuitive |
| Part of the vast Fatmax range | |
---
Best Value
2. Bahco Hacksaw Frame
Supplied with a 300mm Sandflex® 24 TPI bi-metal blade.
Alternative 55° blade mounting pins for flush cutting.
Steel tube core allows high tension for straight and accurate cutting.
Comfortable soft grip handle.
You might not have heard of Bahco, but this hand tool specialist traces its origins to 19th-century Sweden.
Among today's roster of 14,000 products is the 319 — a reassuringly industrial-looking device with rubberised grips at both ends. It's almost half the Fatmax's weight, reducing fatigue while slicing through rigid materials, and it's also well-balanced.
Bahco's two-component 319 frame has a spring-tensioned blade loading mechanism.
It also includes a 55-degree mounting position and the standard 90-degree setting. It's supplied with a 24 TPI blade, offering considerable cutting force.
| | |
| --- | --- |
| Pros | Cons |
| Well-balanced with tactile rubber handle | Not a steel frame |
| Sturdy construction | Limited configurations |
| Spring-tensioned blade housing | |
---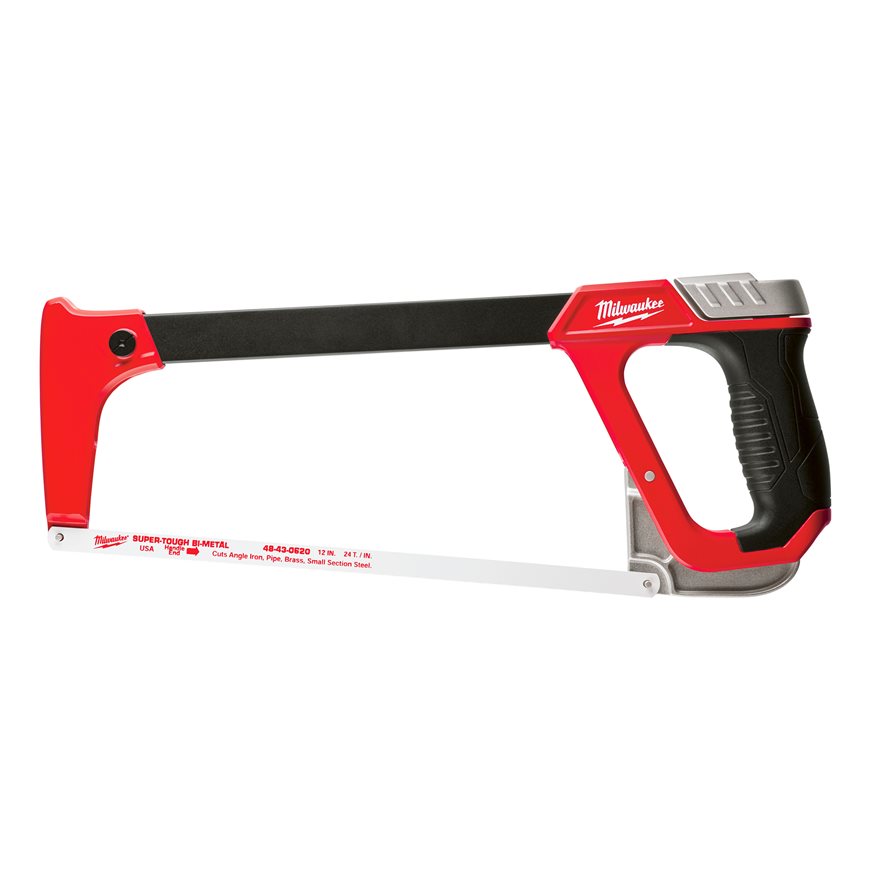 3. Milwaukee High Tension Hacksaw
The rugged metal frame supports higher tension (25,000PSi/113kg).
The overmould handle ensures a secure and comfortable grip.
Internal blade storage.
It comes with a 12″ 24 TPI blade.
Milwaukee's frame's vivid red splashes are pretty bold. You won't have any problems finding this hacksaw in a tool bag while its rounded edges prevent it from snagging on thumbs or other objects.
Despite being the most expensive hacksaw on our list, the Milwaukee 48220050 does little to distinguish itself in any particular area. It offers a solitary 24 TPI blade, weighs an average of 771g, takes 12-inch blades, and has no surprise-and-delight features.
Instead, Milwaukee's 48220050 offers quality construction, dependability, and a bi-metal blade that can cut angle iron, brass, pipework, and steel.
| | |
| --- | --- |
| Pros | Cons |
| Robust | Expensive |
| Hardwearing | It offers nothing to distinguish it from its rivals |
| Makes light work of iron and steel | |
---
Most Durable
4. OX Pro High Tension Hacksaw
Quick change blade design.
40,000PSI/200kg high blade tension.
Can set blades in a 45° or 90° cutting position.
Ergonomically designed dual grip rubber handles.
If the Milwaukee looks bold, OX's P130730 is positively flamboyant, with cyan extending across every body part, including the supplied 12-inch bimetal 24 TPI blade.
The OX-P130730's chunky rubber grip handle is framed by release levers resembling stair gate fastenings, while the front end also has a thick handle in situ. This chunky handle makes the OX-P130730 relatively unsuitable for narrow spaces than the more minimalist products on our list, yet it's excellent for two-handed cutting.
OX claim their high-tension hacksaw has minimal chassis flex for straighter cutting, while the blades' position can be either 45 or 90 degrees. At 850g, it's heavier than every product except the Stanley, though the milled blade tension wheel is pleasingly tactile.
| | |
| --- | --- |
| Pros | Cons |
| Very tactile | Quite heavy |
| Adjustable blade angle | Questions over its longevity |
| Great for flex-free one or two-handed cutting | |
---
Best Lightweight Option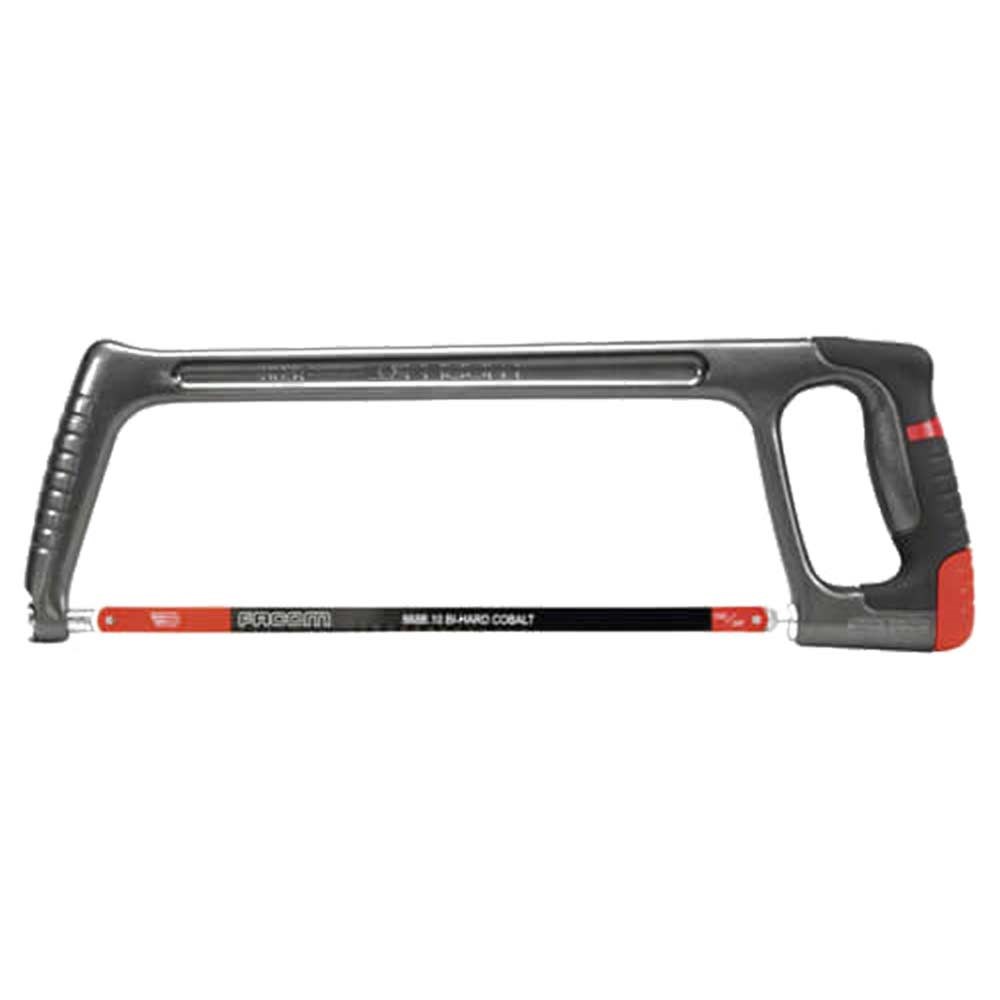 5. Facom Hacksaw
Impact-resistant construction (steel/resin).
Compact and lightweight.
Blade tension: 80kg.
The saw has two blade positions: 45° and 90°.
The frame supports a 300mm blade.
Facom's 601 makes its two-handed design obvious with a subtle curve to its spine, with moulded hand grips at both ends.
At just 100g, the Facom 601 is the featherweight of this group. Despite its negligible weight, the Facom is still supplied with a standard 12-inch 24 TPI blade, while the impact-resistant resin-coated steel frame withstands knocks and bangs in a tool bag.
Blade switching and tightening is simplicity itself, while the slash of red across its French-made frame is reminiscent of the Milwaukee hacksaw. The blade pin mountings are perhaps less sturdy than some users might prefer.
| | |
| --- | --- |
| Pros | Cons |
| Extremely lightweight | Basic |
| Great for two-handed use | Relatively expensive considering its simplicity |
| Sturdy frame | |
---
Best Hacksaw in the UK — 2023 Comparison Table
| | | | | | | |
| --- | --- | --- | --- | --- | --- | --- |
| Model | Weight | Blade length | Blade angle adjustment? | Blade storage? | Moulded handle? | Rating |
| Stanley 0-20-108 | 1kg | 12 inch | Yes | Yes | Yes | 9 |
| Bahco 319 | 560g | 12 inch | Yes | No | Yes | 8 |
| Milwaukee 48-22-0050 | 771g | 12 inch | No | No | Yes | 6 |
| OX OX-P130730 | 850g | 12 inch | Yes | No | Yes | 8 |
| Facom 601 | 100g | 12 inch | No | No | Yes | 7 |
---
Hacksaw Buying Guide
Every hacksaw on our list takes standard 12-inch blades, typically fitted with 24 teeth per inch (TPI). The TPI rating affects a blade's ability to slice through hard materials like metal, so avoid replacing blades with a lower TPI.
This Metals4U blog post discusses the advantages of angled blades and why the number of teeth per inch on a blade can make all the difference.
Bi-metal blades tend to be stronger, and several of our shortlisted hacksaws come with bi-metal blades as standard. One even has a dedicated housing for a second blade, which is ideal if you're (literally and figuratively) chopping and changing on a job.
Flexibility, Size and Weight
Some people need a hacksaw to cut through rigid objects, but others want more flexibility. Three of our shortlisted products have adjustable blade angles, which increase their versatility.
One of the hacksaws on our list allows you to dismantle it, reducing its weight and size. This feature is super handy when working in compact spaces. Another hacksaw on our list is ultra-lightweight, minimising the arm ache familiar to anyone who's spent long periods sawing through robust metal objects.
Handle
Hacksaws place a lot of pressure on your fingers and wrists, so choosing a product with a moulded or padded handle for a softer grip is better for your hands.
Our list's cheapest product has a basic diecast alloy handle, which is robust and unlikely to crack (as plastic mouldings tend to do as they age) but causes discomfort during long periods of use. However, it's also the lightest of our shortlisted products.
Several of our recommended hacksaws have twin moulded handles for two-handed slicing. However, materials vary from textured rubber to more rigid plastic, which may begin to chafe after extended use.
---
Best Hacksaw in the UK — Final Thoughts
All of the hacksaws in our list do a fine job slicing through soft metals, hardwoods and reinforced pipework. None is expensive to buy, though some are more than twice the price of others. And despite variations in blade attachment mechanisms and overall design, you can expect many years of dependable service from all the hacksaws we tested.
Overall, it's hard to see past Stanley's Fatmax 5-in-1 hacksaw. Despite being the heaviest hacksaw, it offers features no rival product can match, like blade storage and jab saw functionality. Dismantling the frame is a unique function, hugely boosting its versatility and lowering its weight.
To learn more about saws, check out our complete guide to 21 types of saws.