Property Workshop is proudly reader-supported. When you buy through links on our site, we may earn a small Amazon affiliate commission but this does not affect the price you pay. Learn more here.
---
A good circular saw can accurately and easily make rip, cross, and bevel cuts. This handy power tool will have you building decking, furniture and more in no time.
So, if you want to upgrade your home workshop and DIY superpowers, here's our guide to the best circular saw in the UK.
---
Best Circular Saw Reviews — The UK's Top 5 in 2023
After many hours of testing and research, here are our top 5 circular saws currently available to buy in the UK:
Our Top Pick
1. Evolution R185CCS
Powerful 1,600W hi-torque motor
Tungsten carbide tipped 185mm blade
Adjustable 64mm cutting depth
0° - 60° bevel tilt with 22.5° and 45° bevel detents
Includes dust extraction port and adaptor
3-year limited warranty
Suitable for DIY and trade, this model's 185mm Japanese TCT blade cuts wood, aluminium and steel. It powers through mild steel with virtually no sparks, heat or burrs, perfect if you want a ready-to-weld finish.
The high torque 1,600W motor makes light work of heavy-duty material, extending the life of the blade and machine. An adjustable cutting depth means you can make crosscuts and rip cuts up to 64mm, while the bevel function enables 40mm cuts at 45º, or 24mm up to its maximum tilt of 60º.
The Evolution R185CCS has an edge guide that helps produce precise, straight cuts. At 4.9kg, it's the heaviest saw featured, and the off-centre ergonomic handle and engine housing are pretty bulky. This might make handling and the line of sight awkward for some, which means it may not be the best choice if you need to make delicate cuts on smaller pieces of wood.
This model also has a vacuum port for dust extraction, albeit with no dust bag. It's also missing a carry case. Still, there's not much else to find fault with for the price and the quality.
| | |
| --- | --- |
| Pros | Cons |
| Cuts multiple materials, including wood with embedded nails | Heavy and bulky |
| Adjustable cutting depth to 64mm | Not best for delicate cuts |
| Maximum bevel tilt to 60º | No dustbag |
| Excellent value for money | No carry case |
| 1,600W motor | |
| Durable | |
| Dust extraction port | |
---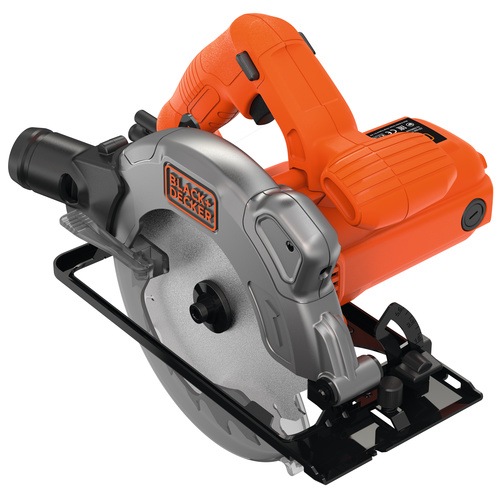 2. BLACK+DECKER CS1250L-GB
190mm blade - 66mm maximum cutting depth
50mm maximum cutting depth at 45 degrees
Rise and fall depth setting
Safety lock-off
Includes dust extraction ports
Although it falls slightly short compared to the Evolution, BLACK+DECKER's solidly constructed contender has much in its favour. It matches its rival's 4.3kg weight, while its cutting depth of 66mm is only four millimetres less than the fittingly-named Bosch Professional.
The BLACK+DECKER's 190mm supplied circular saw blade is the biggest in this test, though the blade is steel rather than TCT. That's one of this product's few drawbacks and something many buyers may wish to upgrade as soon as possible. The 45º maximum angle is also less impressive than other products we tested.
The presence of a 1,250W motor might suggest the BLACK+DECKER lacks power compared to other circular saws, but its 5,300 RPM no-load speed is beaten only by the Bosch. Useful features include an onboard laser, dust extraction ports and a safety lock-off. It can slice through 50mm of material at 45º, which is better than the cordless Makita or VonHaus can achieve.
| | |
| --- | --- |
| Pros | Cons |
| Impressive 45º cutting depth | The supplied blade isn't TCT |
| Manageable weight | It lacks a dust blower |
| The on-board laser helps with fine cuts | It can't be angled beyond 45º |
| 66mm cutting depth | |
| 5,300 RPM no-load speed | |
| Inexpensive | |
---
3. Bosch Professional GKS 190
1,400W rated power input
Dust is extracted directly into an integral dust bag or an all-purpose dust extractor
The air blower function provides a dust-free view of the workpiece
spindle lock for quick & easy disc/tool change
This compact 184mm blade is perfect for cutting through large woodwork projects. With its parallel guide rail, it's great for larger cuts on both softwood and hardwood.
The included blade has 16 teeth which are great for rip cuts, but if you want a cleaner, smoother finish for cross cuts or cutting plywood, you may want to purchase an additional blade. The tool-free blade change function makes it easier to swap blades.
The 1,400W motor produces a maximum no-load speed of 5,500 RPM that cuts to 67mm deep. At 45º (maximum tilt capacity 56º), this saw cuts up to 48mm deep.
The fan-cooled motor keeps the Bosch GKS saw running smoothly to ensure it lasts the distance, while the turbo blower and dust extraction keep your cutting line clean.
This circular saw's compact size, ease of use and soft-grip handle should make for comfortable sawing on longer jobs. However, from a safety point of view, remember that there's no electronic brake which means it takes a few seconds to spin down.
In summary, the Bosch GKS 190 is a powerful, versatile machine.
| | |
| --- | --- |
| Pros | Cons |
| 184mm blade | No electronic brake |
| Tool-free blade change | The blade supplied is not great for cross cuts |
| Fan-cooled motor | The carry case is huge |
| Comfortable, soft-grip handle | No dustbag |
| Turbo blower | |
| Aluminium die-cast pendulum guard | |
| Blow-moulded storage case | |
---
4. Makita DHS680Z
Automatic Speed Control
Soft start and electric brake
Electronic current limiter for overload protection
Twin LED job light
Battery fuel gauge
Includes dust extraction port
Large lock-off lever
Compact and lightweight design
This Makita circular saw gives you everything you need and more. The soft-start function prevents the machine from twisting in your hand on start-up, and the electric brake adds further peace of mind, giving top marks for safety features.
The 165mm blade can slice through wood up to 57mm, and it's the perfect power tool for busy joiners. It can make 41mm bevel cuts at 45º or 37mm at 50º. Despite being cordless, its impressive no-load speed of 5,000 RPM will sail through MDF while its automatic speed control adjusts to the density of the load.
The Makita's brushless motor technology reduces friction, meaning the motor draws less power when running at full speed, prolonging battery life. Furthermore, a quick 22-minute battery charging time gives you the perfect opportunity for a well-earned tea break.
A guiding rule, LED job light, dust blower, and extraction port help you make clean, mess-free cuts. Also, the electronic current limiter prevents overload, adding durability points.
Sporting an ergonomic soft grip, it's lightweight (3.3kg), compact and well-balanced. Its large rubberised levers make depth and bevel adjustments easy when wearing gloves. In short, the Makita brushless circular saw is cordless, comfortable and capable.
| | |
| --- | --- |
| Pros | Cons |
| Well balanced with an ergonomic soft grip | Consistent run-time reduced due to battery charging |
| The safety switch is well-placed for both left and right-handed users | |
| Soft-start function | |
| LED job light and dust blower | |
| LED battery level indicator | |
| 22-minute battery charging time | |
| Nozzle to connect with a vacuum cleaner | |
---
Best Budget Circular Saw
5. Vonhaus Cordless Circular Saw
Slices through a wide range of materials, including hardwood, MDF, tiles and perspex
40mm maximum cutting depth at 45°
54mm maximum cutting depth at 90°
165mm blade
Soft double-grip handle
Accepts industry standard 165mm (6-1/2") circular saw blades
With a 3,800 RPM no-load speed, the Vonhaus isn't the most powerful of the circular saw in our round-up. However, if you need a saw for occasional rather than frequent, high-demand use, this may be the saw for you.
The Vonhaus' 165mm TCT tip blade can cut to a maximum depth of 54mm. At its maximum bevel tilt of 45º, it can cut down to 40mm.
With a Lithium-ION 20V, 3.0Ah battery, this saw has a no-load run time of 30 minutes. As the charge indicator displays how much life is left in your battery while working, you don't have to worry about running out of power halfway through a cut.
Pro Tip: The battery has a 75-minute charging time, so you might want a backup battery to avoid extended downtime.
At 4.48kg, it's not the lightest saw, although it's pretty compact, and the ergonomic handle provides comfortable control. This model also comes with a dust extraction port to help reduce the level of dust in your workspace and a handy tool bag.
Overall, it's a good compact saw for small, infrequent projects.
| | |
| --- | --- |
| Pros | Cons |
| TCT tip blade | Potential to burn out |
| Straight cut guide | Not the lightest |
| No-load run time 30 mins | |
| Charge indicator | |
| Safety trigger | |
| Bevel tilt | |
| Dust extraction port and tool bag | |
---
Best Circular Saw in the UK — 2023 Comparison Table
| | | | | | |
| --- | --- | --- | --- | --- | --- |
| Model | Cordless? | Blade length | No-load RPM | Max cut depth | Rating |
| Evolution R185CCS | No | 185mm | 3700 | 64mm | 9 |
| BLACK+DECKER CS1250L-GB | No | 190mm | 5300 | 66mm | 8 |
| Bosch Professional GKS 190 | No | 184mm | 5500 | 70mm | 8 |
| Makita DHS680Z | Yes | 165mm | 5000 | 57mm | 7.5 |
| VonHaus Cordless | Yes | 165mm | 3800 | 54mm | 7 |
---
Circular Saw Buying Guide
To choose the right circular saw for your needs, budget, and physical build, here are some aspects to consider:
What Are You Cutting?
If you've set your sights on building decking or modular furniture, a circular saw will make woodwork a breeze, saving you both time and arm ache. Circular saws are excellent at cross cuts (directly across the material at a 90º angle) and rip cuts (along the length).
Plus, circular saws are portable, unlike table saws, making them ideal for most home improvement jobs — a major advantage if you lack space. 
A circular saw with a guided bevel is perfect for cutting corner joins for skirting boards. However, if you're cutting and fitting door trim, you might be better off with a static mitre saw for precise, fool-proof cuts. The cutting depth of a bevel angle on a circular saw is unlikely to be large enough for mitre cuts.
A circular saw can cut through almost anything: wood, ceramic, plastic, and metal (although you may need a different blade from the one supplied — see below). However, if you're fitting a new kitchen and need to carve out sink space in a worktop, you'll need the flexibility of a jigsaw.
Blade Size and Bevel Cut Capacity
It makes sense that the thicker the material, the wider the blade needs to be. You need to know the maximum depth the blade can cut at 90º, ranging from 35mm to 70mm.
Circular saws with a bevel function (adjustable base plate) can offer varying cutting angles up to around 55º. Check if the saw comes with a bevel feature when shopping. Also, check the maximum bevel angle and cutting depth at 45º.
Blade Material and Type
Another point to consider is what the blade is made of, as you must ensure it can easily cut your material. Using the wrong type of circular saw blade can damage the saw. Masonry and metal cuts may need a different type of blade material to one required purely for woodwork. Additionally, the number of teeth on a blade can vary from 16 to over 100, depending on its intended use.
This article breaks down the different blade types, including what each is used for and the material type.
Power and No-Load Speed
The more powerful your circular saw, the easier your job will be. High-powered saws also produce better-quality cuts. For no-load speed, the faster the RPM, the better.
Weight and Ergonomics
People come in all different shapes and sizes, so it's important to consider the weight of the circular saw and the ergonomics of its design. You'll want to look for good weight distribution, handle placement and general ease of handling when used.
Portability
Consider whether you need a cordless or corded circular saw. With no trailing cables, a cordless model makes cutting work easier and safer. However, circular saws draw a lot of power. While a corded model limits portability, you may find this to be the better option for consistent and reliable performance.
Safety Features
Based on the risk of kickback, look for an automatic brake. Other safety features include safety buttons, a fan to keep the motor cool, and additional protection against the motor burning out.
Additional Features to Consider
Guide rails to avoid mistakes
Ergonomic handles
Dust blower to keep the cut line clear of debris
LED lights/laser guide for precision cutting
---
Best Circular Saw in the UK — Final Thoughts
Our corded circular saws outperformed their cordless rivals in several benchmark tests, but that shouldn't preclude the latter from consideration. Given its ability to slice through hardwood on lithium battery power alone, the 3.3kg Makita is a particularly tempting option for anyone prioritising portability.
For a winning blend of power and affordability, the Evolution R185CCS emerges as our favourite. We love how the high-torque 1600W motor and TCT blade give a clean, smooth finish to any project with minimal resistance. Its ability to power through various materials, from wood to steel, makes it a great tool for mastering any DIY project.
The Bosch and BLACK+DECKER models are strong contenders, especially given the former's test-best cut depth and the latter's 190mm blade. However, that giant blade loses marks for being made of steel rather than TCT.
In the end, neither model matches up to the Evolution.