Property Workshop is proudly reader-supported. When you buy through links on our site, we may earn a small Amazon affiliate commission but this does not affect the price you pay. Learn more here.
---
A bow saw is a handy tool, even though power tools do the same job quicker. I.e. bow saws weigh a lot less than chainsaws, making them much easier to handle and manoeuvre. This feature is beneficial when you're perched precariously in a tree, as I have on many occasions.
However, with so many bow saws on the UK market, how do you pick the right one for your needs? We answer the question and more after spending many hours reviewing the most popular bow saws available in the UK.
Read on to discover which bow saw is best for you and your next project.
---
Best Bow Saw Reviews — The UK's Top 3 in 2023
Our Top Pick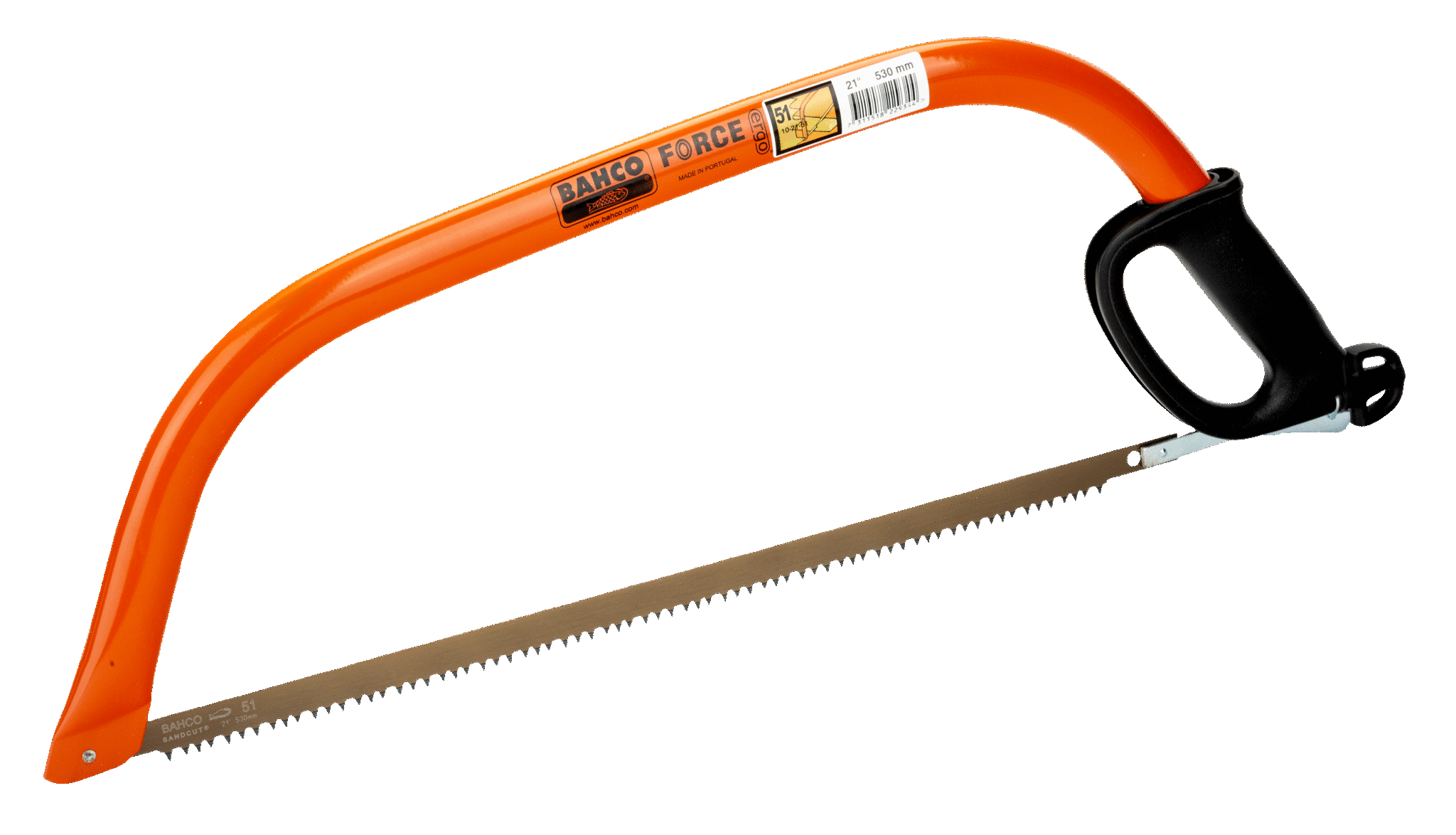 1. Bahco 10-24-23 Bowsaw
Lightweight tubing: 24" tube weighing 743g
High blade tension (up to 120kp)
Supplied with raker tooth blade for green wood
ERGO ergonomic handle with knuckle protector
High-quality steel coating with high-impact enamel paint
This bowsaw is the most versatile of the three, and yes, the Bahco 10-24-23 bow saw is the most expensive, but not by much. This model is 600mm long with a reasonably deep frame, so it's suitable for cutting logs and branches. Trees with a diameter of up to 200mm are felled relatively quickly.
Bahco boasts that the frame is designed using their scientific ERGO process, which is based upon observations of professionals using their tools and modifying them to suit. As with many Bahco products, professionals like to use them because they survive the harsh world of the building site. The high-impact enamel paint coating protects it from damage and corrosion, adding to its longevity.
Bahco bow saws usually come with a raker-tooth blade, but the replacement blades aren't expensive, and they're quick and easy to change using the quick-release spring clip. They have a snap-on tooth guard to protect your hands while you change the blade and an easy-to-use thumb turn to tension it, essential for straight cutting.
At 750g, the Bahco is light for its size, but it packs a punch.
| Pros | Cons |
| --- | --- |
| Suitable for cutting logs as well as branches | Not so good in tight spaces |
| Can fell trees up to 200mm in diameter | |
| Quick and safe method of changing blades | |
| Lightweight yet robust | |
---
Runner Up
2. Gardena Comfort 530 Bow Saw
530mm impulse-hardened and rust-proofed blade
Toothing: Fine cut toothing, Crossed toothing
Comfortable handle with hand protection
Rust-proofed bow with twist-proof shape
Adjustable blade tension using a screw mechanism
Toolless blade change
25-year warranty
With a 530mm blade, the Gardena Comfort bow saw is shorter and lighter than the Bahco 10-24-23, but the frame's shape makes it ideal for working in tight spots. When you're pruning a tree, there is often a branch above the one you're cutting that you want to keep. The Gardena comfort bow saw allows you to do that.
The blades fitted are raker-toothed, but they can cut through dry and green wood. Blade replacement is easy and requires no additional tools. However, the screw turn on the handle is not as quick or convenient as the others. The blade guard allows you to replace the blade without damaging your hands, but it's tricky to put it back on once removed.
The pistol grip handle is comfortable, and the additional grip on the frame enables you to cut harder and more accurately when needed.
The Gardena is heavy for a small bow saw at 770g, but it's sturdy, robust and resistant to twist.
| Pros | Cons |
| --- | --- |
| Suitable for use in tight spots | Replacement blades are expensive |
| Fine cut teeth for both green and dry wood | Blade replacement requires turning a small screw on the handle |
| The secondary grip on the bow for extra force | |
---
Best Budget Bow Saw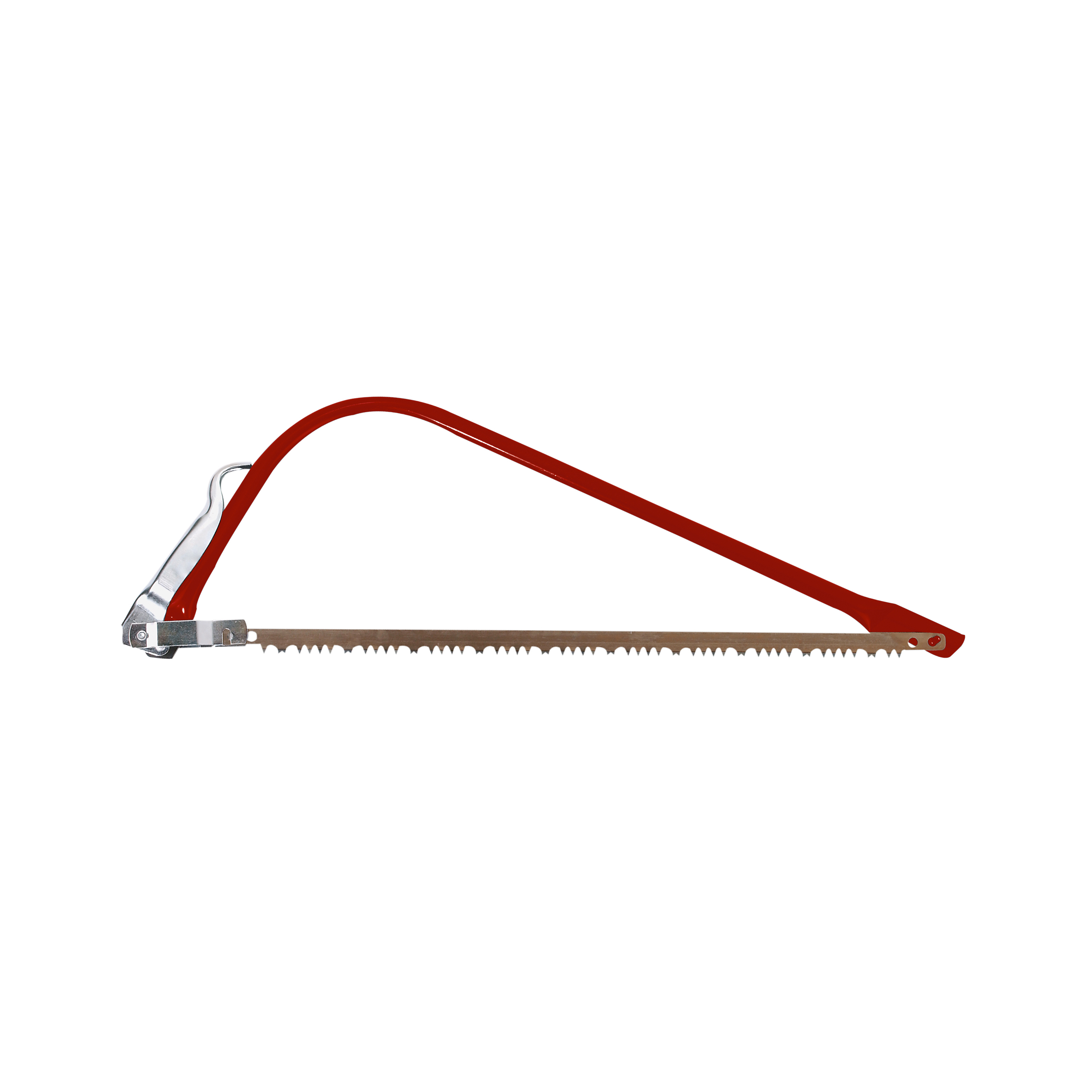 3. Spear & Jackson 3621K/09 Razorsharp Bow Saw
Hardpoint blade
3 points per inch
Lever tension device for easy blade changes
Angled frame for cutting in tight areas
10-year guarantee
This Spear & Jackson bow saw is the cheapest of the three we reviewed.
There's no pistol grip handle, just the lever to tension the blade so your hands are unprotected – even more reason to wear gloves with this one.
However, the fact that there is no set handle means you can use any part of the frame to grip the saw, making it more versatile. The tapered structure also makes it suitable for use in restricted spaces.
Changing blades is quick and straightforward; you flick the lever to release the tension, and the blade pulls off, but a word of caution — the blades don't have a guard, so take extra care when doing this.
The blades are 'hardpoint' treated, which means they have induction-hardened teeth keeping them sharp five times longer than ordinary teeth. You can't sharpen these blades, but they're reasonably cheap to replace.
At just 3 TPI, the teeth on this saw cut fast on the forward and backstrokes. Weighing in at 500g, it's also the lightest of the three saws we reviewed.
| Pros | Cons |
| --- | --- |
| A lever allows quick blade change | No hand protection or soft-grip handle |
| Teeth are hardpoint treated, keeping them sharper for longer | No protective guard on the blade |
| Angled frame cuts better in restricted areas | |
| Lightweight and easy to use | |
---
Best Bow Saw in the UK — 2023 Comparison Table
| Model | Length | Blade Replacement | Weight | RRP | Rating |
| --- | --- | --- | --- | --- | --- |
| Bahco 10-24-23 | 600mm | Spring clip | 750g | ££ | 4.8 |
| Gardena Comfort | 530mm | Screw turn | 770g | ££ | 4.7 |
| Spear & Jackson Razorsharp | 525mm | Lever | 500g | £ | 4.3 |
---
Bow Saw Buying Guide
To look at it, you would think that all bow saws are the same. Well, most of the bow saws I've seen are similar in shape, and they all use a frame to hold the blade in tension, but there are subtle differences that make choosing the right one more challenging than you'd think.
Speed vs Accuracy
All bow saws cut quickly on the forward and back strokes, but they're not remarkably accurate. However, accuracy isn't what you're looking for in a bow saw.
Bow saws are for heavy-duty cutting, such as pruning and felling trees or cutting floorboards with concealed edges.
Pro Tip: when using a bow saw to fell a tree, cut a wedge shape on the side facing the direction you want the tree to fall, then start cutting from the opposite side. Removing branches, so more weight is on the wedged side is also a good idea.
The two main elements of a bow saw are the handle and the blade.
The Handle
Modern bow saws have a tubular steel frame that holds the blade in tension, and on many models, this forms the handle. Some prefer it because you can hold it in two hands, cut it at different angles, and even reverse the saw, as in the image above.
More expensive brands tend to go for the pistol grip. You hold these types of saws in one hand — if you've ever clung onto a tree while cutting a branch, you will understand the importance of this — or two if you use the frame.
Pistol grips also protect the knuckles on the forward stroke and make it more comfortable to grip.
The Blade
Bow saws are generally cross-cut with between 3 and 8 teeth per inch (TPI). However, the teeth pattern differentiates one blade from another, as this dictates the type of wood it can cut.
The peg-tooth blade has a set of three teeth spaced closely together with a gap before the next set. This arrangement is suitable for cutting seasoned, dry wood.
Use a raker-tooth blade if you need to cut wet or green wood. Sometimes referred to as a peg and raker, this blade has a set of four teeth — the pegs — and a shorter, double-pointed raker between the sets.
Peg and raker blades tend to be extremely sharp, so choose one with a safety guard attached, as it's easy to cut your fingers when changing blades.
Pro Tip: It's easy to cut your fingers when using a bow saw, so wear thick gardening gloves and keep your non-cutting hand away from the cutting point.
Blade Length
Bow saws come in lengths varying from 525mm to 750mm, and the shape of the frame varies with the size.
Shorter bow saws usually have a narrow frame at the end opposite the handle. This feature allows them to cut in tight spaces where other branches are in the way.
Larger bow saws have a deeper frame along the whole length. This extra depth allows these saws to cut into the tree's trunk when felling.
The depth of frame and length of blade limits the size of the tree you can cut down with a bow saw. Bear this in mind when choosing a saw for this purpose, as you might need something bigger.
Pro Tip: Start from below the branch when cutting heavy branches. Cutting from below prevents the bark from tearing away from the remaining wood, damaging the tree.
Bow Saw Key Features
Here are a few pointers to consider when buying a bow saw:
Ease of changing the blade
Length of blade
Ability to tension the blade
Type of handle
Remember, your final choice depends on your project, so choose carefully and consider the three products we reviewed above.
Best Bow Saw in the UK — Final Thoughts
For general-purpose use, the Bahco comes out on top. It's excellent for felling trees as well as pruning branches and logging. The Gardena is better if you need to get into tight spaces, but it's a little heavy for its size, and the replacement blades cost almost as much as the saw.
The Spear & Jackson is a good, lightweight and simple bow saw that wouldn't let you down, but it lacks in the comfort department. Like the Gardena, the Spear & Jackson gets into the tightest of spaces, which may be a factor when lopping trees.
If you're unsure how to use a bow saw for cutting logs, this video uploaded by Amdraz should prove helpful.
If you want to see a different technique for using a bow saw to cut firewood, this video shows you a method known as 'Gypsy sawing', something I haven't come across before, but I'll certainly try it out next winter.