Property Workshop is proudly reader-supported. When you buy through links on our site, we may earn a small Amazon affiliate commission but this does not affect the price you pay. Learn more here.
---
A bandsaw may seem unnecessary compared to other carpentry tools, as it's less precise than a scroll saw and less powerful than a circular saw.
However, bandsaws are great for repetitive cutting actions. The English Woodworker describes bandsaws as "hand saws with endurance", capable of endlessly slicing through hardwood and some softer metals several inches in thickness.
Fashioned out of either iron or steel, these machines can weigh anywhere from 17 to 39kg. They're certainly not portable, but they are brutally effective. Read on to find the best bandsaw in the UK for 2023.
---
Best Bandsaw Reviews — The UK's Top 3 in 2023
These are our choices as the best bandsaws in the UK, ranging across a variety of price points and specifications:
Our Top Pick
1. Silverline 441563
Maximum cutting depth of 80mm and 190mm throat (cutting width)
350W induction motor
300 x 300mm table with T-slot track
0-45° table tilt for bevel cuts
Supplied with a 1,425mm 6 TPI blade
Includes Rip Fence, Dust Extraction Port and Mitre Cut Guide
Compared to the industrial look of the Einhell, Silverline's 441563 is more pleasing to the eye. Finished in powder blue and with curves around its two drive wheels, this is the only model on our list not to incorporate an LED light. Its supplied 6TPI blade may not be sufficient for certain materials, either.
In most other respects, the Silverline is easily equal, if not better, than the other bandsaws on our list. A throat size of 190mm supports resawing, while the 300x300mm table can be locked at tilts of up to 45 degrees with a maximum cutting depth of 80mm. There's a dust extraction port, a locking fence for straight cuts and a guide for mitre cuts.
According to reviews, its 350W induction motor delivers quiet and accurate cutting, though there are questions about the 441563's durability.
| | |
| --- | --- |
| Pros | Cons |
| Attractive benchtop machine | No LED light for cutting |
| Delivers clean cuts | The supplied blade is not the best |
---
Best Budget Bandsaw
2. Einhell TC-SB 200/1
Highly tiltable bench and height adjustment
Tool-free blade change
Includes rip fence and push stick
Ball-bearing guide
Dust extraction port (36mm)
Einhell's 17kg TC-SB 200/1 bandsaw is ideal for a beginner. There's nothing complicated about setting up or using this tall yet slender device, finished in an attractive cherry red shade and combining the usual 30cm square table with a 250W motor.
You wouldn't want to do heavy work with this product — the lack of clamp points and the relatively lightweight chassis means it can move under heavy vibration. Still, for smaller projects, its 200mm throat will be sufficient. The 250 W motor is down on power compared to our best-buy Silverline, which is another reason why this may not be suitable for bigger jobs involving tougher timbers. We'd also like to see an LED light for clearer cutting.
Cutting heights range from 45mm at 45 degrees to 80mm at 90 degrees. There's also support for dual exhaust devices, while the 80mm cut depth is the same as the Silverline, and the 200mm throat depth is marginally superior.
| | |
| --- | --- |
| Pros | Cons |
| The most affordable product we tested | Down on power compared to rivals |
| Stylish design and lightweight chassis | It lacks an LED light |
---
Also Great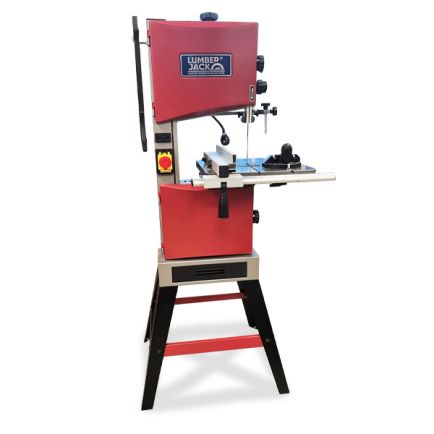 3. Lumberjack Bandsaw BS254
150mm cutting depth
254mm throat (cutting width)
Ground cast iron work table
Quick-action lock-on rip fence
Includes crosscutting mitre guide
LED work light
Dust collection tray
While the Einhell and Silverline share many attributes, the Lumberjack ploughs its furrow.
This bandsaw is the only model where the table is more than 300mm square instead of 360x320mm. It offers three rings for the dust collection outlet (50, 75 and 100mm), while there's a separate dust collection drawer for non-vacuum cuts.
A graduated scale helps to lock in optimal cutting angles on the cast iron table, while the 90-degree and 45-degree tilts have positive stops to prevent unwanted movement. There are three sealed bearings on the blade guard, helping it to run freely and stay true.
The main drawback of the BS254 is its net weight of 39kg. This weight makes the BS254 an unwieldy piece of equipment you cannot quickly move around the workshop.
Its weight means this is the only floor-standing bandsaw on our list, whereas the others are tabletop machines. However, this extra weight does improve the saw's stability.
This model is for professional users, hence the hefty price tag.
| | |
| --- | --- |
| Pros | Cons |
| Largest table and cutting depth | Far heavier than other models |
| Extensive dust extraction options | Almost twice as expensive |
---
Best Bandsaw in the UK — 2023 Comparison Table
| | | | | | |
| --- | --- | --- | --- | --- | --- |
| Model | Cut depth | Light | Dust extractor | Weight | Rating |
| Silverline 441563 | 80mm | No | Yes | 17kg | 8.5 |
| Einhell TC-SB 200/1 | 80mm | No | Yes | 17kg | 8 |
| Lumberjack BS254 | 150mm | Yes | Yes | 39kg | 7 |
---
Bandsaw Buying Guide
At first glance, a bandsaw resembles a scroll saw. It has a vertically suspended blade disappearing into the machine body, through which materials are pushed as they're sliced. However, unlike scroll saws driven by a motor above the blade, bandsaws have two motors connected to circular metal wheels. There's one motor above the blade and one beneath it.
The blade is a continuous metal loop with teeth pointing in one direction, endlessly slicing downwards as the machine runs the blade around the two wheels. This design helps to reduce vibration since the blade is rotating between two driven wheels rather than juddering back & forth as it does on a scroll saw.
Blades and Cutting Capacity
Bandsaw blades come with various teeth per inch (TPI) and multiple thicknesses. You can use these blades to achieve multiple woodwork effects, including resawing wood to create mirror-image grain patterns, slicing off thin veneer slices, and rip cutting for resetting edges or trimming a piece of timber to size.
There are two main measurements to be aware of on a bandsaw — the cutting height and the throat capacity.
The former determines the thickness of the material you can feed the bandsaw, ranging between 80mm and 150mm on our shortlist.
The latter describes how much wood you can push through before it hits the side of the machine. Larger throat capacities are generally beneficial for resawing, though any bandsaw should be sufficient for domestic and modest commercial applications.
Bandsaw Features
All the bandsaws on our list share several key features, including:
A table tilted to an angle of 45 degrees enables various cuts, from mitre and bevel cutting to ripping.
Dust extraction port, enabling you to siphon away unwanted material fragments.
Push stick, enabling users to insert materials safely without placing their hands near the blade.
On-off push switches for mains-powered bandsaws. These switches are located near the back, which is not the most convenient place when cutting awkwardly-shaped materials.
From here, the differences between our chosen models become more apparent.
The Lumberjack is unique in having a dust collection tray, while its extraction outlet accepts hoses from 50mm to 100mm. This dust extraction makes the Lumberjack especially suitable for people with allergies or health conditions where clean air is necessary rather than simply beneficial.
On the flip side, the Lumberjack is more than twice the weight of its rivals, which are far easier to manoeuvre around a workshop.
The Einhell and Silverline are countertop machines, whereas the Lumberjack is floor-standing. Space limitations may direct you towards the former rather than the latter, though the Lumberjack's cutting height is almost twice that of its competitors.
---
Final Thoughts — Best Bandsaw in the UK
Practicality and portability are key considerations when choosing between the bandsaws on our list.
The 39kg Lumberjack is floor-standing and impractical to move once in situ, whereas the Einhell and Silverline are tabletop machines with near-identical weights of 17kg — less than half as much as their rival. This alone may settle the debate one way or the other, as might the Lumberjack's superior 150mm cutting depth.
While prices vary, we've consistently found the Einhell to be the most affordable of our three contenders. This is another factor worth considering if you only plan to use it occasionally.
There's little to split our two similarly priced tabletop bandsaws. I.e. they have the same cut depths, overall weights and table sizes. The slightly superior cutting performance of the Silverline 441563 benchtop bandsaw means it wins our award for the best bandsaw in the UK for 2023.
Modest differences like the Einhell's lower price and marginally superior throat depth may influence your choice. Still, we'd recommend studying reviews of both products to determine whether one is likely to meet your needs better than the other.
Pro Tip: To learn how to use and maintain your new bandsaw, check our step-by-step guide to using a bandsaw.