Property Workshop is proudly reader-supported. When you buy through links on our site, we may earn a small Amazon affiliate commission but this does not affect the price you pay. Learn more here.
---
Filling knives are an unglamorous but essential component in any DIYer's tool bag.
Once you've tried to fill a crack or smooth a rough edge without one of these flat spatula-type knives, you appreciate how valuable they are. Our recent guide to smoothing walls without plastering demonstrates this point neatly.
A quality filling knife justifies the few extra pounds it costs, such as our preferred Draper 82660. Available in an array of sizes and featuring a precision ground blade that's been hardened and tempered, it's the ideal companion for a night on the tiles (or getting plastered).
---
Best Filling Knife Reviews – The UK's Top 3 in 2023
Below are the best filling knives on the UK market, starting with a product beyond reproach.
---
1. Draper Flexible Filling Knife
Fully polished flexible steel blade
Precision ground, hardened and tempered blade
Soft grip handle with a hang hole
It's only cost which prevents Draper's range of soft-grip filling knives from achieving an extremely rare 10/10 score in Property Workshop testing.
Available in five sizes, from 32mm to 125mm, Draper's designers have thought of everything.
The handle is ribbed at the sides, ridged at the top and has three finger grooves at the blade end, with a circular hanging hole for storage.
The stainless steel blade is polished, precision ground, hardened and tempered, offering an impressive degree of flexibility yet remaining unyielding under pressure.
Longtime users report no issues with quality, with terms like "sturdy" cropping up repeatedly. Sometimes it's worth paying a little bit more for a quality product.
| Pros | Cons |
| --- | --- |
| It comes in five sizes | Far from the cheapest product |
| Superbly ergonomic handle | It may be too bendy for specific scraping tasks |
| Impressive blade engineering | |
---
2. Silverline Flexible Filling Knife
Corrosion-resistant spring-tempered 50mm steel blade
Two-tone soft-grip handle
Moulded palm grip
Hanging hole
Silverline's entry would probably have come top if the price was a deciding factor in this test.
It represents exceptional value for money at roughly half the cost of its two rivals. However, since the other products are still affordable, that benefit isn't enough to outweigh a few areas where Draper manages to pull ahead.
For one thing, the Silverline's injection moulded polypropylene handle isn't as contoured and lacks the quality grip of our test winner.
Similarly, the choice of 50mm or 75mm blades is the most limited of our triumvirate – Stanley offers a 100mm blade, while Draper's largest product is 125mm.
Even so, there's plenty to like about this product. Its corrosion-resistant spring-tempered steel blade has a mirror-polished finish, tapering to just 0.6mm along the blade edge. It also features a hanging hole for storage, and its relatively stiff blade makes it an ideal scraper.
| Pros | Cons |
| --- | --- |
| By far the most affordable product we tested | Its relatively stiff blade is not always great for filling |
| Corrosion-resistant mirror-polished blade | Limited choice of sizes |
| Features a hanging hole | |
---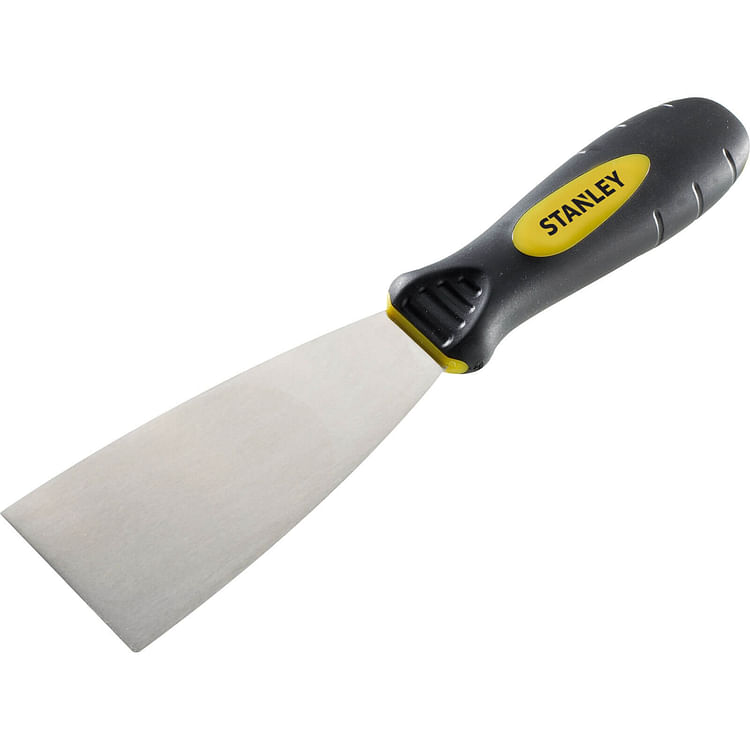 3. Stanley Dynagrip Flexible Filling Knife
Fully ground, flexible stainless steel blade
50mm blade width
High-grip contoured handle moulded directly onto the blade
Handle made from patented DYNAGRIP polymer
For some people, the Stanley name alone will be enough to elevate this 50mm filling knife to the top of their shortlist.
If you're already a brand loyalist, this is a quality product, but it does fall short compared to the Silverline and – in particular – the Draper.
For one thing, there are only two blade widths on offer. For another, the handle is an undoubted weak point; its three shallow channels at either side and battery cover-style ribbing beside the blade are underwhelming compared to the Draper's heavily contoured and grippy handle.
It's also relatively heavy at 109g, which won't strain your biceps but is the heaviest of our three tested knives by a distance.
That said, Stanley does know how to assemble a quality product. The blade is fully ground stainless steel with a smooth rust-free finish that's easy to clean.
You'll be able to spot that dayglo Stanley badge even in low light, and there are no concerns about this product's long-term durability.
| Pros | Cons |
| --- | --- |
| Well-built and durable | Handle lacks texture and grip |
| Rust-resistant stainless steel blade | Heaviest product on test |
| It forms part of a far more comprehensive DIY tool range | |
---
Best Filling Knife – 2023 Comparison Table
| Model | Sizes | Hanging hole? | Blade material | Price | Rating |
| --- | --- | --- | --- | --- | --- |
| Draper 82660 | 5 | Yes | Stainless steel | ££ | 9 |
| Silverline 395012 | 2 | Yes | Carbon steel | £ | 8 |
| Stanley Dynagrip | 2 | No | Stainless steel | ££ | 7 |
---
Best Filling Knife Buying Guide
Consider the following features when buying the best filling knife.
---
Blade Size
Like paintbrushes, filling knives come in various shapes and sizes.
We're testing three 50mm models, which deliver an optimal balance between covering a decent area and not feeling unwieldy in hand. However, all three of our chosen manufacturers offer different sizes.
We were particularly impressed with Draper's range, extending from 32mm to 125mm. By contrast, Stanley and Silverline only provide one size larger than 50mm, with nothing smaller for more intricate DIY jobs.
Pro Tip: It's worth having a conversion chart in front of you when choosing a filling knife. The blade widths of our three selected products are measured in millimetres, but rival manufacturers like Axus list in inches – a two-inch blade would be roughly equivalent to the 50mm products on test here. Always remember there are approximately 2.5 centimetres in 1 inch.
---
Flexibility and Comfort
Their uniquely flexible blades make filling knives great for forcing filler into the smallest crack or crevice.
A single blade can be suitable for various jobs, providing it's comfortable to hold and use in different positions. We've chosen three products with heavily contoured handles designed for a firm grip. Once again, Draper's filling knife has the most textured handle.
Pro Tip: If you lack experience in achieving optimal consistency when preparing plaster, our guide to mixing plaster explains everything you need to know.
There's a balance to be struck with these products between firmness (which is ideal for scraping) and flexibility (which is necessary for filling).
---
Best Filling Knife – Final Thoughts
Each product does an excellent job filling and scraping for a modest outlay.
You might be brand-loyal towards Stanley or appreciate the Silverline's blade's relative inflexibility. Both knives are good, but Draper's contribution is genuinely exceptional.
From the Draper's heavily textured handle to its precision ground and tempered blade, this is a quality product by any measure or definition. The fact it's more expensive than the Silverline is a minor concern given these products' innate affordability.
We have no hesitation in declaring the Draper Filling Knife a worthy test winner.