Property Workshop is proudly reader-supported. When you buy through links on our site, we may earn a small Amazon affiliate commission but this does not affect the price you pay. Learn more here.
---
Chalk paint is underpinning the burgeoning fashion for upcycling older furnishings or accessories. Thinner than gloss and more muted than emulsion, chalk paint allows the weave or grain to show through.
However, not all chalk paints are created equal. Some are suitable for upcycling metal surfaces or objects, while others aren't. Also, coverage varies from manufacturer to manufacturer, and application methods may or may not extend to rollers. As such, it's essential to consider the merits of different ranges of chalk paint, especially when there are considerable disparities in colour schemes.
After many hours of researching and testing the best chalk paints in the UK, we'll help you navigate this crowded and confusing market.
Read on to find out which chalk paint was awarded 'Best Chalk Paint in the UK' in this comprehensive buying guide.
---
Best Chalk Paint Reviews — The UK's Top 3 in 2023
These are our picks as the best chalk paints currently on sale, starting with a product that represents exceptional value for money:
Our Top Pick
1. Rustins CHAPG500
Water-based
Quick drying
Low odour and VOCs
Perfect for the "shabby chic" look
Contains wax
Rustins' entry into our shortlist could win purely based on value, costing less than half Rust-Oleum's offering.
However, there are many other reasons to recommend this product, which we've tested in Georgian (mid) Grey. It's also available in white and cream, the most limited colour palette we tested.
One of the other drawbacks to this range is its unsuitability for metal surfaces. However, it works on materials ranging from brick and cement to hardboard and plaster. It also acts as a topcoat over existing primers and paints, though Rustins say two coats are a minimum on bare substrates.
With a coverage of 13 metres per litre, this is in the middle of our shortlisted products. Crucially, it claims to be touch dry in less than an hour, which means it can be handled and recoated within two hours. That's ideal if you're keen to get a job done rather than having to return to it at a later date.
| Pros | Cons |
| --- | --- |
| Great value | Limited colour choices |
| Touch dry in just 30 minutes | Unsuitable for metal surfaces |
| Low odour | |
---
Runner Up
2. Ronseal Chalky Furniture Paint
Touch dry within 30 minutes
Available in seven different colours
Long-lasting protection
Let's deal with the elephant in the room straight away — Ronseal's chalk paint offers less than half the coverage of the other two products on test, despite being more expensive than our preferred Rustins paint. That fact alone will rule it out of consideration for many DIYers.
If you can get past the disappointing coverage, there is much to like about this product. For one thing, the seven available pastel colours offer greater choice than the three hues offered by Rustins. For another, a drying time of 30 minutes far eclipses the minimum one hour (recommended four hours) of Rust-Oleum's product.
It sits between its two competitors in terms of price — cheaper than the Rust-Oleum but slightly pricier than Rustins' chalk paint.
Ronseal claims that its product requires no waxing or lacquering to protect it. However, they also claim only one coat is required when reviews suggest some hardwood furnishings may require two or even three coats.
| Pros | Cons |
| --- | --- |
| Dries in half an hour | Not suitable for metal |
| More colour choices than Rustins | Poor coverage |
| Cheaper than Rust-Oleum | |
---
Best Budget Chalk Paint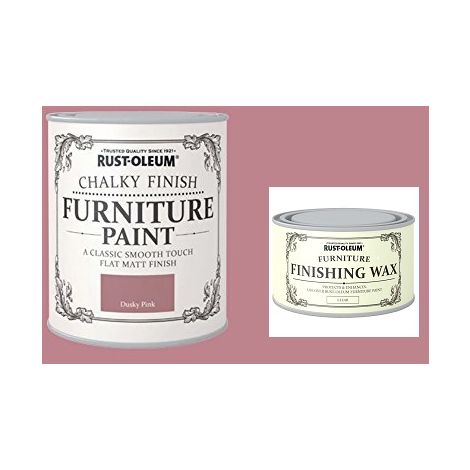 3. Rust-Oleum AMZ0042
Water-based
Low odour and VOCs
Smooth, chalky matt finish
One coat coverage
No priming or sanding is necessary on most surfaces
While Rustins offer three colours and Ronseal provides seven, Rust-Oleum's range of chalk paints comes in 18 shades. Many shades take their name from foodstuffs (pumpkin, salmon) and raw materials (anthracite, graphite). Here, we've selected the 125ml Dusky Pink paint, also available in a larger 750ml guise.
Rust-Oleum recommends a short nap mohair roller for applying over larger surfaces, with a paintbrush as the main alternative. You can cover 14 square metres per litre of paint, which is the best in our test. Less impressive is a drying time of four hours, although by this point, it fully hardens and is ready for a second coat. At least the paint is touch-dry in one hour. It's also worth noting that priming and sanding are rarely needed, which could save valuable project time.
The main drawback against this highly-regarded product is its price, considering a larger tin from the same range (containing six times as much paint) costs less than three times more.
| Pros | Cons |
| --- | --- |
| A wide choice of colours | It takes four hours to dry fully |
| Excellent coverage | Expensive in 125ml guise |
| Generally doesn't need priming or sanding | |
---
Best Chalk Paint in the UK — 2023 Comparison Table
| Model | Volume | Colours | Coverage | Drying time | Suitable for metal? | Rating |
| --- | --- | --- | --- | --- | --- | --- |
| Rustins CHAPG500 | 500ml | 3 | 13 m2/l | 30 mins | No | 8 |
| Ronseal Chalky Furniture Paint | 750ml | 7 | 6 m2/l | 30 mins | No | 7 |
| Rust-Oleum AMZ0042 | 125ml | 18 | 14 m2/l | 1 hour | Yes | 7 |
---
Chalk Paint Buying Guide
All three of our shortlisted products deliver a flat matt finish, which offers the best results in allowing the patina of original materials to shine through. Thicker gloss paints might disguise the dimples in sandstone or the knots in timber.
You can easily add a distressed appearance to a matt finish by lightly rubbing each dried paint application with fine sandpaper or gently abrasing it with steel wool. If you're covering a large surface (like a bureau or dresser), you might want to invest in a handheld sander – we've recently reviewed the various types of sanders on the market.
Applying Chalk Paint
Unlike emulsion paint, which you typically apply with a foam roller, chalk paints require a little more TLC. One of our shortlisted manufacturers recommends investing in a short pile mohair roller. Also known as a short nap roller, these rollers cost a couple of pounds each online and deliver a less stippled finish than other rollers.
If you want to use a traditional paintbrush instead, our guide to the nine best paint brushes on sale in the UK is a must-read. You'll need a brush for corners, edges and recesses, so a variety of brush head sizes is beneficial.
Chalk Paint Styles
One of the most popular styles of internal furniture at present is the distressed look. After applying each new coat, our selected paints can support a distressed look by lightly sanding down areas that experience heavier use. It's important not to overdo this effect – aim for a lightly limed look rather than a dropped-and-damaged aesthetic.
If your ambition exceeds your talent, this in-depth video covers many techniques required to create aged-looking wooden furniture using chalk paint.
---
Final Thoughts — Best Chalk Paint in the UK
This roundup is one of the closest tests we've conducted for some time, and choosing a winner was tricky. In the end, the sheer value of Rustins' 500ml tin swung the decision.
This paint dries in around half an hour, so it's ideal for people keen to finish one project before starting another. However, the lack of colours in the Rustins range may be a deal-breaker for some, and it's disappointing that this product doesn't work on metal as its competitors do.
There was little to choose between our other two contenders. Rust-Oleum offers the best coverage by a small margin and the biggest colour range by a large margin. In contrast, Ronseal's limited coverage is partially offset by its quick drying time and greater affordability.
Pro Tip: If you have a lot of painting to do, invest in larger-volume tins to save money.
Ultimately, you can feel confident in any of these products, so your preferred colour may be the clincher in any buying decision.