Property Workshop is proudly reader-supported. When you buy through links on our site, we may earn a small Amazon affiliate commission but this does not affect the price you pay. Learn more here.
---
Colour on a wall can make or break the desired effect, but there's no point in creating the perfect design if the application is poor. In all my experience with room makeovers, one thing I discovered is never scrimp on the finish.
Applying emulsion to a wall is pretty straightforward for most DIY enthusiasts, but many use the wrong brush for cutting in. To get a neat line, you need a brush with an angled sash and bristles that keep their shape.
So, read on to ensure you get the best paint brush for cutting in.
---
Best Paint Brush for Cutting In Reviews — The UK's Top 3 in 2023
Here's my list of the top 3 paint brushes for cutting in.
Our Top Pick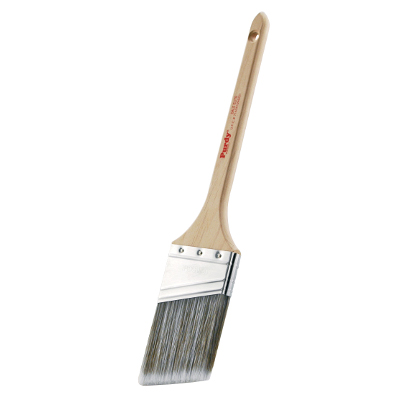 1. Purdy Elite Dale Sash Paint Brush
Small, angled brush ideal for cutting in
Suitable for interior or exterior use
Long handle
The Purdy Elite Dale is the professional's choice and gets my vote as #1. Purdy is one of the top manufacturers of quality paint brushes, and this brush doesn't disappoint.
The polyester bristles work equally well with water, solvent or oil-based paint, and at 254mm in length, the Purdy Elite Dale reaches those high corners, making it one of the most versatile brushes around.
At only 32g, it's by far the lightest brush of the three, and the 38mm wide head is excellent for detail work.
Purdy guarantees' no filament loss' with filament meaning bristles. However, you can expect to lose one or two bristles when you first use them. 
Yes, the Purdy is expensive, but if you look after it, you'll get years of reliable service and the perfect finish every time!
| Pros | Cons |
| --- | --- |
| Long handle for high reach. | Expensive. |
| The narrow head makes it ideal for detailed work. | Some may find the long handle obtrusive. |
| Lightweight, easy to handle. | |
| Excellent bristle retention. | |
---
Best Budget Paint Brush for Cutting-in

2. Hamilton Performance Cutting-in Brush
Angled profile and short handle
Comfortable grip
High specification synthetic filament
Easy to clean
This Hamilton Performance cutting-in brush is the heavyweight of the three, weighing in at 90g. Also, at 208mm long and 50mm wide, the Hamilton brush is bulkier than the other two.
We found that its synthetic bristles are better for water-based emulsion. We also found that its thicker head holds more paint than the other two brushes, making it smoother and faster.
| Pros | Cons |
| --- | --- |
| One of the top brushes for water-based emulsion. | Not recommended for solvent-based paint. |
| The shorter wooden handle works better for getting into tight spots. | Not so good at detailed work. |
| The synthetic bristles hold plenty of paint for quicker application. | |
---
Also Great
3. Harris Ultimate Reach Paint Brush
Angled brush
Long handle for extra reach
Easy to clean
There's none better than the Harris Ultimate Reach brush when cutting in at the junction between the wall and ceiling.
With an overall length of 278mm, it's one of the longest cutting-in brushes. Great for hard-to-reach corners and around light fittings.
The 38mm width is perfect for detailed work, but the extra-long handle seems to work against this principle. For this reason, the Harris Ultimate Reach paint brush comes third on my list. A good brush at a reasonable price but with limited usability.
| Pros | Cons |
| --- | --- |
| Great for reaching high spots. | The long handle hinders detailed work. |
| Low bristle loss means better results. | Not recommended for solvent-based paint. |
| Good value for money. | |
---
Best Paint Brush for Cutting In — 2023 Comparison Table
| Product | Width (mm) | Length (mm) | Weight (g) | Best for | Cost | Rating out of 10 |
| --- | --- | --- | --- | --- | --- | --- |
| Purdy Elite Dale Sash | 38 | 254 | 32 | All paints | £££ | 9 |
| Hamilton Performance | 50 | 208 | 90 | Emulsion | £ | 8.5 |
| Harris Ultimate Reach | 38 | 278 | 60 | Emulsion | £ | 8 |
---
The Art of Cutting In
Slapping paint on walls and ceilings is not a highly skilled job, and you can quickly achieve a decent finish using a roller or brush without too much practice. "A bit of wallop" is what my dad called this practice.
The real skill is in cutting in — that is, the detailed painting around fittings, skirtings, architraves, window frames, and corners.
There are two types of cutting-in:
Emulsion paint on the flat surfaces of walls and ceilings
Painting the skirtings or trim
Some paint brushes work better with emulsion than oil or solvent-based paint, and this is due to the bristles.
Cutting in with a square brush always leads to stray bristles flicking paint where you don't want it. Moreover, as cutting in requires accuracy, the best cutting-in brushes have an angled sash, meaning the bristles are trimmed on a slant rather than square.
Pro Tip: When painting a wall or ceiling, I recommend you cut in first and allow the paint to dry before painting the remaining surface. Also, paint the trim before painting the walls.
---
Cutting In Brush Buying Guide
With an excellent cutting-in brush and the proper technique, you can avoid the laborious job of taping up. Gone with it is the possibility of paint bleeding underneath the tape or lifting the paint when you remove it.
When buying the best paint brush for cutting in, it's essential to understand the following key differences between various brushes:
Length of Handle
When you're doing detailed work, it's essential for the brush to feel comfortable in your hand. For this reason, many prefer shorter-handled brushes, while others prefer the feel of a longer handle, mainly when painting hard-to-reach areas. Ultimately, pick whatever handle size feels best for you.
Type of Bristles
Natural bristles are favoured by some, particularly for use with oil-based paint. However, synthetic bristles are better for emulsion paints, particularly latex paint.
To get a smooth finish, you need soft bristles, but at the same time, the bristles must hold their shape, even after several uses.
Width of Head
For detailed work, 38mm is better. For general cutting in, 50mm holds more paint and does the job quicker.
Head Fixing
We recommend cutting in brushes with pins holding the brush head in place. Others rely on friction, and these tend to loosen very quickly.
Loss of Bristles
You may find bristles on the wall or trim on cheaper, poorly made brushes. Not only is this annoying and time-consuming, but it also makes a mess of the finish.
Storage
You should never store cutting-in brushes upright in a jar because they will lose their all-important angled sash shape. So, after cleaning, dry your brushes and lay them flat.
---
Best Paint Brush for Cutting In — Final Thoughts
There's no doubt that the Purdy Elite Dale is the best paint brush for cutting in. After all, it's the paint brush of choice for many professionals, despite the high price tag. However, the Hamilton Performance brush is good enough for most DIY enthusiasts.
But let's not write off the Harris Ultimate Reach completely. It's on my list because it's a quality brush, and if you're looking for extra reach, this brush is an excellent choice.