Property Workshop is proudly reader-supported. When you buy through links on our site, we may earn a small Amazon affiliate commission but this does not affect the price you pay. Learn more here.
---
DIYers of a certain age sometimes claim that different jobs call for different drills, but the historic performance gap between corded and cordless products has narrowed in recent years. Advances in battery technology and improvements in product design have led to Bosch claiming there's no longer any difference in durability or power when comparing a corded vs cordless drill.
To determine whether this is true, we've looked closely at the rival merits of mains and battery power. We've studied market-leading products in both camps and then concluded whether the historic rivalry between corded vs cordless drills is still relevant today.
To begin with, let's consider the traditional method of drill propulsion.
---
The Merits of Corded Drills
The most compelling benefit of a corded drill is its endurance. You could theoretically spend an entire day drilling without pausing if the bits don't get too hot.
Cordless drills will lose power eventually, even with a fully charged battery. If that happens mid-job, you may have to realign the bit and replicate your approach angle once you've replaced the battery — assuming you have a spare. If not, it's game over until the charger can replenish the battery.
Some drill manufacturers supply one or two cordless batteries, while some are body-only. Spending money on two batteries for a single device is irritating and expensive.
By contrast, a corded drill works anywhere there's a plug. It'll also be lighter; freed from the heavy lithium-ion (Li-ion) batteries required to give a drill sufficient power, they're easier to use throughout the day.
Pro Tip: The power of a corded drill is rated in watts (W), typically from 500W to 1500W. Cordless drill power is calculated by the voltage supplied by the battery, with 12V batteries at the cheaper end and 20V used in powerful hammer drills.
Cost is another factor tipping the scales in favour of corded devices. Although prices vary hugely by manufacturer and product range, a cordless drill requires more raw materials to manufacture its batteries. That means corded drills are generally cheaper, which is worth considering if you're operating on a budget. There's also less paraphernalia to lug around – you do not have to squeeze two batteries and a charging pack into your tool bag.
Pro Tip: Corded drills are particularly good at hammering, as our guide to the best corded hammer drills demonstrates.
Sample Product: Bosch Professional GBH 3-28 DFR
Compact size helps manoeuvre in narrow and tight spaces
L-shaped design
Vibration Control
High power-to-weight ratio (800W motor and 3.6kg tool weight)
It's rare for any product with many reviews to get a five-star rating on Amazon. Still, DIYers and professionals praise Bosch's Professional corded rotary hammer drill for its ability to chisel through concrete and tackle timber.
This product's only drawback is its high price. However, it does offer variable speed and an overload clutch, with the ability to inflict 3.1J of impact energy on solid surfaces through cleverly dampened twin handles.
If its 3.6kg weight isn't too bicep-busting, this 800W device could be the only drill you'll ever need.
Key Benefits of Corded Drills
It can run all day without requiring charging or necessitating downtime
Better for high-power activities like hammering
Generally cheaper and lighter than cordless rivals
---
The Merits of Cordless Drills
Interestingly, some manufacturers are now promoting their cordless drills as superior to corded products.
There's some marketing spin applied here since we've already established corded drills and their advantages. Nonetheless, improvements in battery technology mean cordless products can serve as hammer drills while providing ample power for less rigorous DIY tasks like cutting through plasterboard.
Cordless drills have always had an advantage in tackling jobs away from home without a plug socket nearby. On a building site with no mains electricity, they're the only option for installing joists and assembling cabinets. If you're building a close board fence, only a cordless drill allows you to reach far-flung corners of the garden.
And when it's raining — which is most of the time in some parts of the UK — cordless drills provide all-weather dependability. Even waterproof outside sockets are only as good as the length of a device's power cable unless you invest in weatherproof extension cords. Even then, many mains-powered DIY tools aren't suitable for use in a downpour.
Pro Tip: Modern cordless drills can fulfil multiple roles, as covered in our guide to the best cordless combi drills.
Anyone who's ever found a power lead wrapping itself around their arm will appreciate the greater freedom of movement offered by cordless DIY tools. And while battery life may cause anxiety, modern Li-ion batteries can recharge in less than one hour. Li-ion batteries are also zero-discharged, so you can leave them unused for long periods without residual power draining away.
Pro Tip: If you already have rechargeable batteries for existing DIY tools, consider buying a cordless drill from that company's range of products. If the batteries are compatible (often the case across a power tool product range), you can save money buying a body-only drill while extracting greater use from your existing batteries. Either way, always have two batteries to recharge one while using the other.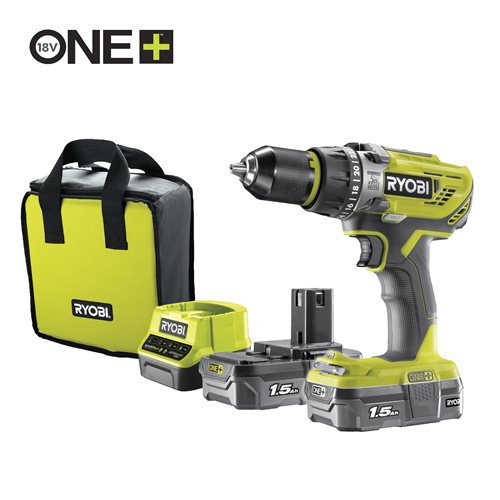 Sample Product: Ryobi R18PD31-213S Cordless Combi Drill
Easily drills through wood or metal
The hammer function helps drill through masonry
Great for driving screws
All Metal 13mm ratcheting chuck
24 torque settings
LED work light
Another product receiving five-star reviews across the board is Ryobi's cordless combi drill starter kit.
Supplied with a pair of 1.5Ah batteries and a charger, it's part of the company's ONE+ range, meaning you can use the batteries on other Ryobi products. Despite being cordless, the lime-green R18PD31 generates 50Nm of torque at up to 1800rpm.
It has 24 torque settings, a ratcheting chuck capable of accepting drill and screwdriver bits of up to 13mm, and a hammer mode for maximising impact force.
Key Benefits of Cordless Drills
Suitable for use in all weathers
Freedom from cables is helpful in tight spaces or when working outdoors
Batteries can be swapped and shared across other products from the same manufacturer
---
Final Thoughts
In the final reckoning, there are no right or wrong answers when comparing corded vs cordless drills. Both power sources have their merits, and both are highly practical. For this reason, we've focused on benefits rather than drawbacks.
Your product choice is far more important than your choice of power source – a great drill is satisfying and dependable, whether it uses a plug or a battery pack. A power drill is one DIY tool where paying extra tends to be worth it since 12V cordless drills often lack power, and cheap corded devices are not comfortable for long periods of use.
There are specific scenarios where one power source has a definite advantage; building a fence in winter could be challenging with a corded drill if it's constantly raining, whereas time-critical jobs can't be held up waiting for a battery to recharge.
If you're going cordless, we recommend having two batteries to replenish one while the other is discharging. We also favour manufacturers whose 18V (or higher) batteries can recharge within one hour. With that taken care of, there shouldn't be anything to stop you from cutting the cord.
Pro Tip: For more info on power tool batteries, check out this handy guide from Axminster.