Property Workshop is proudly reader-supported. When you buy through links on our site, we may earn a small Amazon affiliate commission but this does not affect the price you pay. Learn more here.
---
After extensive research and testing, we highly recommend the Draper Tools 865/44 Screwdriver Set.
This comprehensive set has many different types of screwdrivers, plus two Allen key sets. So no matter what you need a screwdriver for, you're sure to have the right tool for the job.
The Draper Tools 865/44 wins our award for 'Best Screwdriver Set in the UK', thanks to its high-quality shafts, excellent handle grips, magnetic tips, and clear labelling.
---
Best Screwdriver Set — 2023 Reviews (The UK's Top 3)
After many hours of research and rigorous testing, these are our favourite screwdriver sets on the UK market, starting with a worthy test winner:
---
Our Top Pick
1. Draper Tools 865/44
Made from hardened and tempered chrome vanadium steel
Satin chrome plating on screwdriver blades
Includes convenient storage stand
This screwdriver set contains a great selection of Phillips, Flat Head, Pozidriv, and Torx screwdrivers. It also includes a bit driver with 10 bits and 16 Allen keys, which means you're covered for every household DIY task!
Not only do you get a great selection, but these screwdrivers are also well-made with sturdy steel alloy shafts and rubberised, easy-grip ergonomic handles. In other words, these screwdrivers are made to last and are comfortable to use. Ideal if, like me, you suffer from dreaded wrist strain when tightening up screws.
Furthermore, the tips are magnetised, making these screwdrivers handy when your hands are full or working in tight spaces.
On the downside, there are no short-handled screwdrivers, or stubbies, in this set.
| Pros | Cons |
| --- | --- |
| A comprehensive selection of screwdrivers and Allen keys. | No short-handled screwdrivers. |
| Ergonomic, non-slip handles. | |
| Magnetic tips. | |
| Stand and clear labelling. | |
---
Runner Up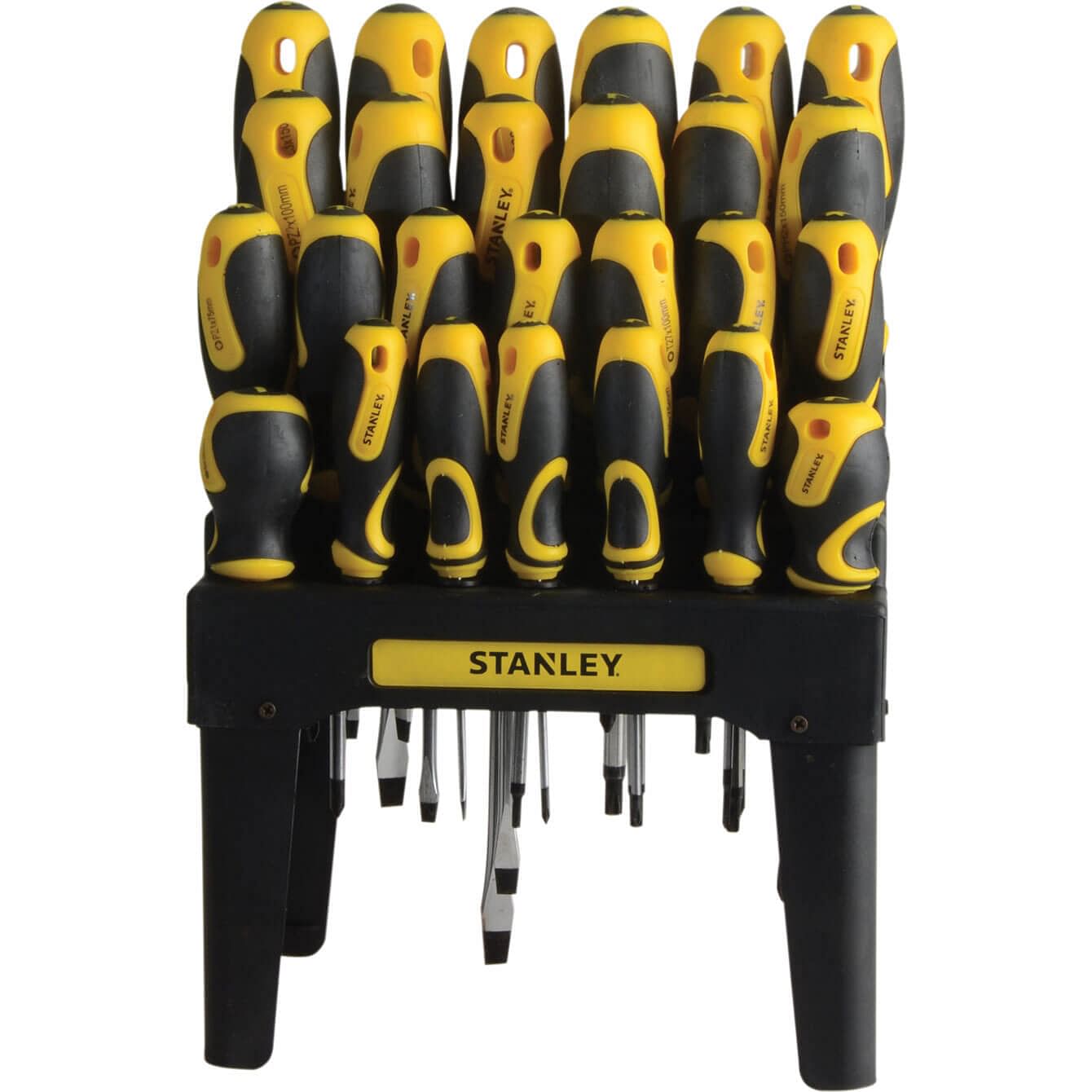 2. Stanley 062142
26-piece set with magnetic tips
Comfortable rubber handles
Includes handy storage rack
This Stanley 062142 set makes an excellent choice with its 26-piece selection housed in a neat & tidy rack — a great way to organise your tool bench!
As I regularly work on various jobs, I appreciate this set's wide selection of 8 flat-bladed, 8 Phillips, 6 Torx, and 4 Pozidriv screwdrivers with magnetic tips.
I also find that the two stubbies come in handy when working in tight spots. Moreover, the handles are nicely shaped and comfortable to grip, which makes these screwdrivers easy to use.
| Pros | Cons |
| --- | --- |
| 26-piece screwdriver set. | No extra accessories. |
| Comfort grip handles. | |
| Sturdy stand. | |
| Magnetic tips. | |
---
Best Budget Screwdriver Set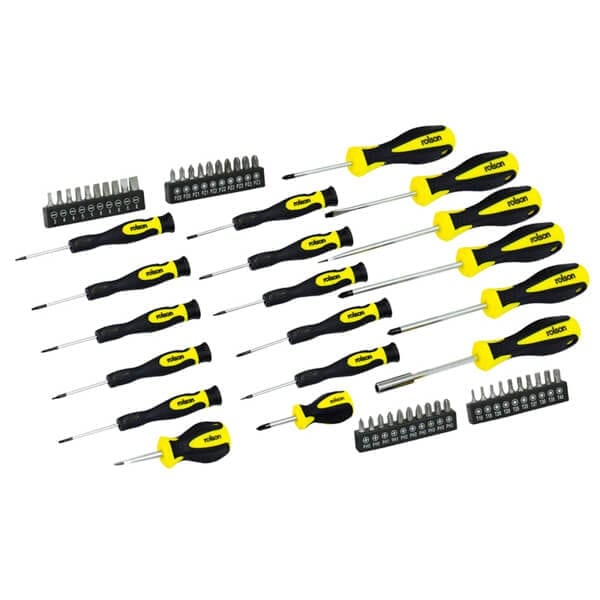 3. Rolson 28882
58-piece screwdriver and bit set
Manufactured with carbon steel shafts and soft cushion grips
Includes handy storage case
I highly rate the Rolson 28882 Screwdriver Set — it's so handy thanks to its large number of screwdriver bits and 10 precision screwdrivers — perfect for those tiny, finicky screws on battery compartments.
This set also comes with a solid carry case and storage. Unfortunately, it only contains seven full-sized screwdrivers, making it less suitable for larger DIY jobs and flat-pack builds.
Given its low price, space-saving design, and precision screwdrivers, I think it's an excellent choice for families fixing toys and gadgets.
| Pros | Cons |
| --- | --- |
| 40 screwdriver bits. | Only 7 full-size screwdrivers. |
| 10 precision screwdrivers. | |
| Handy carry case. | |
| Cushion grip handles. | |
---
Best Screwdriver Set in the UK — 2023 Comparison Table
Name
Set Contents
Handles
Magnetic Tips
Case/stand
Price Range
Rating
Draper Tools 865/44
17 screwdrivers
Bit driver
10 insert bits
16 Allen keys
Soft-grip ergonomic
✓
Stand
£
9/10
Stanley 062142
26 screwdrivers
Comfort grips
✓
Stand
££
8/10
Rolson 28882
7 standard screwdrivers
20 precision screwdrivers
Bit driver
40 insert bits
Cushion grips
✓
Case
£
7/10
---
Screwdriver Set Buying Guide
---
When choosing your new screwdriver set, consider the following essential points:
---
Set Contents
Firstly, think about what type of screwdrivers you most likely need. If you're uncertain, look at our section on screwdriver types.
Are you looking for a set mainly for flat-pack furniture or general DIY around the house? Do you need precision screwdrivers for small, intricate items? Are hex keys essential?
If unsure, it's best to pick up a comprehensive screwdriver set with a wide range of different screwdriver sizes and types.
---
Handles
Look out for screwdrivers with comfortable, easy-to-grip handles. A good grip is vital to correctly and comfortably tighten screws.
---
Magnetic Tips
Magnetic tips are handy, especially when using your screwdriver set in tight spaces.
A screwdriver with a magnetic tip helps keep your screw in place while getting started. It also enables you to retrieve any dropped screws behind furniture or other hard-to-reach areas.
---
Case or Stand
A good case or stand is essential to keeping your screwdriver set organised and ready to hand.
While you could add your new screwdrivers to your existing toolbox, picking a model with a case or a stand ensures easy access to the right screwdriver for the job.
---
Brand
Unless you're looking for a screwdriver set for occasional use, we recommend picking up a set from one of the big brands, such as Draper Tools, Stanley, Rolson, or DeWalt. Most of these trusted brands have budget screwdriver sets and premium versions if you're on a tight budget.
---
Different Types of Screwdrivers — A Brief Guide
Ensure you're always using the correct screwdriver by reading our brief guide to the different types of screwdrivers.
Flat-Head Screwdrivers
Also known as flat-blade screwdrivers.
Screw type: Slot.
Abbreviated to: S or SL.
Flat-head screwdrivers are among the most common screwdriver types, featuring a single, flat blade to match the single horizontal notch across the head of a slotted screw.
Phillips Screwdrivers
Also known as cross-head screwdrivers.
Screw type: cross-head, Phillips.
Abbreviated to: PH.
Phillips screwdrivers are the most commonly used screwdriver type and have a distinctive cross shape.
Thanks to their cross blade and the slight depression in Phillips screws, you apply more torque than a flat blade for a tighter fitting screw.
Pozidriv Screwdrivers
Also known as "positive drive" screwdrivers.
Screw type: Pozidriv screw head.
Abbreviated to: PZ or POZI.
Pozidriv screwdrivers are similar to Phillips but better. They feature a cross-shaped head but also four intersecting small ribs.
Most Phillips screwdrivers will fit in Pozidriv screws, but you won't get the same contact area, and you're likely to round off the screw head before you've managed to tighten it correctly. So while we don't recommend it, you can, at a pinch, use a Phillips screwdriver with a Pozidriv screw.
On the other hand, a Pozidriv screwdriver will not fit in a standard Phillips screw. Some popular manufacturers of flat-pack furniture use Pozidriv screws.
Make sure that you're using the correct screwdriver for the best results. Remember, a Pozidriv screw has four small extra lines that dissect the 45-degree angle of your screw's crosshead.
Torx Screwdrivers
Also known as star screwdrivers or six-point screwdrivers.
Screw type: Torx screws, star screws.
Abbreviated to: T or TX.
As their name implies, Torx screwdrivers allow you to apply even more torque, or "turning power".
Their six-pointed star shape is instantly recognisable. Because Torx screws and screwdrivers are licensed products, they are often referred to as star screwdrivers. In this case, you may find that your screwdriver set abbreviates them to an S, not to be confused with flat-bladed screwdrivers.
Allen Key Screwdrivers/Bits
Also known as hex keys/bits.
Screw Type: Allen screw, socket screw, hex screw.
Abbreviated to: H or HEX.
Most good screwdriver sets include allen keys or allen key bits and a bit driver.
Allen or hex keys have a hexagonal, six-sided form and are commonly used in flat-pack furniture alongside Pozidriv screws. Allen keys are also essential for bikes, tools, and electronics.
Other Types of Screwdrivers
In addition to the types listed above, you'll find some proprietary screws requiring a unique, licensed screwdriver. Aside from these special, licensed products, VDE and precision screwdrivers are the two most common subtypes.  
VDE screwdrivers are insulated and help to protect against electrical shocks when working on electrical goods and circuits. 
Precision screwdrivers are much smaller than regular models and are often used for battery compartments, watches, jewellery, electronics, and kids' toys.
---
Final Thoughts
Whatever you need a screwdriver for around the home, you'll find what you need with the Draper Tools 865/44 Screwdriver Set.
These screwdrivers are a pleasure to handle, thanks to their comfortable, soft-grip, ergonomic handles, high-quality shafts, and magnetic tips.
While the Stanley set is better Pros, and the Rolson set is a good budget option, we have no hesitation in declaring the Draper Tools 865/44 Screwdriver Set a worthy test winner.
Pro Tip: Make flat-pack furniture assembly quick & easy by purchasing an electric screwdriver. To find the best models, check out our guide to the Best Electric Screwdrivers in the UK.
---
FAQ
Which Screwdriver Set is Best?
While you won't find a better screwdriver set than the Draper Tools 865/44 set, the best option depends on your needs. For general use, opt for the Draper set.
Alternatively, if you're looking for a professional set of screwdrivers for extensive use, you can't beat the Stanley 062142 set. 
For occasional use, or if you need some precision screwdrivers for electronic devices, the budget-priced Rolson 28882 is an excellent choice.
What is the Most Commonly Used Screwdriver?
Flat-head screwdrivers are extremely common. However, Phillips screwdrivers give a much better grip to screw heads, making them easier to use and less prone to slippage. For these reasons, you'll find Phillips screws in use everywhere. 
While you'll still need a few flat-headed screwdrivers at your disposal, the Phillips No.2 screwdriver is the most commonly used — an essential item for everyday tasks.
Are Stanley Screwdrivers Good?
Stanley has been making tools since 1843, making them market leaders in terms of experience and innovation. As a result, Stanley screwdrivers are prized for their durability, precision and ease of use.
While they may cost a little more than budget brands, a Stanley screwdriver set will outlast cheaper models, ultimately saving you time and money.