Property Workshop is proudly reader-supported. When you buy through links on our site, we may earn a small Amazon affiliate commission but this does not affect the price you pay. Learn more here.
---
So why buy a right angle drill? Just ask a plumber or an electrician. Right angle drills are excellent tools for drilling holes through floor and roof joists for cables and pipes. Kitchen fitters also use them for drilling larger holes in cupboards for ventilation pipes.
In this guide, I've spent many hours reviewing the best right angle drills available in the UK.
Read on to discover the best right angle drill for you.
---
Best Right Angle Drill Reviews — The Top 3 in 2023
Here are my top three picks for the best right angle drill in the UK.
---
1. DeWalt Angle Drill
Ergonomic handle with rubber overmould
Multi-voltage charger for use with 18V, 14.4V and 10.8V XR Li-Ion slide-pack batteries
Steel belt clip and robust magnetic bit holder
Apart from its strong resemblance to a king penguin, the DeWalt DCD740N-XJ came out on top because of its versatility, size and power.
As the primary purpose of a right angle drill is to get into tight spaces where conventional drills can't go, size is a significant factor. The DCD740N-XJ wins hands down on this score.
Lengthwise, the DeWalt and Makita DDA351Z are the same. However, the drill's depth is more critical when in a tight spot. At just over 100mm, the DeWalt easily fits between joists and provides enough room to get your hand behind it.
Weighing in at 1.5kg, the DeWalt is the heaviest of the three right angle drills. However, it comes with a side handle, so you can use both hands if you're doing a lot of drilling. Also, the variable speed and torque settings make it ideal for drilling and driving.
The high torque setting of 33Nm and a top speed of 2,000 RPM allow this drill to cut effortlessly through the most challenging timber. This extra power is ideal for drilling larger holes in joists for cables or pipes to pass through.
| Pros | Cons |
| --- | --- |
| Variable speed and torque for drilling and driving | The heaviest of the three |
| Top speed of 2,000 RPM and 33Nm torque for drilling larger holes than most right angle drills | |
| The best option for tight spaces | |
---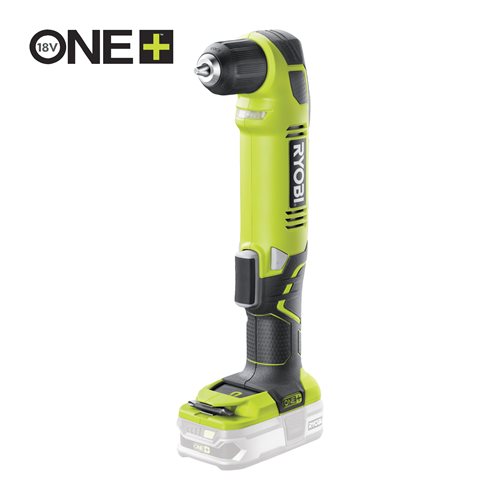 2. Ryobi Angle Drill
14Nm torque
10mm keyless chuck
0-1100 rpm no-load speed
LED work lights
Magnetic drill bit tray
Bare tool only
Ryobi has an extensive range of tools called ONE+, all designed to take the same battery. So if you already have Ryobi drills or drivers, this option is very economical. If you don't, the battery and charger are costly. 
With a variable speed of 0 to 1,100 RPM, the Ryobi is fast enough for a right angle drill, and the soft start is essential when you don't have speed or torque control. This drill also has a safety brake so that the rotations stop as soon as the trigger is released.
The RAD1801M's magnetic bit tray for holding spare bits is a nice feature. Much better than the spring clips most drills have, and you can place small screws on it too.
Another plus is the 180° rotating base, which will get you into spaces other drills can't.
Its 15Nm of torque is good enough for most situations, but you may find it jerking when you hit a hard spot because there's no clutch.
| Pros | Cons |
| --- | --- |
| Variable speed with soft start and electric brake | It's big and heavy |
| Least expensive of the 3 reviewed | No torque setting |
| The 180° rotating base gets you into tight corners | |
---
3. Makita Angle Drill
Keyless chuck
Lithium-ion batteries
4 pole motor
Conveniently located forward and reverse push button
High comfort grips and a large trigger
LED job light with afterglow
The Makita DDA351Z is the lightest of our three models and is also the most expensive.
The comfortable handle is 295mm long, but the head section is a little on the long side at 171mm, making it less suitable for super-tight spaces.
Speed is controlled by pressure on the trigger, which is nice and long for ease of control. After a soft start, it can quickly reach full speed and suddenly stop after pressure is released.
The maximum speed is an impressive 1,800 RPM which makes up for the relatively low torque rating of 13.7Nm.
You can easily switch from forward to reverse using the thumb-controlled push-button on the side, which is ideal for unscrewing.
| Pros | Cons |
| --- | --- |
| It's relatively lightweight, allowing for one-handed use for more extended periods  | Expensive |
| Variable speed with a high of 1,800 RPM compensates for the lower torque of 13.7Nm | Long head section. Over 170mm |
---
Best Right Angle Drill — 2023 Comparison Table
| Product | Torque (Nm) | Speed (RPM) | Size (mm) | Weight (kg) | Cost | Rating out of 10 |
| --- | --- | --- | --- | --- | --- | --- |
| DeWalt DCD740N-XJ | 11–33 | 0–650/2,000 | 295 x 102 x 67 | 1.5 | ££ | 9 |
| Ryobi RAD1801M | 15 | 0–1,100 | 330 x 135 x 80 | 1.48 | £ | 8.5 |
| Makita DDA351Z | 13.7 | 0–1,800 | 295 x 171 x 83 | 1.2 | £££ | 8 |
---
Right Angle Drill Buying Guide
Right angle drills are more expensive than standard drills because they have additional gearing to turn the rotational drive shaft through 90°.
So, why pay more? You can buy our top pick for the best combi drill for less than £100 and get a charger and two batteries. An even cheaper option is an electric screwdriver, but they're not suitable for heavy-duty use due to their low torque – around 4.5Nm.
If you're short on cash and it's for a one-off project, you can convert your combi drill or drill driver into a right angle drill by purchasing an attachment that connects to the chuck like a drill bit. There are several types on the market, some more straightforward to use than others, but they're not a good option for long-term use.
---
What to Look for When Buying a Right Angle Drill
As with all tools, there are several things to consider before buying a right angle drill. The three key factors are:
Weight
Size
Speed and Torque
Weight
Weight is essential, as you will often use your right angle drill one-handed. The comparison table above gives weight measurements for the body only, which is how manufacturers sell these tools. You should add at least a further 300g for the battery.
Drills with a side handle help share the weight if you can use both hands and provide the extra force needed when drilling into challenging pieces of wood or metal.
Size
The whole point of a right angle drill is to get into tight or awkward places, so size matters!
Right angle drills typically have a long handle – around 300mm – and a short headpiece. The headpiece is the business end of the drill, so this dimension is critical for some applications.
Pro Tip: If drilling in a restricted space, insert the drill bit as deep into the chuck as it will go. This tip will reduce the overall length of the head section. Similarly, with driver bits – insert them directly into the chuck without a bit holder.
Speed and Torque
Speed is measured in revolutions per minute (RPM), but high speed is not necessarily what you need with this type of drill driver. Speed control is more important.
The same can be said about torque – the energy required to turn a drill or screw bit, measured in Newton-metres (Nm). However, torque could be a critical factor if you need a right angle drill for challenging work such as drilling through floor or ceiling joists.
It's important to note that right angle drills are specialist tools, and although you can use them for other jobs, there are much more efficient drills and drivers available for speed and torque.
You can read more about speed and torque in our guide to the 9 best drills and drivers.
Other Considerations
The key factors above distinguish the strong from the weak. This section outlines other, less important factors to consider when buying the best right angle drill.
The Chuck
All the drills in this review have a chuck size of 10mm. This dimension restricts the size of the drill bit, but for most jobs where a right angle drill is needed, this is good enough.
Some chucks are tightened using a key, but most right angle drills use keyless chucks these days.
Having a keyless chuck means the drill bits are quickly interchangeable. It also allows you to go from drill to drive mode in seconds.
Handle Grip
Their long handle characterises angle drivers, but the length of the trigger and position of the reverse gear switch is essential too. Drills with a long trigger and a thumb switch work better within restricted spaces.
On most drills, the reverse switch also locks the chuck to enable one-handed bit changes — handy for frequent switching from drilling to driving.
All the right angle drills we review in this guide feature ergonomic handles with rubberised grips for extra comfort.
Battery Power
All the right angle drills we tested are 18V cordless models, but you can get corded versions if you need more power. Batteries are rated in Amp-hours (Ah), and in simple terms, the higher the value, the longer they last.
Most modern batteries are Li-ion (Lithium Ion). These lighter batteries are more expensive than NiCad (nickel-cadmium) batteries, but they last longer.
Most cordless drills are sold as body only, so you can choose the battery rating. I recommend going for a 4–5Ah Li-ion battery. Anything smaller needs constant recharging, and larger batteries are much heavier.
---
Final Thoughts — Best Right Angle Drill
There are more uses for a right angle drill than drilling in tight spaces, but this is what most people buy them for, and it's why DeWalt came out on top.
The DCD740N-XJ is compact and powerful, with two speed and torque settings for ultimate control. The only downside is its weight.
The Ryobi RAD1801M is the least expensive of the three, especially if you own other Ryobi tools, as you can share batteries between them.
Furthermore, the maximum torque of 15Nm makes it a powerful alternative to the DeWalt DCD740N-XJ.
Although it's the lightest, the Makita suffers from being bulkier and less powerful than the others. It's also the most expensive right angle drill on our list.