Property Workshop is proudly reader-supported. When you buy through links on our site, we may earn a small Amazon affiliate commission but this does not affect the price you pay. Learn more here.
---
In many cases, impact drivers offer a more effective alternative to electric screwdrivers and drill drivers. However, picking the right one can be tricky, as there are so many options to choose from.
In this buying guide, we've spent hours researching and testing the most popular impact drivers on the UK market to save you time and money. We walk you through the key features we looked at during our testing and arrive at the 'best impact driver in the UK'.
---
Best Impact Driver Reviews — The UK's Top 5 in 2023
To help you choose the right impact driver for your needs, we've reviewed the top five impact drivers in the UK.
Our Top Pick
1. Dewalt DCF887N
1/4" (6.35mm) 'drop-in' bit holder
The powerful brushless motor produces up to 205Nm of torque
3 LED "Halo" light ring
3 motor speeds and torque settings, including PrecisionDrive
The toolless adjustable shoe with anti-scratch cover bevels 45 degrees in both directions
3-position pendulum action
If you're looking for a powerful cordless impact driver with a long-lasting battery, look no further than this Dewalt impact driver. This high-performance model features a high-power brushless motor with extra efficient cooling.
With its three-speed motor, you can easily select the power you need. The Precision Drive Mode provides extra precision and control – essential for avoiding material and screw damage. This impact drill also provides up to 3,800 IPM and 205 Nm of torque, making it suitable for heavy-duty jobs.
The three LED Halo work light illuminates dark corners, while at 1.5kg (battery included), it's lightweight and easy to manoeuvre. This model also comes with a 4.0 Ah battery, allowing you to take on long, heavy-duty projects without running out of charge. As an added benefit, this model includes a Dewalt TSTAK-compatible kitbox and charger, although some found the kitbox suffered durability issues.
The main downside to this product is that it is fairly expensive. However, this Dewalt impact driver makes an excellent choice thanks to its long-lasting battery, user-friendly controls and high performance.
| | |
| --- | --- |
| Pros | Cons |
| High-performance brushless motor. | Expensive. |
| Three motor speeds. | Kitbox could be of better quality. |
| Up to 205Nm torque/3,800 IPM. | |
| Three LED Halo work lights. | |
| Includes 4.0Ah battery, toolbox and charger. | |
---
2. Makita DTD154Z
Electronic 3-stage impact power selection - hard, medium and soft
Includes T-mode (tightening mode for self-drilling screws)
Brushless motor
LED work light
Variable speed control by trigger and electric brake
Forward and reverse rotation
Lightweight, compact and powerful, this impact driver by Makita is a great choice for repetitive driving whether you're new to DIY or an established professional. Its slimline design allows you to work in confined spaces, while its brushless motor makes for effective cooling, so your drill will run more efficiently and last longer.
Thanks to its three-stage impact power selection, you can choose from high, medium or low settings to ensure the right power level for your job. The built-in T-Mode is an invaluable addition that will save you time and make tricky tasks go smoothly by reducing screw thread stripping when using self-drilling screws. With up to 175 Nm of torque and a top impact rate of 3,800 IPM, this high-performance impact driver will power through any task effortlessly. It's so efficient that you won't even require pilot holes when screwing into hardwood.
With its one-touch sliding chuck for fast bit changes and an ergonomic soft-grip handle, this model is comfortable and easy to use. It also features an LED work light and a belt clip for convenience. Complete with an electric brake and variable speed trigger, this impact driver has all the features and power you need while remaining light and highly manoeuvrable at just 1.5kg.
If you opt for this model, remember that no batteries, charger, or carry case is included. So if you don't already own a Makita 18V kit, you will have to spend extra on batteries and a charger. 
However, given its ease of use, reliability and fantastic feature set, this impact driver makes an excellent choice that will save you time and effort.
| | |
| --- | --- |
| Pros | Cons |
| Brushless motor. | No batteries or case included. |
| Three-stage impact power selection. | |
| Up to 175 Nm torque/3,800 IPM. | |
| One-touch sliding chuck. | |
| Compact and lightweight. | |
---
Best Budget Impact Driver
3. WORX WX290.2
0-2,600/min no load speed
0-3,300/bpm impact rate
6.35mm Hex chuck
170Nm maximum torque
20V 2.0Ah Lithium-ion battery pack
This cordless impact driver by Worx is a great choice if you want to drive screws quickly and easily without breaking the bank.
It has a long-lasting 2.0Ah battery, making it ideal for regular and long-term projects. The battery is compatible with other Worx 20V power tools, so it's a great option if you already have other items from this range.
With its variable two-speed control, up to 107 Nm of torque and a top speed of 3,000 IPM, this impact driver can easily take on powerful driving jobs while protecting your wrists from any strain or kickback. It is also lightweight and compact for getting into tight spots or undertaking greater precision work, while its quick-change quarter-inch hex chuck makes it easy to switch bits as needed. This model also features an LED work light for better visibility in low-lit areas.
Thanks to its durable, tough aluminium housing, this model will surely have a long lifespan. Just be aware that no protective carry case is included. Also, while the 2.0 Ah battery is an excellent included addition, the charger is fairly slow compared to other models.
This Worx impact driver provides all the power and features you need for most projects at a very reasonable price. It's also easy and comfortable to use, thus helping to reduce wrist and arm fatigue.
| | |
| --- | --- |
| Pros | Cons |
| Variable two-speed control. | No carry case. |
| Includes a 2.0Ah battery. | Fairly slow charger. |
| Up to 107Nm torque/3,000 IPM. | |
| Quick change chuck. | |
| LED work light. | |
---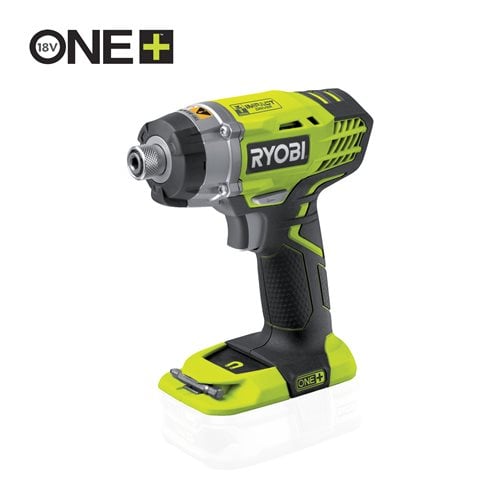 4. Ryobi RID1801M One+
Produces 220Nm of torque
Keyless bit changes with 6.35mm (1/4'') hex drive
3 LED work lights
Robust die-cast front gear housing
Variable speed, reverse and brake control
The Ryobi One+ Impact Driver is a solid choice for most DIY projects, ideal for screwing and loosening large bolts thanks to its 220 Nm of torque. Featuring die-cast aluminium front housing, this impact driver is also highly durable.
If you're new to DIY and short on tools, you can use its ⅓-inch socket adaptor as an impact wrench.
The keyless ¼-inch hex drive makes changing bits fast and easy, and thanks to the onboard bit storage, you won't have to worry about losing your bits when swapping them over. Furthermore, the Tri-Beam Led work light allows you to drive screws precisely, even in low-lit areas.
As a tool-only model, this impact driver does not come with a battery or carry case. So, if you don't own any Ryobi power tools, you must invest in a separate battery and charger.
While this model does have a decent amount of torque, it lacks the adjustable power levels found on higher-end impact drivers. Therefore, while it is suitable for your average home DIY tasks, for more intensive projects or ones with delicate materials requiring extra control, you may be better off with a more versatile model.
Overall, the Ryobi One+ is a good, easy-to-use budget impact driver with enough power for most home DIY projects.
| | |
| --- | --- |
| Pros | Cons |
| Durable die-cast front housing. | Body only. |
| Up to 220Nm torque. | Only one power level. |
| Onboard bit storage. | |
| Variable speed. | |
| Tri-Beam LED work light. | |
---
5. Bosch Professional GDR 12 V-EC
Offers impressive 110Nm torque
Compact and lightweight design
2-stage power control prevents overtightening small screws
If you need a light and compact cordless impact driver for tight spaces and overhead work, then this model by Bosch makes a great choice.
This driver's brushless motor technology is highly efficient, providing excellent durability and exceptional runtime. It fits comfortably in your hand for reduced fatigue and extra precision.
Ideal for use with small to medium-length screws, the two-stage power control will help prevent you from over-tightening small screws. Thanks to this added control and its variable speed trigger, you can use this impact driver on projects that require more precise, intricate work.
While this compact model makes an excellent choice wherever manoeuvrability is key, with a maximum torque of 105 Nm, it is less suitable for heavy-duty projects. Also, remember that this model does not come with a battery or charger but is compatible with the Bosch Professional 12 V system.
This impact driver is unlikely to be the best choice for every scenario, especially for heavy-duty jobs. However, if you're looking for an impact driver where space is tight, or you're frequently working overhead, this highly compact, ultra-lightweight model will not let you down.
| | |
| --- | --- |
| Pros | Cons |
| Brushless motor technology. | No battery/charger included. |
| Very compact. | 105 Nm maximum torque. |
| Two-stage power control. | |
| LED ring light. | |
| Long runtime. | |
---
Best Impact Driver in the UK — 2023 Comparison Table
Name
Key Features
Price
Score
Dewalt DCF887N
High-performance brushless motor
Three-motor speeds
Up to 205Nm torque/3,800 IPM
Three LED Halo work light
Includes 4.0Ah battery, toolbox and charger
£££
9/10
Makita DTD154Z
Brushless motor
Three-stage impact power selection
Up to 175 Nm torque/3,800 IPM
One-touch sliding chuck
Compact and lightweight
£££
8/10
WORX WX290.2
Variable two-speed control
Includes a 2.0Ah battery
Up to 107Nm torque/3,000 IPM
Quick change chuck
LED work light
££
7/10
Ryobi RID1801M One+
Durable die-cast front housing
Up to 220Nm torque
Onboard bit storage
Variable speed
Tri-Beam LED work light
££
8/10
Bosch Professional GDR 12 V-EC
Brushless motor technology
Very compact
Two-stage power control
LED ring light
Long runtime
£££
7/10
---
Impact Driver Buying Guide
Below are the key features and options you'll need to consider before buying the best impact driver in the UK.
Corded/Cordless
For added ease of use, cordless impact drivers are much more popular than corded models. As you will see in our impact driver reviews, all our top picks are cordless models.
With their superior battery life and long runtime, cordless impact drivers perform extremely well and allow you to use them anywhere on-site without being tethered to a power outlet or using an extension lead.
However, as with any power tool, if you need high levels of power, you may be better served by a corded version.
Voltage
Most cordless impact drivers are either 12V or 18V, although some versions are available up to 24V. While higher voltages will produce more torque (see below), they also mean heavier batteries.
A lighter model with less torque will be more manoeuvrable, while a more powerful model with more torque with be heavier and may cause fatigue. So, consider your needs carefully before deciding which voltage to opt for.
Remember, the most powerful tool isn't necessarily the best option for every job.
Batteries
Not all cordless impact drivers come complete with batteries and chargers.
Many power tool ranges feature batteries that can be used with various power tools. So, purchasing a tool-only model will save you money if you already have compatible batteries. However, if you don't, or you're purchasing a model from a different brand than your other power tools, always double-check the cost of batteries and a charger before buying.
Batteries with higher Ah (Ampere hour) ratings are more powerful and last longer on a single charge than those with a lower rating. On the downside, they can be expensive and are generally heavier and bulkier.
Torque
Torque is a measurement of rotational force.
Newton metres (Nm) are used to measure the amount of torque produced by your impact driver. The higher the torque, the easier your impact driver will deal with thick materials and stubbornly stuck screws.
IPM Rate
The IPM (impacts per minute) rate measures how often your impact driver's internal hammer mechanism strikes your screw.
If you expect to screw into tough materials, selecting an impact driver with a higher maximum IPM rate will make your job much faster and easier.
Power Levels
You should look for an impact driver with variable power levels for better control.
Adjusting the motor's power levels will help avoid fastener and material damage. This is essential when you are working with easily damaged or expensive materials. And it will also save you time and frustration when dealing with stubbornly stuck screws.
Brushless Motor
Spending a little extra and opting for an impact driver with a brushless motor is a smart investment.
Brushless motors are quieter and have higher speeds and increased levels of torque. Thanks to their greatly reduced friction levels, they also produce less heat and last longer.
Weight
It probably isn't the first thing you think of when looking for a new power tool; however, product weight is very important to manoeuvrability and your overall comfort levels, especially on intricate or long projects.
You may prefer a compact, ultra-lightweight impact driver for frequent overhead work, as this task will quickly become tiring with a standard-weight model.
Furthermore, if you're looking at a tool-only model, don't forget to factor in the battery weight.
Size
In addition to weight, you should also consider the overall dimensions of your impact driver. This is particularly important when getting into tight corners or working in confined spaces.
Grip
For extra ease of use, comfort and precision, don't forget to take a close look at the grip on your impact driver before purchasing. Some models have ergonomically shaped grips that are specially moulded to ensure you feel secure and comfortable when working.
Keyless Chuck
Opting for an impact driver with a keyless chuck allows you to change your chuck bits rapidly. Not having to fiddle around with chuck keys will mean you can get on with your work and finish the job faster.
Worklight
An LED work light is a standard impact driver feature that can be extremely useful when working in poor light.
Extra Features
While most impact drivers have many features in common, there are a few optional extras that you should keep an eye out for.
While these are by no means deal-breakers, they are useful and can help your project go a little bit smoother.
Brake — Mostly standard, but always worth checking for, a brake on your impact driver allows you to stop it instantaneously rather than waiting for it to stop turning once you have released the trigger. This can considerably speed up your work rate, allowing you to move from one screw to the next without pausing.
Belt clip — Ideal for keeping your impact driver close to hand on a large job site.
Carry case — Great for safer storage and transportation. 
Bit Storage — Some models have onboard bit storage, which helps switch back and forth on busy projects.
---
Best Impact Driver in the UK — Final Thoughts
It's a very close call, but we think the best UK impact driver is the Dewalt DCF887N Impact Driver.
Not only does it have an edge over the others in terms of performance, but if you are looking for a complete impact driver with a battery and carry case included, this model makes an obvious choice.
With its high-powered brushless motor for maximum performance, efficiency and durability, this impact driver is designed to be long-lasting and reliable.
The three motor speeds provide exceptional control, while its Precision Drive Mode allows you to work on intricate projects with delicate materials. With 205 Nm of torque and a 3,800 IPM, this driver is fast and powerful, even when removing long screws from tough materials.
Easy to use and compact, we think this Dewalt impact driver has the power and precision you need to make your next project a success.